Pamper Your Cat
100 Home Made Cat Food Recipes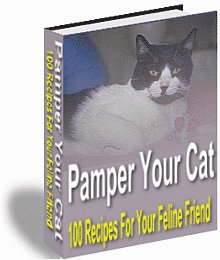 Dear Friend,
Cat lovers know how to spoil their furry friends. They give their cats the best food, the most fashionable collars, and the best toys.
It's a fact that most cats rule their owners, so when they turn up their noses at their food, what are we going to do? Start cooking! You cook for yourself and your friends, so why not cook for your loving companion.
Pamper Your Cat shows readers how to prepare tasty and healthful treats and main meals for their cats.
Below are just a few of the cat food recipes you will find inside Pamper Your Cat:
Beef and Veggie Broth

Better Than Grass Salad

Birthday Treat for Kitty

Cat Cookies

Cat Crackers

Cheese Please

Chicken and Pasta Stew

Chicken and Sardines

Chicken Cheeseburger

Crispy Trout Dinner

Fabulous Fishballs

Feline Feast

Glop (Kitty Pudding)

Ham it Up Cat Treats

Kipper Supreme

Kitties Favorite Treats

Kitty Breakfast

Kitty Heaven

Kitty Kisses

Kitty Tacos

Mackerel Magic

Meowsli

Mouseburger Bites

Potatoes Au Feline

And More...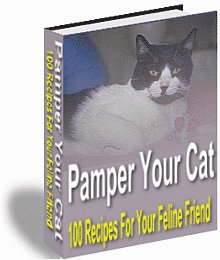 Pamper Your Cat today and give your faithful friend what it really wants...A home cooked meal! These are great cat food recipes
A Great Ebook for Only $0.99
Your ebook will be delivered to you as soon as you make payment via Paypals secure service.
You don't even even have to have an account with paypal to use their service. It is safe and secure and easy to use.