Hi everyone and welcome to the March edition Of Our Happy Cat Ezine. I want to start by thanking everyone that sent me their kind comments and sympathies via email regarding my recent loss. It was very unexpected but greatly appreciated.

It's been a bit of a traumatic year start for Little Mo as well this year. As many of you may know she has been suffering from a thyroid problem and so has not been herself for quite some time now, but thankfully yesterday she had her operation and so is now on the road to recovery. You can read her thoughts about this on her Cat Diary page below.

Thank you for all your continued support and don't forget to send your cat photos to our gallery pages and any cat stories you may have too.

Until next month Best Wishes Kate
---
CONTENTS
1. Whatís new on Our Happy Cat.Com
2. Competition
3. Little Mo's Diary Update
4. Article - Owning a cat, the responsibilities
5. Special E-zine subscribers offer

---
1. What's new on Our Happy Cat.Com
As usual I have been adding new cat information pages to the site. This month I have added:
Cat Discipline.
Hairballs
Both of these issues I saw appearing on many cat forums and so i thought they would be good pages to write about, and indeed I have received some very favourable comments on both.

The site continues to grow with all your submissions of photos and stories about your own cats and why they are so special to you. Keep up the good work.

Also the Cat Questions pages have grown and grown and I receive many questions everyday, which I try my best to answer. However the questions page is designed so that every visitor can add their own comment to the questions and so can share their wealth of experience too. Don't forget to drop by to see if you can help someone.
---
2. Competition Number Mar07
Here is March's Caption Competition. You are the first to see it as it doesn't get posted onto the site for a few days, so it gives you extra time to get your entries in first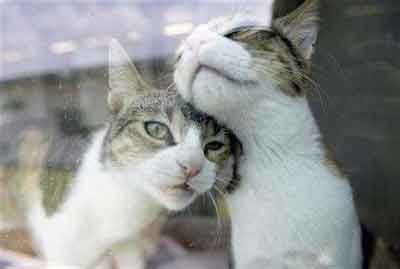 Simply send us your caption to go with this picture.

Click here to submit Caption
The deadline for this competition is mar 20th. The best caption will be chosen and the winners name and caption will be posted on the www.our-happy-cat.com competition page.

The prize has not yet been chosen but be assured it will have something to do with kitties.

GOOD Luck
---
3. Little Mo's Diary Update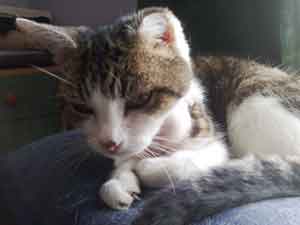 Meow everyone,

I cannot believe itís nearly March already. I just donít know where the time has flown. To be honest it hasnít been a good start to the year so far. My Mum and dad were very sad for a long time because grandma died and they were always away sorting things out, but they never forgot about me, they are so good like that, so I didnít feel too lonely.

Plus I had my thyroid operation yesterday and so today Iím feeling a little sorry for myself. They have shaved all my fur off on my chest (how embarrassing and cold too), and also I have a little bandage on my leg where they game be the injection. So today I will spend the day giving my Mum and Dad big sad eyes and making them feel really sorry for me so that they go out and buy me extra special food (it works every time).

Hopefully I will start to feel better soon and now that spring is just around the corner I will be able to go out and play in the garden again. It will be good to rediscover all my favourite sunbathing spots again and to see all my cat friends. Well must dash I have a lot of sleeping to catch up on and I have to build all my strength up so that I can pester my people some more later.

Head nudge to you all Little Mo
---
4. Article - Cat ownership, the responsibilities
Giving a cat a home holds far more responsibilities than giving them their food and the occasional cuddle. It is a commitment that could last for 20 years in some cases, although the average life span for a cat is around 15 years. By understanding what is actually involved in caring for a cat will enable perspective cat owners to make an informed decision and will prevent unhappy future re-homing situations.

The initial costs of homing a cat depends very much on where you get the cat from and whether or not it is a pure breed which could cost as much as £1000. Most animal shelters will charge a fee of around $100 to $150 but this fee often includes vaccinations and neutering, whereas a pet store will charge less but will require you to pay for initial vet treatments yourself.

As a cat owner it will be your responsibility to provide proper medical care for your cat throughout its lifetime. Investing in a cat insurance policy is often a wise move and will help you pay for any unforeseen expensive medical procedures. However initially you will have to pay for their first vets treatments and this could be as much as $250 including vaccinations and de-sexing.

Making your cat comfortable at home is also an essential cat owner responsibility. Making sure that each cat have their own litter trays, beds, toys and feeding bowls is only the basic requirements, on top of these you will have to consider buying a cat carrier, grooming brushes, climbing posts and scratching posts, depending on your cats personal requirements.

Providing your cat with the correct diet is also a must, it is essential that cats be fed food suitable for their age and physical abilities. If incorrect food is provided it can lead to diarrhoea, urinary problems, bad teeth and may cause more serious illness to occur in the future. The best way to avoid this is to feed your cat only premium brand wet food supplemented with some dry kibble and providing plenty of fresh water to drink. An adult cat needs to be fed twice a day with a small amount of dry food left available all day. Making sure that your cat eats correctly and does not become under or over weight is a responsibility not to be overlooked.

Long haired cats will require their coats to be brushed by you at least three times a week to prevent the fur matting and reducing the likelihood of hair balls. Matted fur is painful and will have to be professionally removed by a vet or groomer, so preventing it in the first place is the best option. Special cat brushes can be bought to make the grooming process more effective and comfortable for your cat. A shorthaired cat should be brushed at least once a week, again to help remove the fine loose hairs that can cause hairballs to form.

Helping to keep your cats claws well trimmed will help prevent them from using your furniture as scratching posts and will prevent your furniture from becoming a regular scratching post. It will also stop the cat becoming caught in carpets and possible painfully ripping their claw out. Checking their claws on a monthly basis and using proper nail clippers to nip the very end of the claw off, will help keep their claws in good shape. Providing plenty of scratching posts should also be seen as an essential cat owner responsibility.

Cats are prone to a few nasty parasites, which you as a responsible owner are responsible for keeping under control. Flea and worming treatments obtained from your vet need to be administered monthly. Make sure that you check your cat's ears regularly and wiped clean inside to make sure that ear mites are not present.

Vaccinations are essential for looking after your cat's health. The three main diseases to protect your cat from are feline enteritis, cat flu and feline leukaemia, all of which are potentially fatal. It is also good to remember that these vaccinations may require yearly booster injections, something your vet will advise you on and that you will have to allow for in your budget.

As a general rule a potential cat owner should realise that owning and looking after a cat does require a lot of time and care and will cost around $21 a week. If this is a commitment that you are not able to guarantee throughout the life of your cat, then it would be better for both you and the cat not to own a cat in the first place
---
5. Special E-zine Subscribers Offer
As a special thank you for subscribing to our E-zine we are giving you the opportunity to buy your very own ďOur Happy Cat Tile CoasterĒ with your catís picture replacing Moís picture as seen in the image, for the special price of $4.99 +p&p (normal price $6.99).

The Tile is 4.25" x 4.25" ceramic tile coaster. 1/6 inch thick. Dishwasher safe.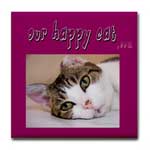 Just Email Us your cats picture along with your delivery address and we will do the rest. We will send you a email to let you know that we have received your picture and a link for you to pay us via PAYPAL.


---