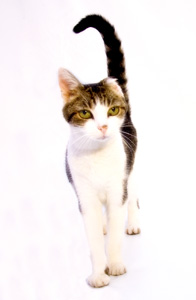 Hi I'm Little Mo and welcome to my first Ezine. Every month I will send you a new E-zine full of all the latest news from my website "Our Happy Cat.Com" . I will keep you up to date with my latest diary entries and I will get Kate and Matt to give you special reviews of all the latest cat products and books and give you access to thier cat related articles which do not appear on the website.

You will also be the first to see my latest caption competition ahead of everyone else on the website. Good Luck everyone.

As a special thank you for subscribing to my E-zine, I am giving you the opportunity to have your cat star on your very own OUR HAPPY CAT Coaster at a very special price.

I hope you enjoy the E-zine and I'll speak to you all again next month. Love Little Mo
---
CONTENTS
1.Whats New on Our Happy Cat.Com
2.Special E-zine Subscribers Offer
3.Little Mo's Diary Update
4.Article – Feral cats make good pets too.
5.Product Review
6.Competition
---
1. Whats New on Our Happy Cat.Com
Over the last month our website has grown and grown. We have now added special contributor forms to some of our pages, allowing our visitors to add their own cat news and cat events, pictures and stories to the Our-Happy-Cat.Com website. Making the whole site much more of a community. The forms can be found on our Cat rescue Stories page, Cat memorial page, Cat News page and Your Pictures page. We hope you will drop by and make your very own contribution.

We are now also starting to add some cat supplies pages where we have highlighted some special products which we think are that little bit different. We want to make our site a place where our visitors can feel confident that we only promote the best and the most interesting of products. Although our website will remain predominately an information site, providing our visitors with good tips and advice. In fact we are now receiving quite a few emails from visitors who have found our information very helpful and wanted to thank us for our help.

With our visitors help, our site will continue to increase in size with information and wonderful kitty cat pictures which will provide a great place for a feline friendly community to grow.
2. Special E-zine Subscribers Offer
As a special thank you for subscribing to our E-zine we are giving you the opportunity to buy your very own "Our Happy Cat Tile Coaster" with your cat's picture replacing Mo's picture as seen in the image, for the special price of $4.99 +p&p (normal price $6.99).

The Tile is 4.25" x 4.25" ceramic tile coaster. 1/6 inch thick. Dishwasher safe.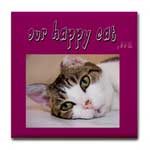 Just Email Us your cats picture along with your delivery address and we will do the rest. We will send you a email to let you know that we have received your picture and a link for you to pay us via PAYPAL.
3. Little Mo's Diary Update
Happy Cat Diary Thursday 23rd August 2007

Meeeoow! Hello there! It's been a while since I wrote in my diary. Sorry if you have missed me, but it's not my fault, honest!...... Let's face it - I don't really write this diary - I'm a cat after all, and my claws would scratch this keyboard to pieces, so instead, I dictate it to my Dad and he types it out for me! He's usually very good at this, but just lately he and my Mom have been out all day and all evening, and they've been so tired when they get in that they just go straight to bed - well, at least after feeding me of course - they'd never get a minutes sleep if they tried to get out of that believe me! For a long time I was wondering where they were going every day - as you know, us cats hate any change to our usual routine - and I'd meow and meow at them both, and try to sit on their laps to make them stay.

CLICK HERE to read the rest of this diary entry and Little Mo's other diary pages.
4. Article – Feral Cats make good pets too
The literal meaning of feral is "gone wild" and when used to describe a cat usually means that they have either been born in the wild or have once been domesticated but have been lost or abandoned and have reverted to the wild. Feral Cats are usually found living in groups or colonies where there is an easy and plentiful supply of food.

Feral cats may have very limited experience of human contact and so will generally keep away from people and run away if you try to approach them. However, as long as the cat is not too old, it is perfectly possible that they eventually could become very loving pets, if approached correctly. But be warned it can be a very long process of gentle persuasion and patience on your part. It can take weeks, even months before a feral cat may feel comfortable enough to be a part of your family.

It is essential that anyone considering re-homing a feral cat that they have a good understanding of cat behaviour and be prepared to take things at the cats pace. Cats generally learn by experience and so making the whole socialisation process a pleasant one will help to teach the cat not to be afraid of people and domestic life.

There are several steps to take to socialise your feral cat and each one can take weeks or months to complete and may even have to be repeated if a set back occurs. The first step is to provide the cat with a small room or pen where the cat cannot escape from and that does not have any hiding places. It should be a quiet area and be equipped with bedding, fresh water and food and a litter tray. Let them become accustomed to this area for a while before you attempt to introduce yourself to them. It is important that they feel safe.

Next spend some time with them, talking quietly to them but not attempting to touch them. After a while you may even be able to tempt them to take treats from your hand. Repeat this process daily until you sense that the cat is becoming less afraid of you. Only then try to stroke their head and back. If they back away, don't worry; just repeat the hand treat regime for a few days more. A useful tip is not to look at your cat directly as they find this a threat. Instead either look away or half close your eyes.

Over time the cat will become used to you and realise that you are not a threat to them. At this stage let them wander around the rest of the house and become accustomed to the whole house. Make sure other people in the house approach the cat in the same way as yourself by offering treats. It can take some feral cats quite some time to accept the whole family.

If you have other cats around make sure your new feral cat has become used to their scent before he meets them, do this by rubbing their bedding around his living area, do the same for your existing cats. Feral cats usually respond well to domesticated cats and it can even help speed up the socialisation process, as they will learn from their behaviour.

Finally when you notice the cat grooming itself and happily using the litter tray, it is safe to let them explore the outside world. By this time they will have become used to you and your home and they have probably made it part of their territory and so will return for that free dinner and comfy bed. Many feral cats have become very loving pets and have settled down to domestic life very well.
5. Product Review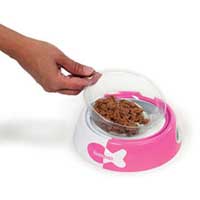 Feed and Toss pet Bowl I love cats big time, but I just can't stand the sight and small of wet cat food. To me it looks like a bowl of sick and any that gets left just sits there and forms a disgusting dry crust. Yuk. I had to get matt to clean the bowl out all the time, as I just couldn't bring myself to scrape the leftover food into the bin and wash the bowl. So when we saw the feed and Toss Bowl, we thought "at last", no more cleaning stinky cat food bowls. The bowls come with little disposable liners, which you just take out of the bowl and throw away with any remaining stale food. It also means that the bowl itself doesn't get dirty. The bowl is non slip and so stays put when your cat eats it's meal. Preventing any food from being pushed out onto the floor. They come in three colours, so if you have more than one cat you can identify who's bowl is who's. We use one liner a day, which reduces the amount used and means that we are not left with a stinky bowl to clean everyday.

Feed and Toss bowls can be found on our cat bowls page here.
6. Competition Number sept01
Here is Septembers Caption Competition.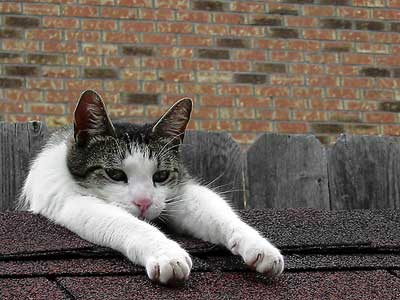 Simply send us your caption to go with this picture. Click here to submit Caption. The deadline for this competition is Sept 20th. The best caption will be chosen and the winners name and caption will be posted on the www.Our-happy-cat.com competition page.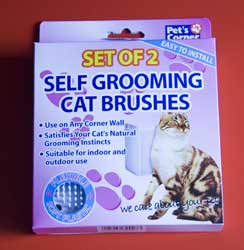 This month the winner will receive this set of 2 self-grooming cat brushes. They fit to the corners of walls inside or outside and provide an excellent place for your cat to get rid of all their loose fur, instead of depositing it all over your house. Good Luck


---
That's all for this month

Big Purrs and Head Nudge to you all

Little Mo

https://www.our-happy-cat.com

© Copyright Our Happy Cat.Com 2007