Welcome To My Happy Cat Diary!
The Daily Tribulations of A Tabby Cat 
This is Little Mo's Happy Cat Diary page. Now that she is in her senior years she is not very good at keeping her diary daily but I do try and remind her (er, well when ever I remember that is). However Little Mo promises to try very hard and keep you up to date with everything that goes on in her world here in London, UK.
Click here to read little Mo's Diary, you can even comment on her entries and leave her a message if you like ( I know she loves hearing from other kitties and cat owners, she is a very personable cat).
UPDATE
As you may know, Little Mo is no longer with us. She passed away in 2009 at the ripe old age of 17. She led a long, happy life with us and we miss her every day. Her life's story can be read on here if you would like to know more about this extraordinary cat and our lives with her.
She was a fearless cat even at the end and all she wanted to do was to be with us. She struggled to get to us with a broken leg so that we found her and she tried to get to us when she was at the vets all wired up with cables. She knew she would be safe with us and she was.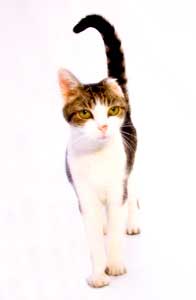 This of course means that this happy cat diary will no longer be added to. However we now have two other cats in our lives, Shelley and Byron. They are a couple of 2 year old brothers who we rescued from a re-homing centre.
They are both a couple of characters and so of course have their own diary here on the site. You can see their cat diary here Shelley and Byron's Diary.
Little Mo's Diary Entries
Click below to see contributions from other visitors to this page...

---
Top of this Happy Cat Diary Page
---
I'd love to hear what you think of this page or my site. Let me know if you like what you have read or if it has helped you with a problem.
It's easy to do just leave a comment in the box below and click the like / share or +1 to let others know about my site. Thank You It really is most appreciated.