Funny Cat Photos of Cat Poses
Just How Many Are There
Funny cat photos can be seen everywhere on the net. But what i really want to find out is just how many different cat poses there are and how many we can collect here.
Cat's are great at twisting their bodies into all sorts of strange and funny shapes. This seems to be especially true when they are sleeping.
What I would like you to do is to send us your own pictures of your own cat in their own unique cat poses. I will then add them to a unique cat pose collage which I hope will create the definitive diagram of every cat pose known to both man and cat.
The collage will be available for you to download free when it is finished.
Click here to send us your own funny cat photos of your cat's poses.
---
Our Cats Favourite Poses
Here are my own two cats Byron (Black and white) and Shelley (Tabby) and their cousin Collie and some of their own personal favourite cat poses.
The Water Skier
With two outstretched paws my two cats both like to show me this pose on an almost daily basis.
Byron is the best at it though and as you can see looks rather smug about it too.
Perhaps only boy cats do this as every female cat I have ever owned has never gone water skiing. Perhaps you'll let me know if this is not correct with your own girl cat water skiing pictures.
---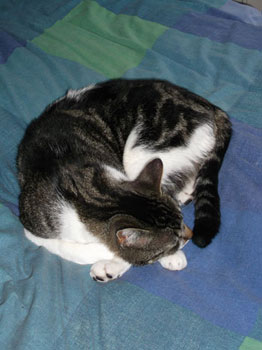 The Classic
This must be the most popular cat pose of all time. The classic half circle or the leg head rest as I like to call it.
This is Shelley, a master at the cat nap. I know most cats do a lot of sleeping but Shelley really does like to put the hours in. My duvet's never recover I'm afraid.
As you cat see this cat pose allows for a very comfy sleep, with all feet kept warm whilst the head is purrrectly supported.
---
The Upside Down Prayer
This comes under the heading of funny cat photos.
This is Collie, a rather plump and vocal female cat who we take care of now and again.
She is a master of the cute pose and this is because she wants you to tickle her so that she can nibble your fingers. It's all a ruse.
This cute pose gets us every time, I have the nibbled fingers to prove it.
---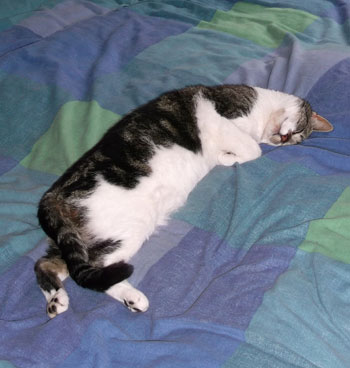 The Head Rest
Here's Shelley again making my duvet hairy.
Shelley does seem to like to sleep upside down on his head. This is just one of the head rest poses he likes to show me.
I wonder if it lets him think a lot better and that he's not really sleeping but coming up with a great plan to save the world. or perhaps how to catch that big pigeon in the garden. UMMMM i wonder?
---
The Waving Paw
This is Byron's own upside version of the head rest pose. As you can see he prefers to keep things tight and add his own special twist or a waving paw.
I really do mean waving too, because as he sleeps his little chest goes up and down and this makes his little paw wave up and down. So cute I could watch him for hours like this.
---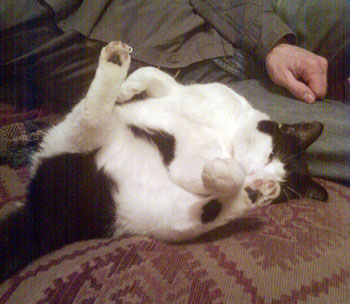 The feet In the Air
Yes as you can see little miss Collie loves to show us her feet.
This pose is a frequent night time pose. It is full of gay abandon and is a sign of complete relaxation and contentment.
Yes it does rather look like a rather suggestive pose but as I've said before. With Collie it is all just a ploy for you to tickle her tummy so that your fingers are in nibbling distance.
---
I hope my pictures have inspired you to send in your funny cat photos of your own cat and their poses.
I look forward to seeing them all. I will make a great collage of them, which you will be able to download when it's finished. Don't forget to RSS my site so that I can tell you when it's ready. 
Use the form below to submit your own cat pose pictures.
---
Send Us Your Cat Poses
Send us your funny cay photos
What Other Visitors Have Said
Click below to see contributions from other visitors to this page...


Tom'a TV Pose

Relaxing watching TV on the sofa. Tom often likes to spend the afternoon relaxing on the sofa. He looks like he's really concentrating on this wildlife …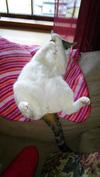 Jacko

We found Jacko when he was 4 years old at the shelter,his people had to give him up as a young child was allergic.As were walking about looking at all …

More Great Cat Poses Not rated yet
Buttercup is my 11 month cream colored mackerel tabby. Buttercup loves to sleep on the dryer. He was soo content in this photo. He looks so funny, I just …
Top of this funny cat photos page
---
I'd love to hear what you think of this page or my site. Let me know if you like what you have read or if it has helped you with a problem.
It's easy to do just leave a comment in the box below and click the like / share or +1 to let others know about my site. Thank You It really is most appreciated.