Is My Cat Sick? 
Don't Wonder, Find Out For Sure With This Comprehensive Guide To Symptoms and How To Look After Your Cat.
Is my cat sick? I bet this is a question you have asked yourself at one time or another.
Cats are very good at hiding their pain and discomfort, so it can be difficult for us to notice that our feline friends are in need of some medical help.
That is why it is very important to recognize symptoms of Ill health when you do see them and to know what to do.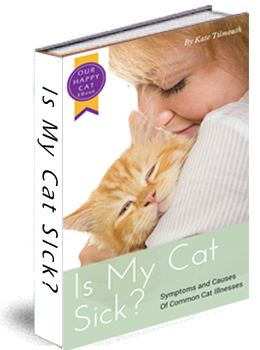 So What Does "Is My Cat Sick" Ebook Give You?
I created this Ebook as a handy guide available at your finger tips day and night, to help you recognize Illness in your cat and answer your question, Is my cat sick and do I need to get them to a vets?
I have written it so that you can access the information quickly by breaking it down into the different areas of the body and then bullet pointing the symptoms, possible causes and treatment, for easy access.
No nonsense and to the point


Easy To Understand


Explain the most common causes


Advise you of what treatment you can provide at home before you see the vet 


Treatments the vet may give


Advise you of preventative measures you can take to protect your cat from these Illnesses


Help to reduce your worry and put you back in control of the situation
Sometimes You Just Need Some Answers NOW
I have been a cat owner all my life so I know what It's like when you are worried about your cat. 
The trouble is, many owners don't want to take their cats to the vets unnecessarily and need to find some guidance quickly, so that they can make an informed decision. That's what my Ebook does.
I have spent many years answering other worried cat owners questions about their cats health and the one question that seemed to come up the most was "IS MY CAT SICK?"
I usually had to ask the owner for lots of information about the cats symptoms. For instance, cat owners would tell me their cats were vomiting, now this could be simply hairballs which is not a serious condition in most cases. But vomiting could also be a a symptom of some other more serious condition?
To be able to discover whether or not your cat may be Ill requires a bigger picture outlook and for all the possible signs and symptoms to be taken into consideration. This Ebook gives you that guidance.
My Experience With Cat Illnesses
I have lived with and looked after many cats during the last 20 years. Some of the cats just turned up at my doorstep others were rescued from shelters and as you can imagine many of them were already suffering from some illness or disability from the start. 
Initially I would simply take the cat to the vet, pay the bill and think that all was well. Then I started to notice that I was having to take the cats back to the vets over and over again, costing me more and more money and the cats more distress. I realized that because I was not aware of the symptoms of some cat illnesses I was not able to inform the vet accurately at each visit and unless the vet spotted the problem, I would have to return when the symptoms became much worse.. 
I decided to find out as much as I could about many of the most common cat health problems, so that I would be able to not only prevent them but also spot any early signs of illness. Thank goodness I did, as I have managed to prevent some serious consequences and suffering for several of my cats, who may not have lived as long as they did otherwise. 
I Like To Give Away Something Extra With My Ebooks, So You Will Also Receive A Bonus EBook When You Purchase  the "Is My Cat Sick" Ebook
100 Home Made Recipes For Your Cat
This purr-fectly delightful collection of recipes features tempting and tasty treats for your cat. As well as some home made recipes to help with certain health conditions and Ailments.
Below are just a few of the recipes you will find inside Pamper Your Cat Ebook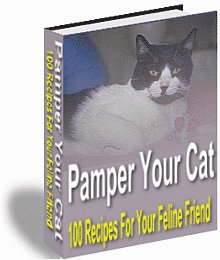 1. BAKING SODA DRY SHAMPOO 
2. BEEF AND VEGGIE BROTH 
3. BETTER THAN GRASS SALAD 
4. BIRTHDAY TREAT FOR KITTY 
5. CAT COOKIES 
6. CAT CRACKERS. 
7. CAT JELLY 
8. CHEESE PLEASE. 
9. CHICKENS AND PASTA STEW 
10. CHICKEN AND SARDINES 
11. CHICKEN CHEESEBURGER 
12. CHICKEN CRUNCHIES (for the kitties) 
Buy "Is My Cat Sick" Now
Your Cat Will Thank You
Only $3.99

Instant PDF Download

If you prefer to buy the Kindle addition which does not include the free ebook CLICK HERE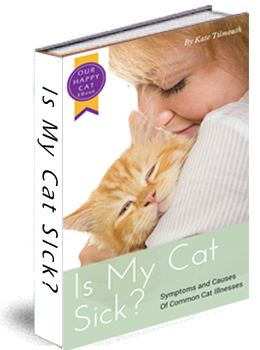 1. Downloadable EBook (PDF File) only $3.99
Immediately after make your purchase, you can download your ebook.
This EBook is in the Adobe PDF file format. If your computer doesn't have the Adobe Reader software, you can easily install it for free.
The EBook comes with a No-Questions-Asked Guarantee: If you're not satisfied with this eBook, just e-mail me within 60 days of your date of purchase - and I'll issue your 100% refund immediately.
Your EBook purchase is 100% safe and secure - and 100% risk-free.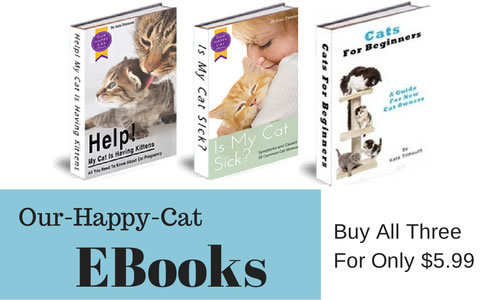 ---
ONLY $5.99 For All Three Ebooks
---
I'd love to hear what you think of this page or my site. Let me know if you like what you have read or if it has helped you with a problem.
It's easy to do just leave a comment in the box below and click the like / share or +1 to let others know about my site. Thank You It really is most appreciated.