Vote For Your Favourite Cat Photos
Cat photos winner - This is this weeks favourite submitted kitty photo as voted by you. 
We know how much you love your cats and so we thought that we would make a page on this website were we could give all of our cats a special award for being, well, just them really. I hope you enjoy seeing who becomes cat of the week each week, don't forget to sign up for the rss feed to be notified when another cat becomes the new winner.
CAT OF THE WEEK
Congratulations this week Jacko received the most votes and is Cat of the week.
Click On The Picture To Read Their Story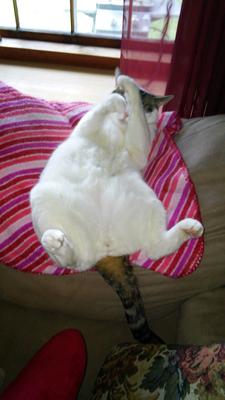 Click on the GALLERY page to see more of the submitted cat pictures, so that you can choose next weeks winner. Vote for your favourite here.
Every week a new Cat is voted cat of the week by you and is displayed here on this page.
The cat pictures sent in by you are displayed on The Cat Picture Gallery and are eligible to be voted CAT OF THE WEEK.

You can also add your own cat to the gallery. You never know they may be voted Cat of the Week too.
All these cat pictures have been sent to us by their number one fans, their owners. So why not make someone proud of thier kitty friend and vote for them to be CAT OF THE WEEK.
To make things fairer we are making a new rule that the same cat cannot be voted Cat Of The Week two weeks in a row. This way more cats will be able to become cat of the week. So please do not vote for the existing cat of the week for next week.
Top of this Cat Photos winner Page
---
I'd love to hear what you think of this page or my site. Let me know if you like what you have read or if it has helped you with a problem.
It's easy to do just leave a comment in the box below and click the like / share or +1 to let others know about my site. Thank You It really is most appreciated.