Best Cat Furniture 
Fun and Comfort for Your Cat
The best cat furniture can help you to look after all your kitty's needs for comfort and activity.
Whether it's helping them to explore, play, climb, wear down their claws or simply have a comfy catnap, there is the right piece of furniture for the both of you.
With so many different types available, I thought I would do some investigating and write about some of my favourites here!
So you can think of these pages like the furniture section in your local kitty department store!
---
Cat Trees and Towers
In their natural environment cats would enjoy climbing trees or sitting in high places where they feel safe and can see everything that is going on around them.
Climbing towers and kitty trees allow you to bring something of this environment into your home. I have chosen particularly stylish ones too which will fit in with your own decor.
For a happy and fulfilled feline, take a look at the cat towers and trees on this page to find your kitty their own indoor adventure playground!
Scratching Posts
It's no good just telling your cat not to scratch your sofa; you need to provide them with a good alternative!
Scratching helps kitties wear down their claws and it is also a way of them marking their territory. Buying a scratching post helps them to express this most powerful of feline instincts while still protecting your own furniture!
You can find a great variety of scratching posts on this page here.
Kitty Condos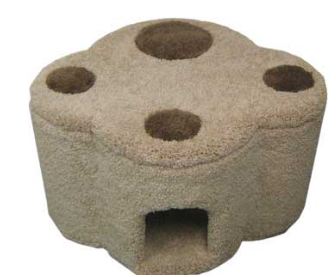 Cat condos are fun! More than just a simple pet bed, they provide a snug warm place for your feline friend to hide and sleep in. Many have multiple sleeping spaces, or can be stacked on top of each other, or incorporate other features such as a scratching post.
Condos are great if you want to keep your kitty off your own furniture. They are also particularly good for multi-pet households.
If you think your purrfect pal would like their own cool designer apartment, then check out this page for some great cat condo designs.
Cat Gyms
In the wild, cats are naturally very active animals in spite of the amount they like to sleep! So giving them the opportunity for some exercise is really important if you want them to lead a long, healthy and happy life.
What could be better than for them to have their own kitty gym at home? These pet gyms are like several cat towers, condos, scratching posts, perching platforms and toys all rolled into one amazing multipurpose piece of cat furniture.
Have a look at the incredible cat gym designs on this page to help your kitty have non-stop fun and activity!
Kitty Kennels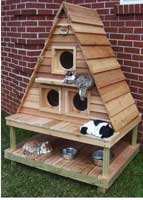 If you want to give your kitty a comfy, safe and dry place to sleep in when they are outdoors, then take a look at all these great cat kennels on this page here.
Traditional log cabin designs, swiss chalet styles, and quaint cottage choices are all available. There are even duplex kennels for two cats to share, or pet huts with porches, balconies and more!
Cat Perches and Shelves
Is yours the kind of kitty who loves to be up high? Our boy Byron kept climbing up on top of the kitchen units just because he loves seeing things from a high view point.
Some people call these 'tree cats' because in the wild they would be the ones naturally climbing the highest trees.
So if you would like to provide your kitty with a way to explore high up while indoors, take a look at some great cat perches and shelves on this page. They are specially purpose made and you can put them up just like any normal shelf on your wall. If you position them really carefully, you could even allow your kitty to hop around the room without hardly touching the floor! Cat furniture heaven for them.
Pet Beds and Cushions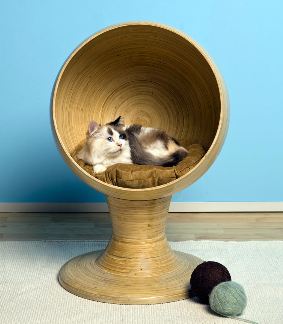 These are of course the most essential pieces of cat furniture! From luxuriously comfy colourful cushions to cool and contemporary modern designs, there is a bed to suit every feline fancy.
Have a look at my favourite cat bed designs on this page and see which would suit your own comfort-loving kitty!
Pet Ramps for Disabled or Elderly Felines
As our beloved pets get old and frail, or if they have a disability, then simply getting up onto the sofa might become more and more difficult for them.
But not to worry, because you can always find them a handy ramp or set of steps to make getting to their favourite place that much easier. See some great pet ramp choices here.
---
I do hope you like my selection of what I think are some of the best cat furniture choices out there. It's good to know that companies are now producing such a great range of high quality items for our pets. And I hope you find something you can get your own cat that will help them lead a happy, active and comfortable life! 
---
I'd love to hear what you think of this page or my site. Let me know if you like what you have read or if it has helped you with a problem.
It's easy to do just leave a comment in the box below and click the like / share or +1 to let others know about my site. Thank You It really is most appreciated.