Help! My Cat Is Having Kittens
Help! My cat is having Kittens! If you have ever said this to yourself or if you have ever wondered what you would do if your cat became pregnant, then you're not alone.
We love our cat's right? And we want them to be healthy and happy and so it's natural to worry about the possibility of kittens and how you will help your cat with the birth. This is why I have written this comprehensive EBook.
Why Should You Buy This EBook?
I have written this EBook with you in mind, i.e. no padding, straight to the point, with easy bullet pointed information. When you need the information NOW this book will provide it.
So whether your cat is pregnant now or you think she may be in the future this book wiil provide all the necessary information
The EBook Covers
Signs That Your Cat Is In Heat

Mating

Signs of pregnancy

Length of pregnancy and fetus development

Nutrition Requirements of a pregnant cat

Possible problems during pregnancy

Preparing For The Birth

Equipment

Signs of labor

The birthing process

Possible complications

Post natal care

New born kittens - birth weight and their needs

Hand rearing (If Needed)

The First Seven weeks of Life

Weaning
Why I Wrote This EBook - A True Story
I was telephoned by a friend of mine, who knew that I answered cat health related questions online, one afternoon. She was frantic, and you could hear the panic and anxiety in her voice.
"Kate, help me what should I do? My cat is having kitten right now and I'm not sure if everything is OK".
Slow down I told her. "Why do you think there is a problem?"
"She seems to have been pushing for ages but nothing is happening".
"OK, how long is ages".
"Oh about ten minutes"
I then explained to her about how the cat birthing process normally happens and told her to calm down and to wait.
About an hour later she phoned again.
"Help, I don't know what to do. She had one kitten and now there's another one coming but it's only half way out, what should I do?"
Again I told her to calm down and advised her.
This went on all afternoon and it wasn't easy talking to someone who was in a state of panic all the time.
A few days later she came round to thank me for all my help and said that if she had only known about the birthing process she wouldn't have panicked so much. In the end the kittens were all born naturally with no complications.
I wrote this EBOOK with her in mind as I know she isn't alone.
Buy "Help! My Cat Is Having Kittens" 
Only $2.99

Instant PDF Download

If you would prefer to buy the Kindle addition please CLICK HERE
Downloadable EBook (PDF File) only $2.99
Your EBook purchase is 100% safe and secure - and 100% risk-free.
Immediately after make your purchase, you can download your ebook.
This EBook is in the Adobe PDF file format. If your computer doesn't have the Adobe Reader software, you can easily install it for free.
The EBook comes with a No-Questions-Asked Guarantee: If you're not satisfied with this eBook, just e-mail me within 30 days of your date of purchase and I'll issue your 100% refund immediately.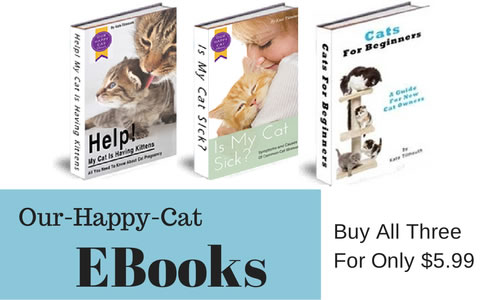 ---
ONLY $5.99 For All Three Ebooks