Cat Health Care - Top Tips for a Healthy Kitty 
Good cat health is something we all want for our beloved pet. Cats give us so much in terms of love, companionship and entertainment, so it is natural for us to want to look after them the best we can. 
My cats have always meant so much to me and their health and well being has always been something I have taken seriously, I'm sure as a caring animal lover yourself, you feel the same way.
Making sure our cats are in good health involves many things, from making sure they eat the best food to knowing what signs and symptoms of cat illnesses to look out for.
Over the many years I have been a cat owner I have experienced a lot of different feline health issues and have spoken with many vets about them. These pages are my way of sharing that information with you, so that you too can provide the best care for your cat.
Good Cat Care - Can Help Prevent Cat Health Problems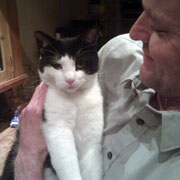 The daily care you give to your cat can go a long way to maintaining their health and preventing disease. However It is Important to know that there is a financial cost to this essential daily care and knowing what is required before you adopt a cat will help you understand whether or not cat ownership is for you.
My good Cat Care Page includes information on:
Vaccinations. Find out which vaccinations are needed and why these are so important to helping prevent serious cat health problems. 


Worming and flea treatment. Protecting your cat from these potentially very harmful parasites is essential. Find out more about why protection is needed.


Micro-chipping. Information on the benefits and procedure.


Neutering. I have put together information about the operations and also why having your pet neutered or spayed IS being kind to your animal and provides health benefits. 
As well as these aspects of looking after your pet, you can also read about:
the specific care needed when looking after kittens or older animals

the different care needs during summer and winter

and things that could be a risk to your cats safety, such as household chemicals and poisonous plants
Cat Health Problems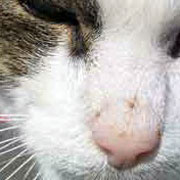 I am always worried that my cats will fall ill and I keep a close eye on them, watching for signs of ill health. But as you know cats can't tell us if they are feeling poorly, and they are notoriously good at hiding when they are in pain!
My Cat Illnesses Page includes information on:
The signs and symptoms of pet health Issues to be aware of
What might be the cause of the illness
What treatments are available
What you might be able to do to help prevent your animal from becoming ill in the first place
You will also discover what items are best to keep in a first aid kit for cats, in case your pet has an accident or other emergency in the home.
I have included some information about cat insurance too. I know just how expensive vet treatment can be. So i thought I would tell you about my experiences with vet bills and insurance claims. I hope it will help you make up your mind whether or not cat insurance is right for you.
Cat Supplements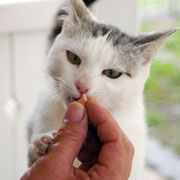 Just like us humans, cats can have individual nutritional needs too, especially if they have a long term illness. There may also me times in your cats life such as when they are pregnant, elderly or a growing kitten, when extra supplements may be required.
On my Pet Supplements pages you can read about how supplements can help to maintain your cats:
Skin and coat condition
Joints and flexibility
Stomach and digestive health
and other health matters including their eyesight, heart and liver.
The supplements available include many that we may be familiar with ourselves! These include vitamins and minerals, healthy oils such as Omega 3's and probiotics.
Herbs for Cats
I have several friends who like to give their cats herbs and herbal remedies to help with cat health problems? This is not something to do lightly as not all herbs are safe! There are even some plants that are poisonous to cats, so if you are going to give anything to your pet, it is best to check with your vet first.

However, with the right knowledge, some herbal preparations can be used safely as a complimentary treatment.
My Herbs for Pet Health pages includes information about:
The different ways to give herbal treatments, such as tablets, creams or liquid mixtures

How herbs might be able to help, either as a general tonic to help boost an animal's energy and well being, or to help ease a specific illness

Basic guidelines to follow when considering using herbal remedies

And how to find a reputable and quality source of herbal supplements
Good Nutrition and Food For Cat Health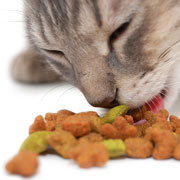 Ensuring your cat has an excellent diet and good quality food is one of the best ways you can look after them. And that means thinking quality rather than quantity!
By giving them a good healthy diet you can ensure they stay a healthy weight and also help prevent certain cat illnesses.
My pages about Cat Food explain:
Why cats need certain nutrients in their food, such as Taurine
What makes a good balanced diet, including water, protein, carbohydrates, fats, vitamins and minerals
Is there any difference in how healthy wet food or dry food is?
Plus information about a special cat recipe e-book so you can make your own pet food at home!

Sometimes cats loss their appetite and this can be a real worry for the cat owner. If you want to discover some of the reasons why your cat has stopped eating, see my page here.
I have many other pages on my site about specific areas of animal well being such as fleas and flea treatment, or feline pregnancy. 

Back to the top this Cat Health Page
---
I'd love to hear what you think of this page or my site. Let me know if you like what you have read or if it has helped you with a problem.
It's easy to do just leave a comment in the box below and click the like / share or +1 to let others know about my site. Thank You It really is most appreciated.