Your Essential Cat Ebook For All New And Existing Cat Owners

Everything you need to know about your cats basic every day needs

Are you thinking of getting a cat but never looked after one before?
Perhaps you already have a cat but want to make sure you are looking after them correctly.
To remove the worry for you I have created Cats For Beginners Ebook. It will help save money, time and the frustration of having to look through hundreds of cat website pages.

What's Inside the Ebook
Inside my downloadable PDF printable Ebook, you will find:
How to choose the right cat for you and your lifestyle. Not ll cats are suitable for all lifestyles. Choosing the right one can help prevent many family upsets and possible health issues.


The costs involved in owning a cat. I have included a breakdown of individual costs of a yearly period.
 
The basic equipment needed to look after your cats day to day needs, including for grooming, feeding, bedding and more


How to Introduce your new cat to your family and other pets. Sounds simple right? But It does need a special method and lots of time to ensure a happy outcome. and prevent possible behavioural Issues.
 
Litter training techniques for both kittens and adult cats.


Grooming requirements for long and short hair cats.
 
How to set up a daily routine for your cat. This is important to prevent disruptive behaviour.


What vaccinations your cat needs, including flea and worm treatments.


Micro-chipping - why your cat needs it and what it involves.


How to handle a cat physically. Did you know there is a right and wrong way to hold a cat to prevent pain and possible injury to both you and your cat.


Neutering - find out when you should neuter your cat, why it's important and the myths which surround this simple but essential surgery.


Find out the correct feeding amounts for your cats age and weight.


And So Much More
Sample Pages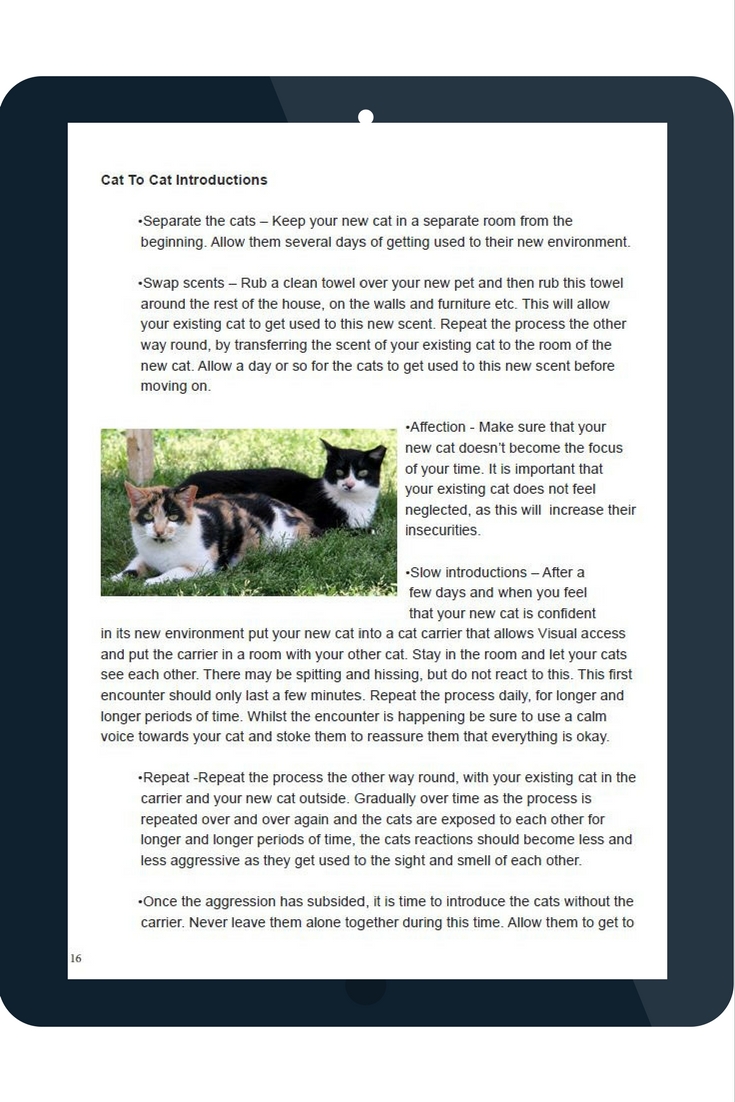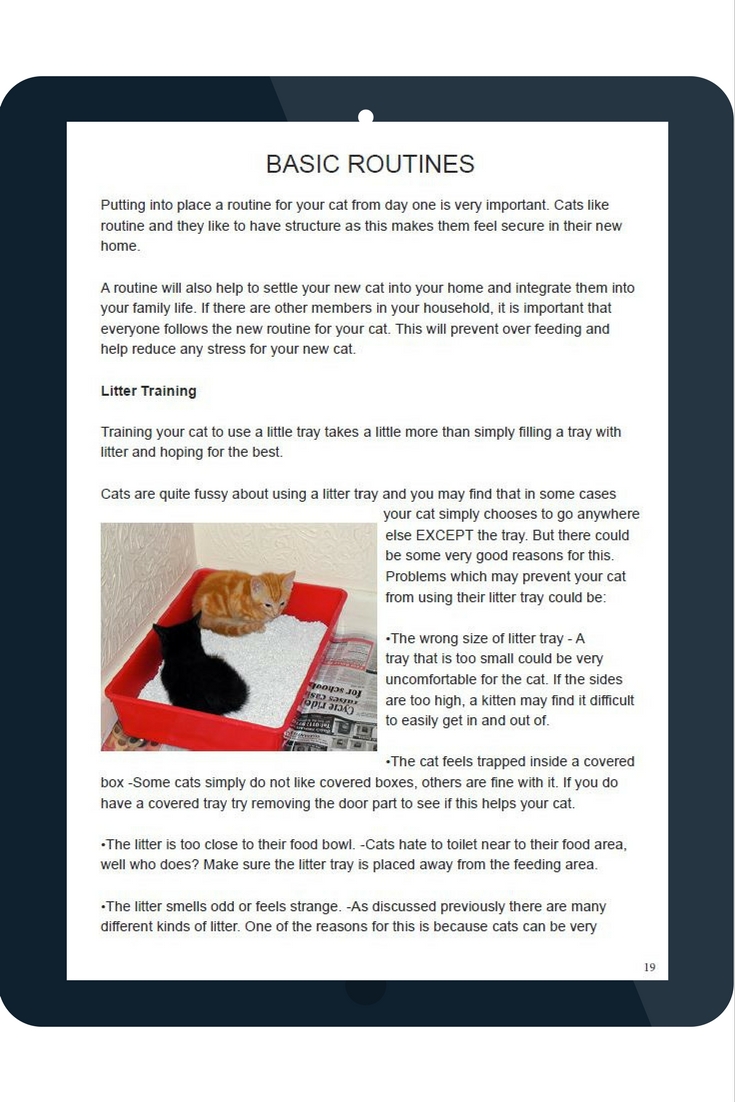 Why An Ebook Rather Than A Hard Copy?
There are many benefits of a PDF downloadable Ebook
You will get your copy IMMEDIATELY
You can print our the whole book or just the pages you want.
You can easily download it to your mobile device, so you always have a copy on you.
It costs a lot less than a hard book

What Others Have Said About The EBook
Thanks for putting this very informative ebook together Kate! I had so many questions in my mind about looking after a cat as I have never owned my own pet before. This has put my mind to rest and answered all of the important questions I was worrying about. I am now looking forward to bringing home my first new kitty from the rescue shelter this week, confident that I will be doing the right thing!

---
This ebook covers all the important basics that anyone caring for a cat for the first time should know. From what kind of food to give it, to what vaccinations are needed and even how best to pick up and hold your kitty and how to play with it. Some of this may seem obvious to those who have owned cats for years but it's important stuff for the first time cat owner who will want to know how to ensure their new kitty will stay happy and healthy for years to come. 

---
Great ebook that is full of useful tips and advice for the first time cat owner. Just what I needed as I have grown up with dogs and hamsters but never owned a cat! There is more useful information in this than I expected so I will be able to keep referring to it for advice in the future. Well worth the price. Thank you!

Purchase Your Copy Today!
The best news is that you can pick up your copy right now for only $3.99.

After you purchase the Ebook you will be taken to a Thank You page which will include a link for you to click to download the Ebook. It's as simple as that.

---
I'd love to hear what you think of this page or my site. Let me know if you like what you have read or if it has helped you with a problem.
It's easy to do just leave a comment in the box below and click the like / share or +1 to let others know about my site. Thank You It really is most appreciated.