Cat Pictures and Cat Art
Something For Everyone 
Cat Pictures can be found on almost every item imaginable. Go into any high street shop and you will see cutesy cat poses on items such as greeting cards to fridge magnets. But in our experience it's very hard to find anything truly original and that will enhance your home. 
This page is your starting page to finding beautiful and original pictures of cats for your home or even yourself. If you love cats and find them fascinating, beautiful creatures that provide endless hours of fun and enjoyment like I do, then I hope you will enjoy my pages of beautiful cat pictures to suit all occasions.
We have deliberately tried to find artists and cat pictures of all types that are not only original but also of the highest quality.
Cat Pictures Posters
Both Matt and myself love posters of cats and have many all around our home. But we are quite choosy and like many different styles of cat art pictures.
I have chosen some of my favourite pictures of cats which I hope you will enjoy, you may even decide that you might like them for your own home.
To see our choice of our favourite cat posters click here.
Cat Photography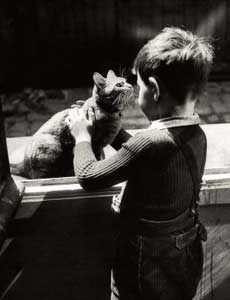 Don't you think that photographs of cats are simply stunning and very relaxing. They can also be very amusing, for instance I had this photograph of a cat with a mouse on his head on my office desk for years and it never failed to put a smile on both my face and visitors to my desk.
Cats are quite simply one of the most beautiful animals to photograph and the images I have selected is just a small sample of some of my absolute favourites, hope you like them too.
Please click here to see my choices of the best cat photography available.
Also if you are interested in taking up photography yourself and want to find out the best way to do this we have a great page with some tips to help you capture the beauty of a cat.
Cat Art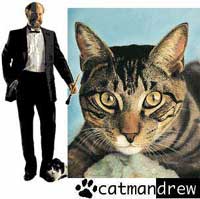 Drew Strouble of CatmanDrew as he is also known, is a very fine artist who we were so impressed with that we wanted to share his work with you. 
His cat pictures are wonderful, very realistic and natural looking. He has won many a prize for his work over the 25 years he has been painting cats and has become known as one of America's top cat artists.
See our page all about his work and how you too could own a wonderful piece of cat art yourself.
Cat Tattoos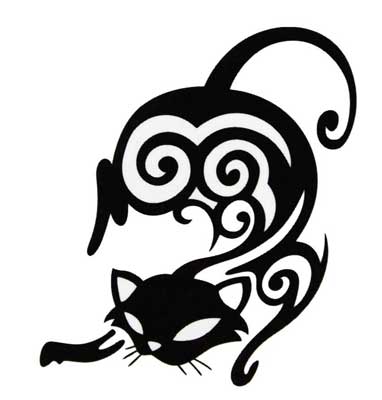 Have you ever thought about taking the plunge and having your very own cat tattoo?
There are so mnay designs available to choose from that it can sometimes be rather diffiuclt to choose the right one for you. Luckily these days it's easy to try a tattoo out before you make the final plunge to have a permanent one inked on your skin.
Take a look at our tattoos page to get some inspiration and to find some examples you can try out for yourself.
---
---
I'd love to hear what you think of this page or my site. Let me know if you like what you have read or if it has helped you with a problem.
It's easy to do just leave a comment in the box below and click the like / share or +1 to let others know about my site. Thank You It really is most appreciated.