The Best Cat Kennel
For A Happy Outdoor Kitty
A good cat kennel will give you peace of mind while your kitty is out of the house, or while you are out at work all day.
Whether your feline friend lives outdoors for all or part of the time, you will know that they always have somewhere safe and warm to go to. 
Somewhere to shelter from the wind and the rain, to keep cool on a hot summers day, or simply a snug and comfy place for that all important catnap!
I've taken a good look at the different types of cat kennel available.
On this page I will show you the important things you need to consider when choosing the best one for your kitty and I will tell you about some of my very favourite designs!
---
Great Choices of Cat Kennels
I had a search for different types of outdoor cat houses and thought I would show you the range of designs I liked the best. There are great choices for one, two or multiple cat households and you can find out the benefits and features of each one here.
All the kennels I like are made from natural wood. Did you know that wood is naturally a better insulator than plastic or other materials? This means that the kennels will be warmer in the winter, but also cooler in the summer, whereas plastic can cause problems such as overheating and condensation.
Cedar wood is apparently also a natural deterrent to fleas, termites and ticks!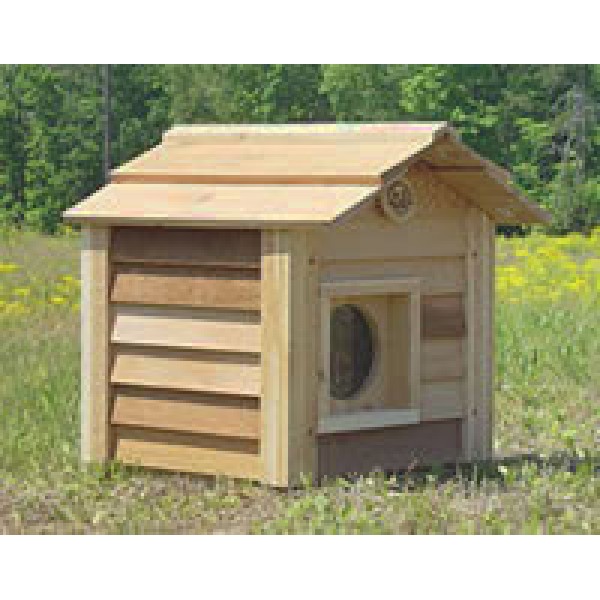 These high quality, hand crafted pet kennels is based on a traditional style and also comes with an optional porch and deck.
This means it is great for those hot sunny days when your cat can enjoy lounging around in the shade.
It has a removable roof to make cleaning the inside easy. Plus it has vinyl flaps on the door to keep out the wind and rain. Other optional features include additional insulation and a pet mat.
It comes in ready-made panels for easy assembly and I think this cute cottage style would look lovely in any garden or yard.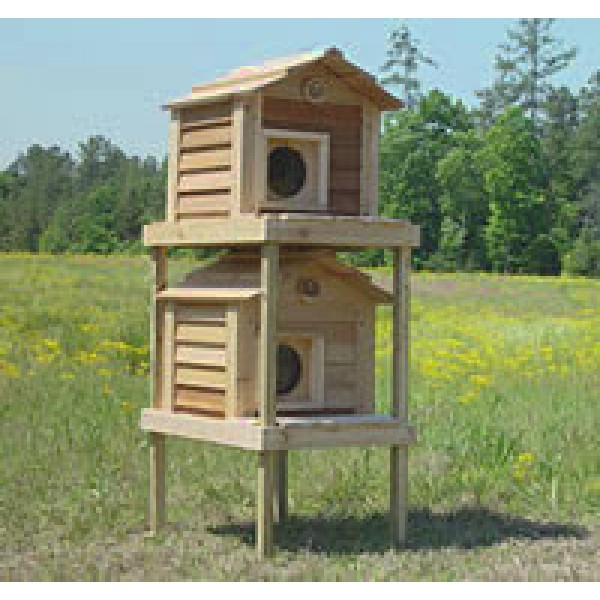 This unique, double kennel combination has all the same great features as the single cat houses above.
It is ideal if you have two kitty friends who need to share and especially if you have limited space.
It makes a great lookout tower for your cats and your kitties can enjoy jumping from the lower hut to the higher one. As it is raised up off the ground, they can lounge around underneath as well if they like.
What could be cuter than seeing your two pets peeping out of both of these doors?
Cat Cottage Triplex - is this the Ultimate Cat Kennel?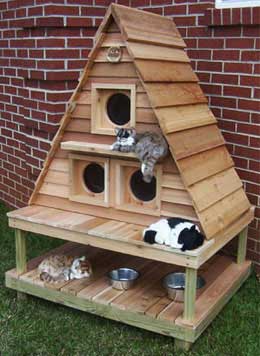 Okay, this must be the pinnacle in outdoor pet apartments!
Not only is this a fantastic and practical solution if you have several kitties to cater for, I think this is an absolutely beautiful piece of craftsmanship!
Not only can three or more pets happily share this stylish penthouse suite, the raised platform area provides ample additional space for food and water bowls.
It also means there is lots of space for your kitties to be able to sleep in a lovely cool and shady spot.
I think this three-in-one kennel looks simply stunning!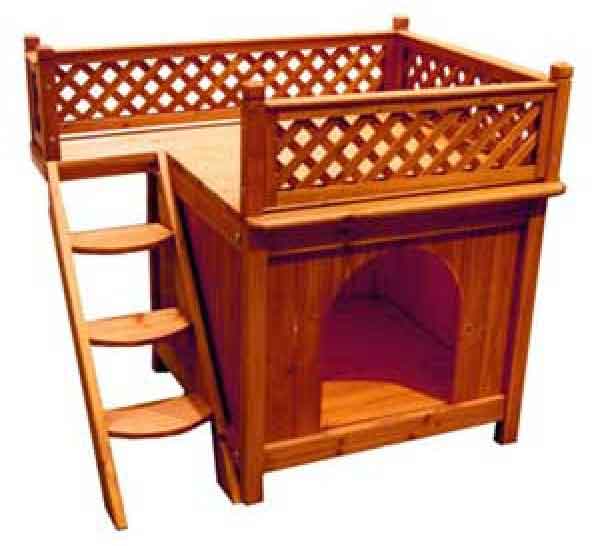 I think this is a great design that is small enough to be able to use indoors or out, while still managing to pack in lots of features.It's a fantastic option for both sunny or rainy days, and looks great with its finish in a natural colour wood stain that also helps give longer lasting protection.So how much would your kitty like to have their own fancy outdoor cat kennel with a roof terrace? I think it's enough to make a cat-owner jealous!
It's reassuring to know you can still get such good quality craftsmanship these days! These cat kennels not only provide your feline friend with the comfort and shelter they will appreciate, I think they all look really great too.
Top Tips for Choosing the Best Cat Kennel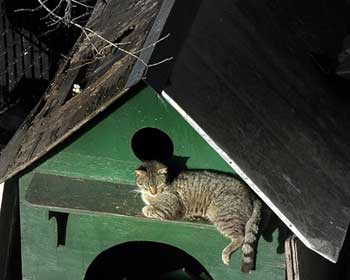 There are some practical things to keep in mind when buying your pet house, including:
Is it of good sturdy construction and water tight?


Will it be warm in the winter and cool in the summer?


If it is delivered flat-packed, will it be easy to assemble?


Is it the right size for your pet?


Will you be able to reach inside the pet house easily to clean it out?


Will it look attractive in your garden or yard?
Making the right choice now means you will have a product that will help keep your kitty in comfort for many years to come.
Top Tips for Placing Your Cat Kennel
Take some time to consider where you will place your pet kennels as well. Ideally it should be in a nice sheltered spot so that the entrance does not face the direction of wind and rain, or have the hot sun glaring into the entrance door either.
It should also be somewhere that provides a good viewing point of the surrounding garden area. After all, your cat will like to feel that they can see anything that might be creeping up on them!
For the same reason, many kitties feel more secure when they are up off of the ground, so consider placing it in a raised area, or even on a platform. Many outdoor pet houses are built so they are already raised off the ground a little, as this also helps prevent cold, damp and rot from setting in.

---
---
I'd love to hear what you think of this page or my site. Let me know if you like what you have read or if it has helped you with a problem.
It's easy to do just leave a comment in the box below and click the like / share or +1 to let others know about my site. Thank You It really is most appreciated.