Jacko
by Daniel Tourville
(Agawam,Ma,USA)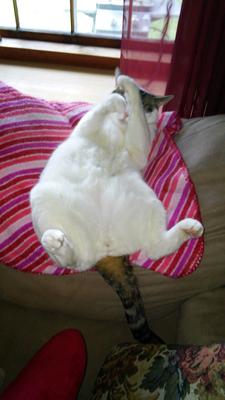 Go hide Mom
We found Jacko when he was 4 years old at the shelter,his people had to give him up as a young child was allergic.As were walking about looking at all the adorable kitty's to choose from & so sadly there was so many.As were stopped by his cage he was sticking his paw out & padding Jen on the arms as if he was saying "please take me home I'll be a real good boy" he had been there for about a week.We had decided to get a cat to keep Jen company & entertained after she was diagnosed with cancer & could no longer work.He will stay by her side at all times when I went to work during the day,and to say the least entertained he does.He follows her around like a puppy,everywhere she goes he prances right behind her & does not matter how often,there is such a bond between the two of them. Jen spends a lot of the day laying in bed on her back & he does the same next to her on his back as well watching TV & he loves Animal Planet.His favorite thing to do is to keep themselves exercised by play Hide & Seek & Tag Your It.This is how it all begins generally when Jen goes to the living room & lays on the sofa with the TV on,he will put on his crazy eyes & ears flat back on his head he will jump off the sofa & attack the chair as he going to tear it apart & just staring at her just waiting for her to get up & say "Jacko no.no scratching the chair" The game has now begun as he will then run through the living room,dining room & kitchen into the laundry room with Jen right behind him & he will jump up on the dryer just waiting for Jen to tap him on the nose & say "Tag your it".She will then shuffle as quickly as possible to the bath room on the other side of the house & when she gets about half way he leaps off the dryer & dashes after her & passes her just to beat her there & then jumps up on the counter & prances back & forth so proud he won.Then the game begins again the same way with a tap on the nose "Tag Your It" & same way half way there he passes her by & jumps up on the dryer.This goes on as long as Jen has the strength to do so.


When they play Hide & Seek,Jen will go hide then call him & he will meow & meow through the house until he finds her & he always does.This is great exercise for both of them & he brings so much laughter & smiles to our home & this is priceless.He loves his belly rubbed & all you have to do is say "assume the position" & on his back he goes paws up,tail straight out & smiles at you as well.He is the best companion ever
---
I'd love to hear what you think of this page or my site. Let me know if you like what you have read or if it has helped you with a problem.
It's easy to do just leave a comment in the box below and click the like / share or +1 to let others know about my site. Thank You It really is most appreciated.