Welcome to Decembers edition of the Happy Cat Ezine
Well it's nearly Christmas again, can you believe it? It feels like only yesterday i was taking down the decorations. Well we are all one year older including Little Mo, who seems to be taking it in her stride. As you can see from this picture she is very laid back.
As it is christmas the next ezine won't be published until the end of January. It gives me some time to get over all the festivities.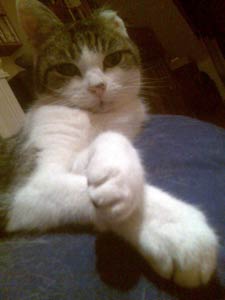 In this months ezine we have included the article about Christmas safety and your cat. I know we say every year but it is worth remembering that the Christmas season does hold some dangers for our feline friends.
Don't forget to enter this month caption competition. the prize is rather nice. I am expecting lots of entries for this one so the more captions you can think of the more chance you stand of winning.
I hope you enjoy this Ezine, let me know if there is any thing you would like me to include on the website that I have missed and i will do my best to remedy the situation..
I hope you come and visit us soon at Our-Happy-Cat.Com
Until next month
Best Wishes Kate
------------------------------------------------------------------------------------------------------------------------------------------------
CONTENTS
1. What's new on Our Happy Cat.Com
2. Competition
3. Little Mo's Diary Update
4. Article - Christmas With Your Cat
----------------------------------------------------------------------------------------------------------------------------------------------
1. What's new on Our Happy Cat.Com
I decided that because I was getting so many enquiries about Kitten Care that i would add a whole section of pages to the site to about this subject. You can now find pages about how to look after a orphan kitten, feeding issues and health problems to watch out for.
I have tried to cover as many different aspects of kitten care and hope that it can provide many of the answers looked for my my visitors.
This month I was asked to review a book called "The Ulitimate Cat lovers Book". they were kind enough to send me a copy which I have read cover to cover. It is full of lovely stories about other cat owners relationships with their cats. I must admit it gives you a lovely warm feeling inside , as well as bringing the occassional tear to the eye. I would thouroughly recommend it if you are looking for a stocking filler for a cat lover this Christmas.
As a taster i have posted a page about the book and also one of the stories inside called "Love pats".
Don't forget to subscribe to the RSS feed for our Whats New cat Blog. every time a new submission is made a new entry is added to the blog and the only sure way of keeping up to day is to be automatically notified when this happens. Plus you get to see the new daily Garfield cartoon as well, a sure way to brighten anyones day. So click on the RSS buttom on the blog page Here.
--------------------------------------------------------------------------------
2. Competition Number Dec08
Here is Decembers Caption Competition. All you have to do is wriute a caption for this picture. You are the first to see it as it doesn't get posted onto the site for a few days, so it gives you extra time to get your entries in first.
Simply send us your caption to go with this picture.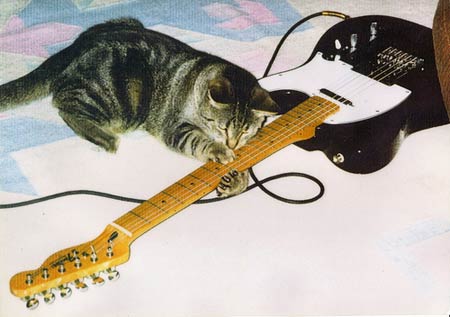 picture by Mikey G Ottawa
The deadline for this competition is January 30th. The best caption will be chosen and the winners name and caption will be posted on the www.our-happy-cat.com competition page.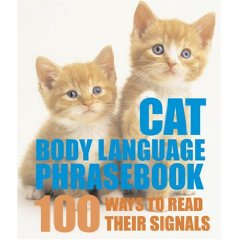 This month the prize will be a fabulaous little book called "cat Body Language Phasebook". It is full of lovely cute cat pictures as well. this is a rather nice prize and is really worth entering in for.
GOOD Luck
--------------------------------------------------------------------------------
3. Little Mo's Diary Update Happy Cat Diary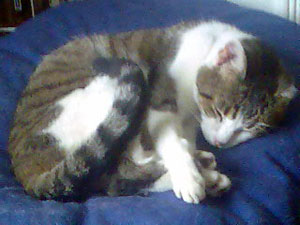 6th November 2008
It is getting very cold and my poor bent front leg is starting to ache again. When I am outside I sit holding my leg up off the cold ground, which makes it feel a little better.
Luckily mum and dad know about my achy leg and have started to put a heated pet pad in my bed and also they give me some lovely herbal powders which help too.
Oh well I suppose it's all part of getting older, but I do wish it didn't get so cold. Brrrrrr. I'm off to curl up in my warm bed.
Liitle Mo
is where we got the heat pad and herbal powders from.
Click here to read more of Little Mo's Diary
--------------------------------------------------------------------------------
4. Article - Christmas With Your Cat
Christmas time is the time of year where we lavishly decorate our homes with twinkling lights and coloured decorations. Our centrepiece is a wonderful scented fir tree, which we cover with spangle balls and tempting chocolates. All these things help to make our homes feel cosy and warm and traditionally seasonal. Unfortunately we are not the only ones attracted by the tinsel and the light, our cats with their highly inquisitiveness are also going to take particular interest in all our Christmas excess and sparkle. But lurking within those Christmas celebrations are hidden dangers for our furry friends.
So with our pet cats in mind, we should decorate our homes this Christmas with care and put in place precautions to keep them safe. Things to consider are:
Holly, Mistletoe and Poinsettias - these are all plants that we traditionally like to bring into our homes during the Christmas period. Unfortunately all these plants are toxic to cats and if eaten can cause serious illness. So always ensure that these plants are not accessible to your cats, place them on high shelves or drape them over centre light fittings. But if you have a cat that is very agile and inquisitive it may be safest not to bring these plants into the house.
Christmas trees - It is practically impossible to stop your cat from exploring this new and interesting item. The only thing you can do is to make sure that it as safe as absolutely possible and that the cat is not allowed access to it alone. A few measures to take are:
Have a tree that does not shed its needles too quickly if at all. Some fir trees don't shed, while others have particularly spike needles that are perfect for getting in soft paws and worse still being eaten.
Make sure the tree is firmly secured and will not tip over.
Place breakable decorations further up the tree and not in the lower branches where they become new play things for your cat.
Spray some strong smelling liquid onto the and around the base of the tree. Diluted Lemon juice is good and will help to deter kitty coming too close.
Tinsel and other Christmas decorations - Always place decorations especially tinsel out of the cats reach. It is just too tempting for your cat and if swallowed cat cause blockages.
Artificial snow - this is toxic to cats, so should be avoided if possible. If you must have it, make sure your cat is not left alone in a room with it, especially at nighttime.
Another danger to look out for during the Christmas period is visitors or family members giving chocolates to your cat. They may think they are giving them a treat but actually they are poisoning them. Chocolate contains methylxanthines and theobromines, which are very toxic for both cats and dogs; it over stimulates their nervous system and cardiovascular system. Always keep chocolates covered up and out of reach of your pets, also let guests know about the dangers.
Symptoms of eating chocolate are vomiting, hyperactivity, diarrhoea, agitation and frequent urination. If you suspect that your cat has eaten some chocolate and is showing some signs of illness they should be taken to the vets immediately. In the worse case scenario, death can occur and all from eating a few charismas chocolates. So extra special care should be taken to keep such goodies away from our pets.
Amongst al the celebrates and visitors it is easy for your cat to begin to feel a little neglected and even scared, especially if there is a lot of noise and unexpected people in the house. Always try to find some time during all the Christmas day mayhem to pay them some attention. It is also a good idea to put aside a separate room for your cat to retreat to if you are expecting a lot of guests. Place in the room somewhere warm for them to sleep, a few of their favourite toys and make sure they have a clean litter tray and some water available. So if your cat decided that it is all too much for them they can be placed in this room and be kept safe and comfortable until things return to normal.
We might like Christmas and all it's fuss and glitter, but your cat may not feel the same way especially if we don't pay particular attention to their needs during this time.