Welcome to June 2009 edition of the Happy Cat Ezine
Summer is nearly here and the kitties are outside playing in the sun or lounging on the window sills Hooray. Little Mo is happy again. She really is a different cat when the sun comes out, in fact I hardly get to see her as she spends most of her time in the garden soaking up the rays (making sure of course she doesn;t burn her one good ear)
Once again many of you have been dropping by the site adding your pictures, stories etc and making our happy cat.com one of the most feline friendly places on the web. Thank you and keep up the good work.
This month I have included a article about kitten care. Tis the season for new borns and I am receiving lots of questions about various kitten care and health issues. So I thought it might be a nice little article to have this month.
Don't forget to enter the cat competition again this month. I really enjoy reading all your humorous captions and the prizes aren't bad either.
Until next month
Best Wishes Kate
------------------------------------------------------------------------------------------------------------------------------------------------
CONTENTS
1. New Cat Huts This Month
2. Competition
3. Little Mo's Diary Update
4. I Wish - A Poem by Mike O'Brien
5.. Article - Kitten Care - Looking After Your First Cat
----------------------------------------------------------------------------------------------------------------------------------------------
1.New Cat Huts This Month
Four new Cat Huts have been added to the site this month. Each one with their own delightful story. They are:
-----------------------------------------
2. Competition Number June20
Here is May's Caption Competition. All you have to do is write a caption for this picture. You are the first to see it as it doesn't get posted onto the site for a few days, so it gives you extra time to get your entries in first.
Simply send us your caption to go with this picture.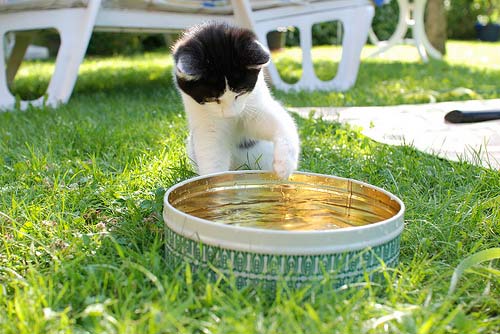 picture by c_pichler
The deadline for this competition is June 24th. The best caption will be chosen and the winners name and caption will be posted on the www.our-happy-cat.com competition page.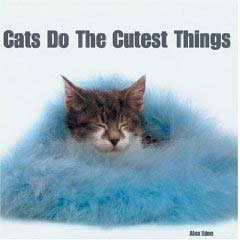 This month the prize will be a copy of the book Cats Do The Cutest things By Alenandra Ortolja-Baird.

GOOD Luck

--------------------------------------------------------------------------------
3. Little Mo's Diary Update Happy Cat Diary
Happy Cat Diary 12th May 2009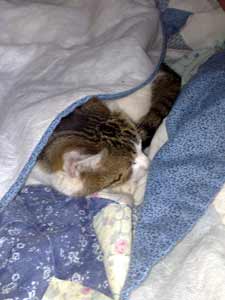 A Cats Bed

Oh I do love a afternoon nap and
a morning nap and
a evening nap
In fact napping is my favourite hobby and the more I do it the better I get.
My mum and dad are lovely as they always make sure I never get too cold mid nap. So cozy.
Click here to read more of Little Mo's Diary
--------------------------------------------------------------------------------
4. I Wish
by Mike O'Brienc
(Christchurch New Zealand)

A man walks along the beach, he finds a lantern in the sand
What the heck is this? he thinks as he rubs it with his hand
Out pops a little Genie with some weeds and little fishes
I'm free at last the genie cried, now you have three wishes
The man replied look here mate I've got you out of a fix
Instead of the usual three wishes I demand you make it six
The Genie thinks this man is greedy,but he has me on remand
OK replies the Genie you six wishes are my command

(1) I wish to eat for ever more from a never ending plate
(2) I wish to be adored by woman,now would'nt that be great
(3) I wish to get up when I want and do whatever I please
(4) I wish to never work again and live a life of ease
(5) I wish to never have to pay for anything again
(6) I wish to be treated like a King and in my house I reign

These are the six wishes that I demand,now can you do all that
The Genie smiles and in a flash he changed the man into a CAT.

(c) Mike O'Brien
More Cat Poems and Cat Stories
______________________________________________
5.. Article - Kitten Care - Looking After Your First Cat
It's always an exciting time when you first decide to own a kitten for the first time. All you can think about is the fun times you will have with your pet and how cute and lovely they will be. However it is important to consider what is involved with looking after a cat, as it is a life time responsibility of between 12 and 16 years sometimes even longer. It will involve certain costs and much time and effort on your part and if you are not fully prepared for these responsibilities, your cat will suffer and this is something no true cat lover would want.
Choosing the right kitten for you is the first consideration. The temperament and health of the kitten are vitally important if both you and your cat are to live happily together. You must consider the home environment your new pet is to come into and if it will suit their personality. For instance if you are looking for a pet that will be a companion to children and be able to interact with them, you will be looking for a lively and active pet. Whereas, if the kitten is for an elderly person, you may be looking for a quieter personality.
Always try to find out the kittens background and if it's mother has any underlining health problems. This will help you be prepared for any ill health that may occur in the future and of course help you to decide whether or not you would want to take on that responsibility. Kittens should always have bright eyes, clean ears and nose and their coat should be glossy. Make sure they are not suffering from diarrhoea or vomiting and are generally in good health before you take them home.
Before bringing home a new kitten make sure all the essentials like, a comfortable cat bed or cushion, a litter tray and litter, food bowls, cat toys including a scratching post and grooming brushes have been purchased to make their arrival comfortable and secure. It is important that the kitten feels at home right from the first. This will help them settle in to their new home quicker and help them to build bonds with their new family.
Feeding a kitten also needs some thought. Just like a human baby they need a special diet, as their digestive system is not yet up to coping with all types of food. Look out for cat foods especially made for kittens, which provide all the nutrients and vitamins required to keep a kitten in the best of health. Kittens also need to be fed more frequently than adult cats. Feed kittens up to the age of 5 month old up to 5 times a day, this should gradually be reduced to 3 times a day once they reach 12 months old. Fresh water should be available for them to drink at all times.
During the first few months of owning your new kitten you will get to know your vet very well. Many visits to the vet will be required to fulfil your role as a responsible owner. Worming should be carried out from between the age of 4 to 16 weeks every two weeks until they are 6 moths old, after that it only needs to be carried out every 2 to 6 months. Vaccinations are also essential at around 9 to weeks old as this is when they start to become vulnerable to such illness as cat flu, enteritis, feline leukaemia virus and feline chlamydophilosis.
During these first few months you will also have to decide whether or not you wish to breed from your cat in the future, as they will become mature enough to breed after 6 months old. At that age it is recommended that you have them neutered if you do not want any unwanted pregnancies to occur. It is also a good time to have them micro chipped at this age.
Well now that all the practical things have been dealt with you can now get on and enjoy your time with your new kitten. Don't forget play is an important learning tool for your cat, as it will teach them about the world round them and help them to hone their natural hunting and survival skills.