Welcome to October 2009 edition of the Happy Cat Ezine
After last month and the terrible loss of Little Mo things have certainly changed at home and in the office. we have certainly missed our little girl. So much so that when we were offered two little brothers with no home, we just couldn't say no. we are cat people and whats a cat person with no cat.
You can read more about our two new boys further on in the newsletter.
i have also featured two contributions sent in by some of our wonderful readership to OUR HAPPY CAT. One is an article about the cost of cat ownership and excellent article written by a ct owner of more than 15 cats and the other is a story and tribute to one of her own cats. i hope you enjoy reading their contributions.
Must be off as I have let the kittens out and i want to know what they are up to.
Until next month
Best Wishes Kate
------------------------------------------------------------------------------------------------------------------------------------------------
CONTENTS
1. New Cat Gallery Photos This Month
2. Competition
3. Meet Byron & Shelley Our Latest happy Cats
4. Cat Story - Jellicle - Thanks for the Memories
5.. Article - Pet Ownership - The Costs
----------------------------------------------------------------------------------------------------------------------------------------------
1.New Cat Gallery Pages
Wow what a month, we have no fewer than 17 new Cat's on our Cat Photo Gallery this month. Click on their pictures to find out more about them.
| | | |
| --- | --- | --- |
| | | |
| Matsa | Cami | oreo and lil man |
| | | |
| Willow mae | lillybelle | Mika |
| | | |
| Sissy | Sox | Summer |
| | | |
| Smokey | baby | butter |
| | | |
| lewie | tabby | persia |
| | | |
| Madalynn | bella | |
-----------------------------------------
2. Competition Number Oct24
Here is October's Caption Competition. All you have to do is write a caption for this picture. You are the first to see it as it doesn't get posted onto the site for a few days, so it gives you extra time to get your entries in first.
Simply send us your caption to go with this picture.
The deadline for this competition is Oct 26th. The best caption will be chosen and the winners name and caption will be posted on the www.our-happy-cat.com competition page.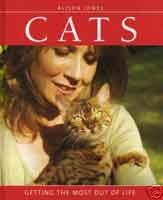 This month the prize will be a copy of the book "Cats, getting The Most Out Of life". GOOD Luck

--------------------------------------------------------------------------------
3. Introducing Byron and Shelley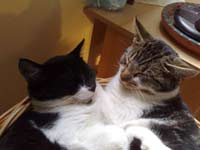 As many of you know we lost our cat Little Mo last month and since that time,m we have grieved for her a lot. in fact that the house was just too quiet without her and as i work from home all day, we decided that i needed a distraction, so let me introduce you to our latest HAPPY CATS, Byron and Shelley.
They are two 4 / 5 month old brothers who were handed in as unwanted to a local animal charity. The person who handed them in said they were not hers and that she found them in her garden, but these two guys are already litter trained and are very well socialized. The charity thinks the owner was too ashamed to admit she did not want them any more.
They love each other dearly and have the sweetest nature. they have already caused havoc in the house, just as kitten should. And although we think of Little Mo every day and always will i think, they certainly are helping to ease the loss.
I will be adding regular updates about them on the web site so keep an eye on your RSS feeds for those. Here is there page
--------------------------------------------------------------------------------
4. Cat Stories and Poems
we like to encourage our visitors to the site to share their cat story or poetry with us here. we certainly enjoy reading your tales of rescue, joy and sadness too. So if you have a story or poem to tell us please let us know HERE
One of the latest stories submitted
Jellicle - Thanks for the Memories
by Patricia J. Whitney
(Bartlett, IL)
Jellicle was not a black and white Jellicle cat, she was actually a gray and brownish orange tortoise. But after seeing the play Cats based on T. S. Elliott?s poems in London twice, I named my adopted two-year-old cat Jellicle, a name that was difficult for many to pronounce, no less spell. Not only was she not a Jellicle Cat, neither was she the orange, Garfield type cat that I was looking for. But as with all my cats, Jellicle selected me as her mistress at the Oak Park animal shelter. When they took her out of the cage and put her on the floor, she tried to climb my leg. As I picked her up, she began her famous purr. She snuggled into my arms and into my heart. So who needed an orange cat anyway? Later on, I found out how fickle Jellicle was. She purred and snuggled with anyone who paid the slightest attention to her.

I never had a favorite child or a favorite cat, although I?ve been accused of favoring my Texas cat, Dallas. I gave my attention to the child or cat who was in need. Jellicle was never needy except for a lap. She wasn?t choosy whose lap she sat upon and through our first 15 years there were many laps to select from, mine included when no one else was around.
One month after I moved into my townhouse in Bartlett, 15-year-old Willow died. I made the decision not to get another cat. Dallas and Jellicle were well into their teens and both had heart murmurs. I didn?t want to add stress to their lives. Yet, in 2006 I accepted a job in Pennsylvania and moved them in their carriers in a 14 hour ride of howling and crying and their first stay in a motel.

Dallas, the loner, was fine. Jellicle needed extensive petting and a lap. Mine was the only one available. Just an important, I needed her unconditional love. I was alone, no family or friends and knew no one. Hence, our significant bonding began.

Jellicle was my comforter. She sensed when I had a rough day at VNA. She would sit next to me if I chased her off my lap and follow me from room to room. Although her hearing was going, she sensed my return and greeted me at the door with a welcome and a ?feed me? in her meow. After ten months in PA, Dallas had a heart attack and died. Now it was just Jelly and me. She took to sleeping in my bed at night on the pillow next to mine. We spent another fourteen months together in PA before we came back to Bartlett. The last six months things had become very difficult at work and Jellicle?s affection was all I had and was greatly appreciated.

Jellicle was my alarm clock. Promptly at 6:00 a.m. she started snorting in my face, walking on my back and crossing my head to the side I was facing to stare at me until I opened my eyes. She knew the time difference between Eastern (PA) and Central (IL). Plus, she was aware of daylight savings time. Returning to Illinois, she finally begrudgingly adjusted to my new rising time of 7:00 a.m. I was teaching at Concordia University until 10:00 p.m. one or two nights a week. When I returned at 11:00 p.m., I was scolded for being out so late and nmo way could I go on my computer. She would sit on the keyboard until I finally gave up. Ten o?clock was Jellicle?s designated bedtime for me. She would appear before me and stare until I turned off TV or my computer. She would settle on her pillow and allow me to read for ½ hour, no longer. Like clockwork after a half hour, she would lie on my book until I gave up.
Read the Rest of The story and see a picture Of Jellicle
More Cat Poems and Cat Stories
______________________________________________
5.. Article - Pet Ownership - Can You Afford To Look After A Pet?

Article written by Mary in NC

Hello everyone.
Most regular followers of this site know me from my many posts about my beloved feline family.
(I have 15 cats and 1 dog, which was ALL rescued) When I took these precious animals in, I had to consider many facts in order to be able to give them all the life they so deserved.
It is no secret that giving proper care to a pet or pets is expensive but it is easy to not see the BIG picture when we take in a pet and promise them the purrfect home.
Little did I know when I started adopting rescued cats several years ago that a day would come when I was paying out of pocket over 100.00 (American dollars) per week for their basic needs.

This is NOT including any unexpected emergency care that arises (and it DOES happen).
So this got me to thinking:
How many of us really think about and calculate the lifetime cost of a pet before taking on the responsibility of bringing it into our home?

It is easy to fall in love with them when you look in their eyes but in all fairness, they have needs and their needs are costly. We therefore need to ask ourselves BEFORE we make this lifetime commitment to an animal CAN I AFFORD PET OWNERSHIP?
Don't get me wrong by any means. I am ALL FOR rescue of a helpless animal and if you can do it then by all means take that precious animal in and shower it with all the love and affection you have to give. But make sure that you are financially able FIRST so that animal does not one day end up in the local shelter due to not being affordable.
If you should ever get to a point where you find you cannot afford your pet (due to job loss or other unexpected happenings) then research some GOOD, NO KILL RESCUES and ask for their help. Most cities have charity programs that will assist you in feeding your pet or finding a forever home for it if you find you cannot give it the care you had hoped for.
I know everyone who reads this site is a animal lover so don't we owe it to these wonderful companions to make sure they are coming home to a place where they will have all their needs met, and have lots of one on one time spent with their human?
As concerned pet lovers, we should always ask ourselves:
Can I Afford Pet Ownership?
Most of us who are pet lovers assume that we can afford a pet but if we are honest with ourselves can we really afford a pet and care for it in the manner that a living creature deserves?
It is easy to walk by the pet store window on payday and see a precious kitten or puppy and think "awwww, I want this pet". So since it is payday and you have a little extra cash on hand, you pay for it and take it home.
Your heart is in the right place but is your wallet in agreement?
Ask yourself the following questions and find out if indeed, you CAN afford pet ownership.
Are you financially able to provide the proper food that provides nutrition to your pet in all the growth stages?
Can you afford to take your new pet to the Vet immediately after taking ownership and have it checked out medically as well as vaccinated from the threat of disease?
Can you afford to have your pet Spayed or Neutered as soon as it is old enough?
Can you afford the weekly need of litter or puppy pads for a young pet in training?
Can you afford proper and safe toys to occupy your pet in your absence?
How much daily time do you have to offer your pet for one on one attention?
Have you budgeted for any un-expected emergency care that your pet may need?
Can you afford the necessary tools to keep your pet properly groomed such as nail clipping and coat care?
Are your children old enough to understand how to properly care for a pet?
Do you have a reliable person or pet sitter you can call upon in case you need to be away for any period of time?
Now, let's view the facts:
Read the rest of the article Here