Welcome to February 2009 edition of the Happy Cat Ezine
2009 already. Another year older for Little Mo, but you wouldn't know she was over 15 years old. She still runs round after her toys like a kitten.
I hope you all had a good Christmas and are raring to go for another year.
The last cat caption competition received some great entries and It was very difficult to chose the winner. In the end I simply chose the one that was both clever i.e. a play on words, most relevant to the picture and to be honest made me smile the most. Well done Ken Wilkinson, your prize is on its way. Thank you everyone for all your entries and I hope you will enter again this month.
The article this month is about cat arthritis. I wanted to put this in this month as Little Mo suffers with it, especially during the colder months. Hopefully it will help you and your cat too.
I hope you enjoy this months Ezine, let me know if there is any thing you would like me to include on the website that I have missed and I will do my best to remedy the situation..
I hope you come and visit us soon at Our-Happy-Cat.Com
Until next month
Best Wishes Kate
------------------------------------------------------------------------------------------------------------------------------------------------
CONTENTS
1. What's new on Our Happy Cat.Com
2. Competition
3. Little Mo's Diary Update
4. Article - Cat Arthritis
----------------------------------------------------------------------------------------------------------------------------------------------
1. What's new on Our Happy Cat.Com
Before Christmas I was contacted by Barbara Leigh, the actress, model. She wanted to add one of her cats "Watermelon" to the cat gallery and to tell me his fantastic rescue story. Barbara wrote such a great piece about him that I wanted to highlight it this month here in the Ezine, just in case you missed it.
To read Watermelon's story click here
With the close of 2008 the Pet Memorial Quilt has been closed for that year and new one begun. I really love the pet quilts as they look so beautiful and also it is so heartwarming to know that their owners loved them so much to want to remember them in this way.
To take a look at the two previousCat Memorial Quilts Click Here
Sadly we have already had two additions to the 2009 quilt.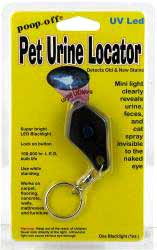 As many of you know I receive a lot of cat questions to the site every day and one of the biggest problems seems to be out of the litter tray urination. The causes of this are many I have to answer each question separately based on the individual circumstances.
However one of the things I always tell everyone is that it is important to make sure that all the urine is cleared up completely. Unfortunately cats have a much better sense of smell than us humans and even the teeniest spot of urine will attract them back to the area to urinate again.
One of the solutions to knowing if you have got rid of every last drop is to check with a black light that will show up any leftover specks. I searched around the Internet and found a very cheap and handy keyring sized blacklight for this very purpose and have added the produce to the site
Don't forget to subscribe to the RSS feed for our Whats New cat Blog. Every time a new submission is made a new entry is added to the blog and the only sure way of keeping up to day is to be automatically notified when this happens. Plus you get to see the new daily Garfield cartoon as well, a sure way to brighten anyones day. So click on the RSS button on the blog page Here.
--------------------------------------------------------------------------------
2. Competition Number Feb16
Here is February's Caption Competition. All you have to do is write a caption for this picture. You are the first to see it as it doesn't get posted onto the site for a few days, so it gives you extra time to get your entries in first.
Simply send us your caption to go with this picture.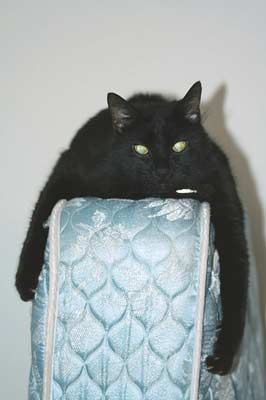 picture by LabyrinthX
The deadline for this competition is February 24th. The best caption will be chosen and the winners name and caption will be posted on the www.our-happy-cat.com competition page.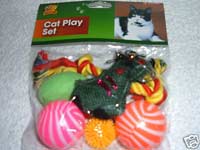 This month the prize will be a bag of cat toys, including furry balls, crinkle balls catnip and soft mouse. Stop your cat from being bored with these new set of toys.

GOOD Luck

--------------------------------------------------------------------------------

3. Little Mo's Diary Update Happy Cat Diary

9th December 2008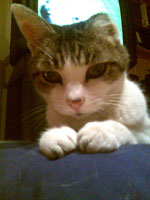 Every year around this time a great big tree appears in the lounge. It has lots of shiny things on it which I like to see my face in and it smells nice too.
Mum and dad also seem to be doing funny things like wrapping boxes with paper and writing on little cards. They don't seem to notice me when they do this, so I have to get back the control by running madly through the coloured paper on the floor and and getting tangled in the shiny things on the tree. That soon gets me the attention I deserve.
Funny things Humans, every year the same old strange behavior.
Little Mo
Click here to read more of Little Mo's Diary
--------------------------------------------------------------------------------
4. Article - Cat Arthritis - What are the symptoms and how can you help your pet.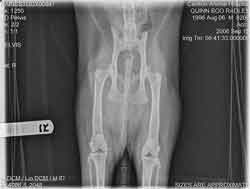 Arthritis in an elderly cat is as common as it is in an elderly person. Just like humans their cartilage wears out and becomes thin allowing for bones to rub together causing inflammation and pain.
Knowing if your cat has arthritis is something that only a vet can accurately diagnose however there are various symptoms that might lead you to suspect that your cat is feeling their age and a little creaky. It may become noticeable that your cat starts to walk with stiff legs and becomes more and more reluctant to go outside, preferring instead to sleep more and generally be less active. Picking up your cat may also become something that you do less as they tend to cry out as they are lifted, this could be due to pain in their joints.
If your cat is diagnosed with arthritis there is unfortunately no cure for the condition, but there are medicines that can be given which will ease the inflammation and pain for your pet. Your vet is likely to prescribe one of the NSAID (non-steroidal anti-inflammatory drugs) that are similar to the human drug ibuprofen; as well reducing pain they will also slow the progression of the illness.
As a cat owner it can be difficult for us to see our pets in discomfort and not being able to get around as much as they used to. The desire to want to provide your cat with as much help and support to cope with the arthritis and through their old age is natural and luckily there are a few things that can be done to make your pets life a little more comfortable.
Making sure that your home is cat friendly and that it is easy for your arthritic cat to get around is probably one of the easiest things you can do. Make sure that their bedding is placed on a low surface and that it is easy to climb into. The bed should also be well padded to make it as comfortable for old bones as possible, there are even special orthopaedic cat beds available that help to distribute body weight so that joints are not under any pressure.
Make sure that litter trays do not have high sides, which would be difficult to climb in and out of and place all food, and water bowls on the floor in a safe area where the cat will not be disturbed. Even floor surfaces should be made easy to walk on. Polished floors can be slippy and difficult to walk on with stiff legs; placing mats down in areas where your cat normally spends their time is a good solution.
A cat with arthritis will need special food to meet their dietary needs, which will help support their system to fend off illness and to keep their bones as strong as possible. If possible home prepared cat food is the best option as it allows you to only feed your pet the best food without any of the synthetic preservatives found in commercial food. The types of food which would help your pet are fresh meat, raw vegetables with added pet vitamins and daily supplements, but it is always best to check with your vet to make sure that certain foods are OK to feed to your cat.
If preparing your own homemade cat food is not for you, there are plenty of top quality cat foods available on the market that is suited for the elderly cat. However do check that they do not contain ethoxyquin preservatives, BHA and BHT nitrates, as these over time can be harmful to your arthritic cat.
Keeping your cat as active as possible is also to be encouraged with a cat with arthritis. They will not want to do much and so will require some gentle persuasion on your part. Keeping them active is important for two reasons. Firstly an inactive cat is prone to put weight on which will increase the pressure on their joints. Secondly it will help to keep the joints mobile and not to stiffen too much. Even a very gentle game of chase the string or find the treat once a day may make all the difference for your cats long term mobility and health.
There are some natural remedies that can be tried like Only Natural Pet Super Daily Vitamins + Joint Support 10 oz. or Glucosamine and chrondotin suppliments that are said the help rebuild cartilage.