Welcome to June's Our-happy-cat.com newsletter.

Things are definitely starting to warm up here in the UK with summer just around the corner. This is good news for all the neighbourhood cats that have been outside reclaiming their territory again. Little Mo, despite her age still holds her own and loves being outside again after the cold winter. Lets hope the weather stays good.
The website is growing in popularity every day and I am receiving lots of submissions to the site, it really is starting to feel like a feline friendly community, keep up the good work. I may even try to incorporate a forum in the near future that will enable you all to talk to each other, so watch this space.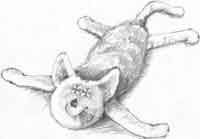 This months Ezine includes a great story submitted by Barbara Stein called "Earl the Dead Cat...Alive and well after all these years." It's a great story and very original, don't let the title put you off, as all is not as it first appears. Read earl's story and all will become clear. I hope you all enjoy it and if you have your own cat story to tell, please visit our Cat poems and Stories page to submit and share it with us all.
Enjoy this month's Ezine and don't forget to enter our monthly caption competition for a chance to win a great prize. Until next month
Best Wishes Kate
---
CONTENTS
1. What's new on Our Happy Cat.Com
2. Competition
3. Little Mo's Diary Update
4. Story - "Earl the Dead Cat...Alive and well after all these years."
5. Article - Choosing A Vet
6. Special E-zine subscribers offer

---
1. What's new on Our Happy Cat.Com
I just want to remind you all about our NEW CAT HUTS pages where your cat can have their very own Cat Hut where you can add pictures of your cat and yourself if you wish, tell us about what your cat has been up to lately, tell us about your life together and how your cat shares your life with you. In fact any thing at all you wish to tell us about or you would just like to add to your Cat's Hut pages. If you already have your own Cat Hut Page don't forget to go in and add some more pages and if you would like your own cat hut page simply submit your cats picture to The cat gallery where you will be offered a cat hut afterwards. It's all Free, so what are you waiting for?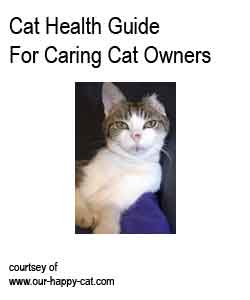 Our cat Health pages are very popular indeed and we felt that it would be of benefit if we made available all our Cat health articles to download in a handy Cat Health Guide Ebook. That way you will have important information available at your finger tips any time of the day or night for easy reference. The Cat Health Guide Ebook. is available at a low cost of only $2.99 and can be downloaded immediately. We hope you like it and find it a useful addition to your every day cat care.


Cat Poems and Stories. New to the site this month is a new section where you can submit your own Cat Poems and Stories. I am often contacted by people offering me their work to include on my site and up to now I have had no where to place their work. Well that's all changed and I now have a dedicated area where visitors can automatically submit their work. Please visit the new area and help us to add to the variety or work by submitting your own work, short or long, you are the creator.
---
2. Competition Number June08
Here is June's Caption Competition. You are the first to see it as it doesn't get posted onto the site for a few days, so it gives you extra time to get your entries in first.


Simply send us your caption to go with this picture.

Click here to submit Caption
The deadline for this competition is June 24th. The best caption will be chosen and the winners name and caption will be posted on the www.our-happy-cat.com competition page.

This month the prize is a copy of our Cat Health Guide Ebook and a copy of 100 homemade cat food recipes ebook.

GOOD Luck
---
3. Little Mo's Diary Update
Happy Cat Diary Tuesday 13th May 2008 meow, what a week, it has been soooo hot. One minute i'm crawling under the duvet to sleep all day the next I just don't know where to sit to keep cool. Mum says to enjoy the heat while we can as it is likely that it won't last for too loing and we will be back to cloudy skies again by the weekend.

I do love the sun and always love to find the sunniest spot i can but i must admit these days i am finding the heat a little hard to take. I used to love to be outside exploring on these sunny days but now i find that i have no energy at all and can just about get myself to my feeding bowl for meals. well i do have to keep my strength up you know. Little Mo

Click here to read more of Little Mo's Diary
---
4. Story - Earl the Dead Cat...Alive and well after all these years."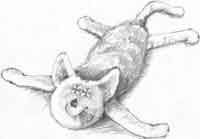 Introducing Earl

This is a true story about the adventures of Earl the Dead Cat TM. It follows his origins, rescue, resurrection, and rebirth, and it chronicles his struggle to find his true purr-pose in life.

The idea for Earl the Dead Cat was born in 1985. He was created to represent a deceased cat. Marketed as a novelty "plush" toy ("The last cat you'll ever need"), Earl was the size of an average live kitty. However, unlike normal plush toys, he lacked most of the stuffing. Earl basically consisted of gray faux-fur fabric shaped like a flattened feline. This plush road kill representation of the family pet was clearly one of the tackiest gifts of the decade.

To Read Earl's Full Story and to see more of the great illustrations Click Here
---
5. Article - Choosing A Vet
Just like choosing the right doctor for your family, it is important to find a vet you can trust for the care of your cat. It is important that a suitable vet is found before you bring your new pet home, just in case you need to take them to see a vet during the first few days of ownership.

The best way to find a local vet that you can trust is to ask others of their experiences, word of mouth recommendations are very valuable as they are not biased and you are more likely to get a true appraisal of the abilities of the vet and the practice in general. Another good way to find a vet in your area is to approach local animal shelters and cat clubs who will have experience of many different vets.

Not all vets can be judged the same this is because some vets practices specialise more in one type of animal than others. This is especially true in rural areas where the bulk of the vets work may be with larger farm animals. It is important therefore to compare several vets and to find out as much as possible about their individual experience and knowledge with the care of cats.

When visiting and comparing different vet surgeries you should have already prepared a set of questions to ask. These questions should include:

Opening times, important if you need to have flexible access to your vet, for instance evenings and weekends.

Fees - find out their standard consultation fees, also their fees for standard treatments such as vaccinations, worm and flea treatments etc.

Emergencies - what are the arrangements for out of hours emergency care for your cat, for instance do they do home visits?

Alternative medicine - find out what their attitude is towards alternative and complementary treatments for your cat, such as homoeopathy and acupuncture. Holistic treatments such as these can have many benefits especially in the older cat.

Never be afraid to ask a vet what their experience is in the treating of cats. This may be especially important if you have pedigree show cats that may require specialist care. In which case making sure that the vet you choose is up to date with all the latest medical advancements in cat care would be a benefit.

Once a suitable vet has been chosen, you will need to discuss with them your cat care and what their recommendations are for the inoculations etc over the coming year. The types of inoculation required will vary depending on the particular risks in your geographical area and also the age and medical history of the cat. As a general rule the program for treatment for kittens are:

Nine weeks - first vaccination

Twelve weeks - second vaccination

16 weeks - spaying for female cats

4 - 6 months - neutering for male cats

6 months - first flea treatment then monthly thereafter

Every six months - worm treatment

Every year - booster vaccinations and check up

The yearly check up carried out by your vet will include:

Checking for parasites and mites, your vet will look in the ears for any signs of infection causes by mites etc and will brush the fur around the neck area to check for flea dirt's.

Teeth - the vet will check for gum disease and any loose or bad teeth. You may notice them scraping the teeth with their fingernail to remove any plaque build up.

Weight - many vets will weigh the cat and keep a record of this. Often loss of body weight and condition can be one of the first signs of an underlining illness.

Finding a vet that you can trust and feel comfortable with is essential to ensure that you always feel confident that your pet is receiving the best care and that you are paying a reasonable price for their treatment. Vet costs and expertise in cat care can vary quite dramatically from one practice to another, so by taking your time to find the right one for you and your cat will have great benefits for you both.
---
6. Special E-zine Subscribers Offer
As a special thank you for subscribing to our E-zine we are giving you the opportunity to buy your very own "Our Happy Cat Tile Coaster" with your cat's picture replacing Mo's picture as seen in the image, for the special price of $4.99 +p&p (normal price $6.99).

The Tile is 4.25" x 4.25" ceramic tile coaster. 1/6 inch thick. Dishwasher safe.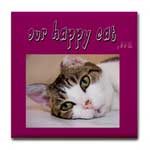 Just Email Us your cats picture along with your delivery address and we will do the rest. We will send you a email to let you know that we have received your picture and a link for you to pay us via PAYPAL.


---