Welcome to November 2009 edition of the Happy Cat Ezine
The leaves are turning gold and the kittens are chasing them around like mad and bristling up their tails as the wind blows the garden into a frenzy. I don't know if your cats get that mad look in their eye at this time of the year but it's certainly fun to watch them look so excited by the new sights and smells.
Well I've had another great month here on the site with many of you sending in stories, photos of your cats and basically making our-happy-cat such a great and successful site. Remember to keep spreading the word though, the site depends on cat lovers from all over the world to make it has fun and interesting as it is.
Ok enough of me, I hope you enjoy this months newsletter, put your feet up and grab a cup of tea or coffee and relax,
Until next month
Best Wishes Kate
------------------------------------------------------------------------------------------------------------------------------------------------
CONTENTS
1. New Cat Gallery Photos This Month
2. Competition
3. Byron and Shelley's Latest Diary Entry
4. Cat Story - "Baby" Remembered Fondly and Never forgotten
5.. Article - Advice For keeping your cats safe during firework season
----------------------------------------------------------------------------------------------------------------------------------------------
1.New Cat Gallery Pages
Another bumper month of your cat photo submissions. in fact we have 18 new cat photo pages. Rather than add all 18 here I will add the last 8 and let you explore the others at your leisure on site. Enjoy.

Click on their pictures to find out more about them.
| | | | |
| --- | --- | --- | --- |
| | | | |
| Daisy | Baby | Oliver | Timmie bear |
| | | | |
| Lily | Tabbie | Alex | Heidi |
Visit the Gallery to see more of this months new submissions
-----------------------------------------
2. Competition Number Nov25
Here is November's Caption Competition. All you have to do is write a caption for this picture. .
Simply send us your caption to go with this picture.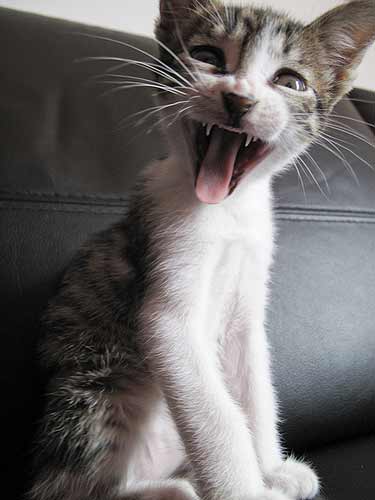 picture by Afonso Duarte on flickr.com
The deadline for this competition is Nov 23rd. The best caption will be chosen and the winners name and caption will be posted on the www.our-happy-cat.com competition page.
This month the prize will be a pack of fantastic little cat paperclips
. GOOD Luck
--------------------------------------------------------------------------------
3. Byron and Shelley's Latest Diary Entry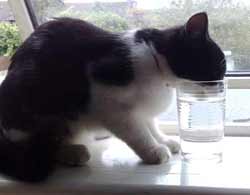 As you can see Byron takes every opportunity to have a drink of water. I had brought this glass up for myself as I worked at my desk, but Byron got to it first.
In fact Byron is a water lover all round unlike his brother Shelley. You can find him in the sink, trying to lick the tap. we have found him sitting in our neighbours bird bath and when trying to water the garden plants, Byron seems to think that a watering can is his own personal shower. In fact the mere sound of water gets him running to find it.
Shelley on the other hand is a cat milk drinker mainly and the first spots of rain has him running for cover. it's so funny how they are both so different. Keeps us on our toes though :)
I will be adding regular updates about them on the web site so keep an eye on your RSS feeds for those. Here is there page
--------------------------------------------------------------------------------
4. Cat Stories and Poems
we like to encourage our visitors to the site to share their cat story or poetry with us here. we certainly enjoy reading your tales of rescue, joy and sadness too. So if you have a story or poem to tell us please let us know HERE
This is one of the stories recently submitted. I warn you though it is a sad tale and you may need a tissue to hand.
"Baby" Remembered Fondly and Never forgotten
by Mary in NC
(NC)
One day in June 2005,as me and my grand children strolled through a local pet store, we came upon some kittens for adoption.
They was the cutiest little tuxedo kittens I'd ever seen.
One of them in particular was VERY playful and took a huge interest in us by reaching out through his cage and grabbing at us with his paws.
Of course the grandchildren fell in love with him but I already had a cat named Smokey who was the BOSS of my house and hated other cats so I told the kids that adoption of a kitten was out of the question.
We left and went home but the kids did not forget the little kitten.
After much pleading and begging, I gave in and off we went to adopt this little kitten and I was hoping Smokey would be kind and accepting of this little newcomer.
Well, Smokey wasn't real happy but after a couple days of hisses and paw smacks, he took on the little kitten and soon showed signs of mothering the little fellow whom we named "BABY".
The kitten and Smokey soon became big buddys and Baby grew up his first year of life with Smokey.
When Baby was 1 yr old, my grandchildren moved away to Virginia and could not take their BAby with them as where they was moving didnt allow pets.
Baby stayed with me and Smokey and we was a small family.
I got involved in cat rescue and loved my 2 feline children " Smokey and Baby".
They and my rescue work was my life savers after the grandchildren moved away which broke my heart.
By the time Baby was 2 1/2 years old, I had adopted yet a few more feline family members.
Rocky, Ozzy, and Molly and we all got along wonderfully.
Of all the cats, Baby was a mama's boy.
He hung close by my side and slept with me faithful.
Then in early May of 2007, I noticed one morning Baby had vomited.
After 2 days of this , we went to the vet.
Read the rest of this story here
More Cat Poems and Cat Stories
______________________________________________
5.. Article - Advice For keeping your cats safe during firework season
Here in the Uk November is when we celebrate guy fawlkes night and I know In the USA Thanks giving is fast approaching. Both are times where fireworks are let off. So i wanted to have an article in this months newsletter about making sure that our cats are safe and as fear free as possible, so i have included this article written by the Cats protection society.


Cats Protection has issued advice to owners to help keep their pet cats safe during the fireworks season.
Whilst the celebrations can be great fun for people, cats can be left stressed-out, confused or injured by fireworks.
Maggie Roberts, Head of Veterinary Services for Cats Protection, said: "Apart from the obvious physical damage suffered through accidental contact with fireworks, cats can be badly affected by fireworks noise and lights.
"Possible behavioral problems as a result of fear and stress could include house soiling or excessive grooming, whilst there is also the danger of a pet cat running away and never returning home."
A few simple precautions can help owners to keep their cat out of harm's way:
Keep your cat in after dark and provide him with a litter tray if he is used to having garden access.
Try to reduce outside noise by keeping windows shut and curtains drawn. Playing soothing music or having the TV on may also help.
In order to feel secure, cats need to be settled in cosy, familiar territory such as a comfy bed or favourite chair. Also consider providing your cat with a safe place to hide, such as an igloo bed
Make sure all doors and windows are securely closed to prevent your cat from escaping the home
Pheromone plug-in diffusers that are used to decrease anxiety and spraying also have a beneficial effect in calming a cat during fireworks, but you must start using them a couple of weeks before 5 November to maximise the benefit.
If you are having your own bonfire night celebration this year, then consider:
Buying hand-held cascading fireworks rather than the noisier varieties
Holding a 'silent' fireworks display – many companies now offer quiet or almost silent fireworks – giving you the same spectacle without the loud bangs
Keeping fireworks and bonfire displays as far away from homes as possible, to minimise any adverse effects on animals indoors, though bear in mind the effect these displays will have on wild animals
Check bonfires before lighting them to ensure that no small animals are sleeping inside.