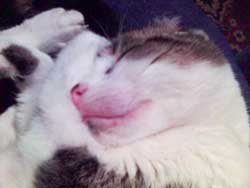 Welcome to Octobers E-zine. Firstly I would like to say thank you for the fantastic response we had to last months caption competition, we had great fun reading all your captions. A new competition is listed below and we hope you will all give it another go this month.

Things have been a little hectic this month with the websiteís popularity going through the roof. I have received many cat care questions via email and now that the site can except your pictures, stories, news, events etc via easy submission forms I have been kept very busy answering and sorting through them all. But I have loved every minutes of it. Keep them coming, the site is after all a feline friendly community and all your contributions are what make it so special.

I hope you enjoy this months E-zine and donít forget to drop by the website to read our blog and see whatís new. P.S Dosn't the picture of Little Mo on the right remind you of a doormouse.
---
CONTENTS
1.Whats New on Our Happy Cat.Com
2.Competition Offer
3.Little Moís Diary Update
4.Article Ė Adult Cats are Fun Too Ė Adopt An Older Cat
5.Product Review
6.Special E-zine Subscribers

---
1. Whats New on Our Happy Cat.Com
I have been very busy this month adding lots of new content on the website this past month. I had been receiving lots of enquiries via email about several cat health issues which I had not covered on the website so I though it was about time I put that right. The new pages added are

Cat First Aid
FELV (feline leukaemia virus)
Cat Flu

I have also added whole tiers of pages about unique cat gifts for the cat lover in your life. I know how difficult it can be sometimes to find something different to give as a gift ands so I thought I would spend some time tracking down some unusual and beautiful cat related gifts which I know you will just love.

Not forgetting the kitties, I have also added a tier about the various types of Cat Toys that are now available. Where I live it isnít very easy to find good quality cat toys so I thought why not highlight some of the best ones I found on the Internet. I must admit I was amazed at the choice.

Every month I aim to add new and interesting content to the site. If you have any suggestions as to what you would like to see on the site please feel free to contact me Here and I will see what I can do.
2. Competition Number Oct02
Here is Octobers Caption Competition.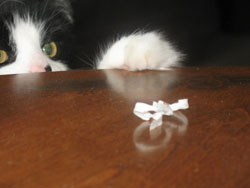 Simply send us your caption to go with this picture. Click here to submit Caption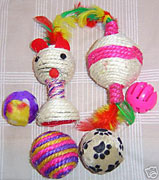 The deadline for this competition is Oct 20th. the best caption will be chosen and the winners name and caption will be posted on the www.our-happy-cat.com competition page. This month the winner will receive a bag of 6 cat toys. All different sizes and textures for your cat to enjoy.

GOOD Luck
3. Little Moís Diary Update
Happy Cat Diary Tuesday 04th September 2007

Great news! Clivesís back!!!! Mum and Dad are so happy today. My Mum got a phone call from her sister who apparently could hardly speak because she was nearly crying she was so happy. Mum had gone on a website where you can list your missing pet, so that if someone has found a lost animal they can check to see if anyone in their area has lost a pet answering the same description. My Mum put in Cliveís details and a man answered saying that he kept seeing a cat that sounded like Clive near where he works Ė and that was only three miles from where my Mums sister lives and where Clive went missing. So Mums sister and her husband went to this place to look for Clive, and they kept calling for him and shaking his food box. They didnít see any sign of himÖÖ.but then later that same evening, Mums sister was in the kitchen and there outside the kitchen door, she could see through the glass window Ė Clive! Ė looking up at her! Nine days after he went missing! My Mum later went back on the same website to write that Clive was home again, and the same man said that since that evening, he hasnít seen the cat again! So my Mum is wondering if it was Clive there, and perhaps he heard my Mums sister calling for him, and he decided to go home after all. You never know! Anyway, Clive is safe and well, and the family are all very happy and relieved, especially the poor little girl who accidentally let him out. Thereís an old saying that says something likeÖ.. "If you truly love something beautiful, let it go. If it returns to you, then it is yours." Donít you just love a happy ending! I will get my mum to take a picture of clive, so that i can put him in my happy cat diary. CLICK HERE to read the rest of Little Mo's diary entries.
4. Article Ė Adult Cats are Fun Too Ė Adopt An Older Cat
Youíve finally made the decision to adopt a cat, youíve dreamt about it for quite some time. Visualising your cute new little kitten playing around the floor and looking up at you with those big baby blues. What could possibly go wrong, after all itís only a tiny kitten. But have your really thought about how much time, effort and trouble a kitten really is. A kitten is packed full of energy and curiosity and will cry for attention, scratch the furniture, bite and urinate everywhere until it is litter box trained, and will run around the house getting into all sorts of scrapes and trouble. And itís up to you to look after them 24/7. If youíve got the time and dedication to look after a kitten, great, but if not, why not think about adopting an adult cat.

A lot of potential adopters seem to think of an adult cat as second best, as if they are defective or worn out like a second hand car. Thatís just not the case. Most adult cats have found themselves in animal shelters from no fault of their own. They may have out lived their owner, their owners may have moved to somewhere that doesnít allow pets, become lost or someone in the family may have become allergic to them. The reasons are far to numerous to list them all. The cats themselves are perfectly healthy animals, bristling with fun and energy and simply looking for a caring loving home.

Adopting an adult cat has many advantages. Remember an older cat has already developed its personality. So you will know what kind of pet they will be and whether or not they will suit your family. Many people go for the cute little kitten; only to find out that they grow into a very shy and non-playful cat that likes to spend all itís time away from the family. Thatís fine if thatís what you want, but too many people decide that this is not for them and returns the cat to the shelter. Rejection is a very harsh punishment for the cat just because you didnít take the time to think about what sort of cat would be the right pet for your family.

An older cat will also be less demanding of your time than a kitten and will require less supervision, well after the first few weeks anyway. They will be able to spend time alone when you are out of the house without getting into too much trouble and hopefully will already be litter trained.

There are also many benefits for older owners in adopting an adult cat. Adult cats are much calmer and more likely to want to spend some quiet time sitting on your lap for strokes and purring. Studies have shown that cats can have a real health benefit for humans in reducing their stress levels and blood pressure. I canít image an energetic curious kitten being as good for your stress levels somehow.

Many worry about health problems and vet bills for the older cat. Usually when you are adopting a cat from an animal shelter they will be able to let you know if the cat has any underlining medical conditions and what it is likely to cost. Many will even provide you with free medical treatment for your cat if they over 10 years old as an incentive for more of the older cats to be re-homed.

Cats can live well into their late teens and even early twenties with all the advances in food nutrition and medical treatments. So that 12 year old cat waiting in the animal shelter for a good home is still a good bet and will still be able to provide you with many years of fun and love. Our own cat is now 14 years old and still behaves like a playful youngster and keeps us entertained for hours.

It can be a very rewarding experience to adopt an older cat, not only because of the pleasure they will give you over the years but also in the knowledge that you have provided a loving home for what was probably a very frightened and confused cat, who had no idea why he had lost his family.
5. Product Review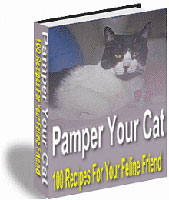 This month Little Mo has not been herself and has been off her usual food. We think that her age is catching up with her, not to mention the fact the weather is getting colder and she hates that. We decided that we would give her some extra special TLC and try to make her food a little more varied and interesting. So we bought the ďPamper Your Cat E-book with 100 recipes for your catĒ to see if we could tempt her with some home prepared food (she is very choosy and wonít eat a lot of the commercially available foods).

To our surprise and delight when we downloaded the book we discovered that it not only contained food recipes but also home made recipes to tackle other feline issues i.e. homemade cat urine deodoriser and dry cat shampoo. We hadnít expected this but thought it was a added bonus, especially for those times when you are unprepared and need to do something quickly at home.

Back to the food, Little Mo has always loved the look of our food and even though we do sometimes give her titbits I have always been worried that it may not be too good for her. This e-book put my mind at rest with all itís varied specially designed and let me just say easy recipes. For instance this is the recipe for Chicken and pasta stew (Little Mo loves pasta)
2 packages ground chicken (Or turkey)
2-3 small carrots, cooked
2-3 cups macaroni (Cooked)
2 tablespoons vegetable oil
Garlic
Boil the macaroni until tender. Cook up the chicken in a frying pan. Mix everything together in food processor. Add the oil and the garlic. Mix well.
How easy is that.
We wonít be giving Little Mo home cooked food all the time, but when she seems to need a little pick me up, itís nice to be able to give her something special to show how we love her. A great Little E-book and only $0.99
6. Special E-zine Subscribers Offer
As a special thank you for subscribing to our E-zine we are giving you the opportunity to buy your very own ďOur Happy Cat Tile CoasterĒ with your catís picture replacing Moís picture as seen in the image, for the special price of $4.99 +p&p (normal price $6.99).

The Tile is 4.25" x 4.25" ceramic tile coaster. 1/6 inch thick. Dishwasher safe.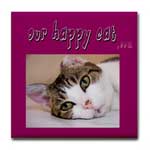 Just Email Us your cats picture along with your delivery address and we will do the rest. We will send you a email to let you know that we have received your picture and a link for you to pay us via PAYPAL.


---
Thatís all for this month

Big Purrs and Head Nudge to you all

Little Mo

https://www.our-happy-cat.com

© Copyright Our Happy Cat.Com 2007