Welcome to Decembers Our Happy Cat E-zine. Well it's time of year again when every one wants to find the perfect gift for every one. So what do you buy the cat that has everything? Umm Or what about the cat lover in your family? Well luckily I have found many exciting and unusual gifts for both my human and furry cat friends, which I have also included on our Cat Gifts and Cat toy pages. Just in case you are stuck for a gift idea.

Little Mo has been busy this month hogging the fire and eating her own weight in food. Well that what it feels like anyway. I think it is just because she is cold that she feels hungrier. Bless her, I know how she feels.

Every month we receive some great captions for competition and last month was no different. Thanks to every one who joined in . Keep up the good work. You can see last months winner on our competition page. I hope you enjoy this months E-zine and don't forget to drop by the website to read our blog and see what's new.
---
CONTENTS
1.Whats New on Our Happy Cat.Com
2.Competition Offer
3.Little Mo's Diary Update
4.Article – Adult Cats are Fun Too – Adopt An Older Cat
5.Product Review
6.Special E-zine Subscribers

---
1. Whats New on Our Happy Cat.Com
This month I have revamped our cat gallery page so that when you click on each picture you are taken to it's very own page where you can read more about each cat. So don't forget to send us your cat pictures along with their story and you will now have your very own page, as well as appearing on the Gallery you will also be in with a chance of your cat being voted CAT OF THE WEEK.

Our Cat Questions pages are getting lots of interesting and I must say sometimes quite puzzling cat questions which I always answer. Don't forget to drop by and if you have some advice for others questions please feel free to add your comments to them. It's easy to do and is very much appreciated I'm sure by our other visitors.

We also now have a dedicated page to Cat E-book available on the Internet. I have reviewed them all and think that they are very useful and packed full of great advice. So drop by our Cat E-Book page to see what's on offer.

As usual I have been busy adding new pages to the site this month, they include:


Introducing a new cat to your existing pet


Every month I aim to add new and interesting content to the site. If you have any suggestions as to what you would like to see on the site please feel free to contact me here and I will see what I can do.
2. Competition Number Dec04
Here is Decembers Caption Competition.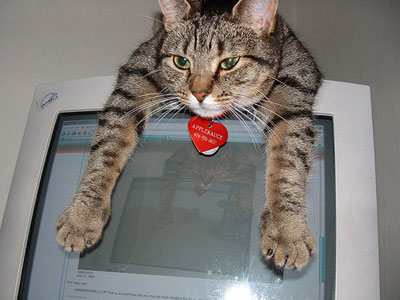 Simply send us your caption to go with this picture.

Click here to submit Caption

The deadline for this competition is Dec 20th. The best caption will be chosen and the winners name and caption will be posted on the www.our-happy-cat.com competition page.
This month the winner will receive a Dino Door Dangler Cat Toy. It hangs on a door and has crnkly sounding lefs with bells on the end. This will be great fun for your cat.
GOOD Luck
3. Little Mo's Diary Update
Happy Cat Diary Thursday 22nd November 2007

Hello! Meow....and brrrrrrr! It's turned really cold lately, and now that November is here the nights are getting longer and the skies are cloudy and grey. And with me being the sun worshipping kitty cat that I am, it means I've been feeling rather depressed! My Mum & Dad have tried to entertain me and keep me warm and well fed, but a lot of the time all I've really wanted to do is to curl up on the duvet and go to sleep. I don't want to go out so much and I'm really grumpy when my Mum and Dad don't have the central heating on. But now I'm happy again! Mum and Dad came home from the shops with a new magic box. They must have bought it just for me because it's exactly what I wanted. It's just like having my very own indoor sun - it's lovely and warm and nice and bright too. I miss the sunshine sooooo much and as soon as they switched the magic box on I was in heaven! Mum and Dad couldn't move me away from it..."Not everything's for you Little Mo" they said, but I'm nothing if not persistent, and before they knew it they had given in and moved my cushion in front of the magic box for me. And even better, Mum's now got one upstairs as well, so when she is working on her computer I can keep her company and keep happy and warm at the same time. Mum and Dad think they buy these things for themselves, but I know its all for me really.

CLICK HERE to read the rest of Little Mo's diary entries.
4. Article – Kitten development and the importance of the "sensitive period"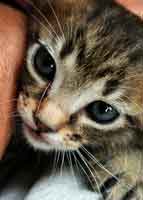 The development of a kitten can be quite a rapid one with them going through many different stages within a matter of weeks from birth. By recognising these stages, we as cat owners will be able to provide for their needs and help them forward in their physical and emotional growth.

Kittens are born both blind and deaf, but do posses a very strong sense of smell, thus enabling them to recognise their mother straight away, which will help guide them toward the nipples for their first feed. During the first week the kittens will do not much else but sleep and feed and by he end of the first week their body weight will have doubled from their birth weight, which is usually around three and half ounces.

By the end of the first week the kittens will start to open their eyes and will be able to hear and will start to move around a little but normally just to jostle for position at the nipple bar and will begin to knead at their mothers stomach to help stimulate the production of milk. This stage of life will last for about one month when they will start to produce their first teeth and will start to be encouraged by their mother to eat solid food. Kittens need very high quality food that is rich in nutrients to aid their fast growth and will need to be fed lots of small meals through out the day.

The first seven weeks of a cats life is called the "sensitive period" as this is the time when they are most open to new experiences and are likely to learn from them. They also have no fear during these first weeks and so can be exposed to many new experiences without causing any stress to the kitten. It is during this seven-week window that it is important that they are socialised to humans and other pets, and are exposed to many different noises and experiences. This will produce a kitten which will grow up to be a very confident and friendly cat and will fit in very well in today's hectic modern family.

Socialisation should include plenty of handling by at least four different people of all sexes and ages. Coming into contact with children at this early stage is very important if they are to live in a family situation consisting of many children. Positive experiences and gentle handling will remove any apprehension later on in their development. Also contact with other animals like the family dog should be encouraged but always supervised, in case Fido thinks this ball of fur is a new toy to play with. Again this early introduction will help bond the animals and remove any aggression during future encounters.

During the second and third month of life, play hunting and fighting is the main order of the day, with the mother cat supervising and showing the way. Kittens will learn many valuable lessons from their mothers during this time and certain boundaries will be taught which will also help their relationship with humans. For instance the mother cat will teach kittens the difference between play and hunting, by admonishing rough play. The mother cat will also begin to bring live prey to her kittens to teach them hunting and predatory skills. However, even if a kitten is not taught to hunt they will still develop the skills later on as it is one of the strongest instincts in cats and so can never be untaught by us disapproving humans.

Between the third and six month a kitten's development starts to really move forward at a rate of knots. They will stop feeding from their mothers completely and will become totally reliant on solid food. They will loose their milk teeth and begin to explore their new world more earnestly. Scenting their new territory starts to become an issue as they move into sexual maturity. A cat can become pregnant from as young as six months old and so it is important that owners arrange to have their kittens neutered around this time.

At six months old the kitten is totally self-reliant and will not look towards their mother for any support. In fact in some cases especially if the other cat is pregnant again she will begin to act aggressively towards her kittens to push them away and encourage them to find new territory. The kitten will continue to grow until they are about a year old at which time their food should be changed from the kitten variety to an adult formula, as they will need different balance of nutrients to maintain good health. Feeding should now be reduced to two or three meals a day to prevent weight gain.
5. Product Review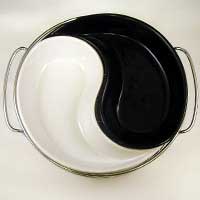 Our product for review this month is the Yin YANG Cat Bowl. We really liked the design of this bowl and like the way it fitted together in it metal stand. Little Mo has the tendency to push her bowls around the floor when she is eating; this often results in food or water being spilled all over the floor. So we thought we would give this bowl a try and see if it stops that from happening.

The result is much better. The metal rack holds the bowls in one place and as it is heavier than the usual ones, she can't push it so easily. We haven't had such a mess in the kitchen now for weeks. It is also really easy to clean as they come out of the stand separately, so new only need to clean one at a time if required. For more information on this bowl click here.
6. Special E-zine Subscribers Offer
As a special thank you for subscribing to our E-zine we are giving you the opportunity to buy your very own "Our Happy Cat Tile Coaster" with your cat's picture replacing Mo's picture as seen in the image, for the special price of $4.99 +p&p (normal price $6.99).

The Tile is 4.25" x 4.25" ceramic tile coaster. 1/6 inch thick. Dishwasher safe.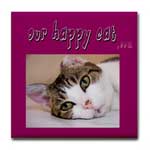 Just Email Us your cats picture along with your delivery address and we will do the rest. We will send you a email to let you know that we have received your picture and a link for you to pay us via PAYPAL.


---
That's all for this month

Big Purrs and Head Nudge to you all

Little Mo

https://www.our-happy-cat.com

© Copyright Our Happy Cat.Com 2007