Welcome to May's Our-happy-cat.com newsletter. Well Spring is starting to spring and Little Mo is venturing outside more, even if her old bones are not quite as agile as they once were. I hope the sunny is coming out for all your cats too where ever you are.
As usual I have been busy with adding new content to the website and have been contacted by a lot of you to tell me how much you are enjoying the site. I am so please as it is not easy competing with the big boys in the cat industry, I try to keep the site friendly and designed with you in mind.
Enjoy this months Ezine and don't forget to enter our monthly caption competition for a chance to win a great prize. Next month I am hoping to feature an original cat story sent in by one of the visitors to our website. It looks like it will be a very unusual and interesting read.
Until next month
Best Wishes Kate
---
CONTENTS
1. What's new on Our Happy Cat.Com
2. Competition
3. Little Mo's Diary Update
4. Article - Coping With The Loss Of A Pet
5. Special E-zine subscribers offer

---
1. What's new on Our Happy Cat.Com
Last month I asked you what you would think of a mini myspace area for your cat on our website. I received many replies of interest and so I went ahead and changed our cats gallery area to incorporate this new addition.

I have separated the CAT OF THE WEEK to its own area to make it more visible and have moved the CAT GALLERY to a more prominent position too. Now once someone submits their cats picture to the gallery they are offered their own CAT HUT (that is the name we have given to the new mini myspace areas. All the new Cat Huts are highlighted with a star next to their picture. Now cat owners can add their own pages and pictures to their own Cat Hut and comments on each others submissions. Creating as great place to meet other cats and their owners. I hope the Cat Huts will go from strength to strength.

Also this month I have added a PODCAST to the site from the Blue Cross Animal Charity. Now you can listen to all their news from the animal world and hear interesting animal stories etc. Simply Scroll through to the story that interest you and click on the headphone symbol to listen. Don't forget if you have any cat news or event in your area that you would like to promote simply fill in the form on the cat news page and we will add your submission for free.
---
2. Competition Number May08
Here is May's Caption Competition. You are the first to see it as it doesn't get posted onto the site for a few days, so it gives you extra time to get your entries in first.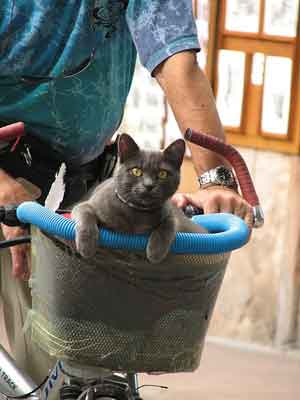 Simply send us your caption to go with this picture.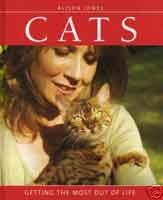 The deadline for this competition is May 20th. The best caption will be chosen and the winners name and caption will be posted on the www.our-happy-cat.com competition page.

This month the prize is a copy of the book Cats – Getting The Most Out Of Life. By Alison Jones.

GOOD Luck
---
3. Little Mo's Diary Update
Happy Cat Diary Tuesday 22nd April 2008

Chirp Chirp purrrrrrr Yes I'm happy today. I have overcome my fear of enclosed spaces. My mum and dad have bought me a shiny new litter tray, it is pink and cream and has a top on it, so it is like a little room. Now years ago I had another one of these but I was too scared to get into as, I thought that it looked to much like the cat carrier and I thought they were going to take me to the vets again. So for years now I have used a un-covered litter tray. Luckily I didn't need to use it that often, as I would go outside but now, as I am getting a little older, I go out less and so need indoor facilities. The problem was my mum and dad would get very fed up with me covering the kitchen in cat litter all the time, so they have bought me this new super doper litter tray. And I love it and am not scared of it at all now.

I can tell my mum and dad are so proud of me as they keep patting me every time I use it. I would thoroughly recommend these covered litter trays to my furry friends out there; it really is great to have your very own private little room.

Till next time, Little Mo

Click here to read more of Little Mo's Diary
---
4. Article - The Importance Of Playing With Your Cat
Playing is fun, right? So why do we need to know anything else about it, surely that's is all there is to it. Well it's true that the main reason we might play with our cat is because it is something fun to do, but for your cat it has a far more important role and is key to their general mental and physical well being. This means that it should be something that all cat owners should spend a little more time thinking about and incorporating into their every day cat care routine, rather than as an occasional playtime.

Hunting is a instinct that is in bred into every cat, even for our domesticated feline friends, who do not need to hunt for their food, will still have a strong desire to hunt for prey. But hunting plays another important role for cats other than for finding food; it also helps to build their confidence, their agility and keeps them fit. It also would occupy a cat for most of the day out in the wild and so a cat that no longer has the opportunity to hunt every day will find itself with a lot of unfilled hours. Many cat owners will have experienced a bored or depressed cat that shows their frustration through aggressive behaviour, such as chewing or scratching the furniture or one who hides them selves a way and becomes a very shy and timid cat.

A good substitute to hunting is therefore energetic chasing, stalking and pouncing playtimes, where the cat can engage all their natural instincts into the game and feel stimulated by the play. Unfortunately just leaving a motionless cat toy lying around just doesn't meet those requirements, so it is important for cat owners to interact with their cats during playtimes.

Ideally you should play with your cat at least a couple of times a day for about 10 to 15 minutes each time. Of course this may not always be possible but at least one playtime a day is required to keep your cat healthy and happy. Playing with your cat an hour before bedtime is a good habit to get into, especially if you have a very alert nighttime cat that frequently tries to wake you up at night. This will help to use some of that energy and encourage them to sleep afterwards. The length of playtime will very much be dictated by the cat, some may be quite happy to play for 15 minutes while others prefer shorter more frequent games.

The secret to playing with your cat is to think like your cat, do they like to stalk and pounce onto small ground creatures like mice or do they prefer to climb trees to hunt flying creatures. Your cats preference will help you to decide which sort of toys would suit them better, such as furry mice and balls for the ground hunter and feathery, colourful toys which can be dangled and simulate flight for your bird hunter.

It is also important that we make the game as realistic for your pet, simply rolling a ball along the floor will soon become boring and uninteresting. Instead make sure that the playroom is interesting, placing open paper bags around is a good way to provide plenty of hiding places to pounce from. Also vary how you manipulate the toys, for instance make some movements fast, others slow, hide the toy behind or under something. This will make the game far more realistic and exciting for your cat, who can utilise all their hunting skills like stealth, speed, agility and cunning.

Keep the toys you use with the cat hidden away after use so that they do not become to over familiar with them and lose interest. Providing new toys from time to time will help to stimulate your cat's interest in the games and encourage more energetic play. It is also advisable not to use treats too often during playtime as this may cause weight gain over time. Treats may be helpful at first to encourage a shy or timed cat to come out and play but as their confidence grows, treats should be removed from the games.

Playing with your cat as you can see is much more than just a fun thing to do, it will promote confidence, fitness, reduce boredom and aggression and generally help in your cats over all mental and physical health. As an added bonus, regular play between you and your cat will strengthen the bond you have with each other. Your cat will associate you with fun and excitement and will seek your company out more often than with someone who just feeds them. Over all playtime will benefit everyone involved and should be encouraged throughout a cat lifetime.
---
5. Special E-zine Subscribers Offer
As a special thank you for subscribing to our E-zine we are giving you the opportunity to buy your very own "Our Happy Cat Tile Coaster" with your cat's picture replacing Mo's picture as seen in the image, for the special price of $4.99 +p&p (normal price $6.99).

The Tile is 4.25" x 4.25" ceramic tile coaster. 1/6 inch thick. Dishwasher safe.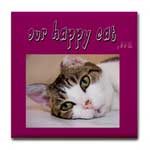 Just Email Us your cats picture along with your delivery address and we will do the rest. We will send you a email to let you know that we have received your picture and a link for you to pay us via PAYPAL.


---