Welcome to Novembers Our Happy Cat E-zine. We had a fantastic response to last months competition, it was really hard to choose the best caption, but in the end Tammy Kuse from Manhattan was chosen as the winner. You can see her winning caption on our competition page. A new competition is listed below and we hope you will all give it another go this month, find details below.

The website is getting busier and busier each month and we are now receiving many submissions to our various pages. Donít forget that you can send us your cat rescue stories, cat news and pictures of your own cats for everyone to see. You never know your cat may even be chosen as CAT OF THE WEEK.

Little Mo is at my feet as I write this news letter and is trying to help me with her occasional meow. I fear she may be more of a distraction though.

I hope you enjoy this months E-zine and donít forget to drop by the website to read our blog and see whatís new.
---
CONTENTS
1.Whats New on Our Happy Cat.Com
2.Competition Offer
3.Little Moís Diary Update
4.Article Ė Adult Cats are Fun Too Ė Adopt An Older Cat
5.Product Review
6.Special E-zine Subscribers

---
1. Whats New on Our Happy Cat.Com
One of the main new areas added to the Our-Happy-cat website is the new ďQuestionsĒ pages. I was often being emailed with cat related questions and thought it would be a great idea if we posted them on the website for other to be able to comment on as well. Many heads are better then one, I always say. So if you have a cat problem or question please submit it via the website and I will answer your questions and others can also make comments. Perhaps you would like to comment on someone elseís question.

I also answer questions on the AllExperts website and when start to get asked a lot of questions about one particular subject I decide to write a page of information to add to my site. So this month five more content pages have been added to the site. They are:

Every month I aim to add new and interesting content to the site. If you have any suggestions as to what you would like to see on the site please feel free to contact me Here and I will see what I can do.
2. Competition Number Nov03
Here is Novembers Caption Competition.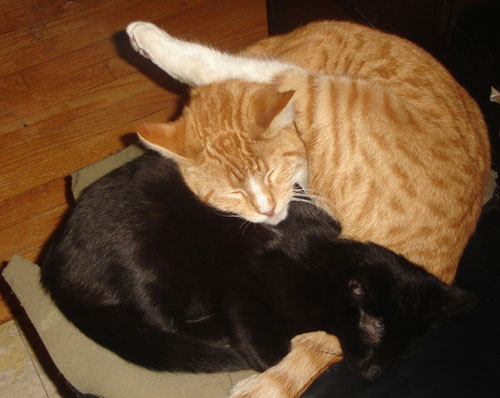 Simply send us your caption to go with this picture.

Click here to submit Caption

The deadline for this competition is Nov 20th. The best caption will be chosen and the winners name and caption will be posted on the www.our-happy-cat.com competition page.
This month the winner will receive a a refillable catnip toy with a box of 100% natural catnip.
GOOD Luck
3. Little Moís Diary Update
Happy Cat Diary Monday 01st October 2007

Oh dear - it has been a long time since I wrote in my happy cat diary hasn't it! I am sorry - but once again it's not really my fault. My Mum & Dad had the cheek to go away on something called a 'holiday' whatever that is! They tell me that they would like to take me with them but I HATE car journeys - why any one would want to get into one of those horrible smelly, bumpy, going-too-fast, can't-get-out-of, can't-go-to-the-toilet-in noisy things is beyond me! Especially when every time I get into one, I seem to end up at the vets!! Anyway, when my Mum and Dad go away, they always make sure our nice neighbours come in to look after me. They leave me plenty of litter trays on hand, and plenty of food and water, and the nice lady from next door comes in to make sure everything is nice and fresh. She lets me out if I'm in, and lets me in when I'm out. It's like I've got my very own butler - no wonder they call me Queen Mo sometimes! Speaking of which, when my Mum and Dad came home, just for 'a laugh' as they call it, they put one of Mums new bracelets on me like it was a necklace - they said I looked very 'regal' - and I agree! I think it really suits me, don't you? - I look almost like an ancient Egyptian cat! - Now that would have been a great time & place for a kitty to be alive - in a society where we are rightfully worshipped like we should be! But unfortunately Mum says she wants her bracelet back now.........how dare she........I'm Queen Mo!!

CLICK HERE to read the rest of Little Mo's diary entries.
4. Article Ė How To Groom Your Cat And Why Grooming Is Important
Cats are well equipped to groom themselves with their tongue, teeth, claws and paws all able to do an excellent wash and brush up. In fact the cats tongue is especially designed to brush through fur with its rough barbed covered surface, which is excellent at removing dirt and grit. However even the most agile and flexible cat cannot always reach every part of its body adequately enough to remove every last particle of dirt.

It is important that a catís fur be kept well groomed all year round; this is especially true at times when the coat is being shed. This normally happens in the spring when the thick winter coat is shed and is replaced with a new lighter summer coat. Although a cat will quite happily groom itself, problems arise when they digests large amounts of loose fur which become lodged in the catís throat, these are known as fur balls. Fur balls will normally be regurgitated by the cat, but in some extreme cases my become too large and have to be removed by a Vet. Too prevent this from happening regular grooming by the owner will remove the loose fur and prevent the cat from digesting too much.

Longhaired cats require much more frequent grooming by their owners, at least two or three times a week. The fur of a longhaired cat is very thick and has several layers, which is what it them that fluffy look. The cat although able to groom the upper layer easy cannot reach the much finer layers of fur nearest the skin. This is the fur that if left unattended will begin to mat together, causing painful clumps. These clumps or mats of fur get larger and larger if not dealt with promptly and begin to pull and tear the catís skin. When the fur is at this stage the only solution is to have the mats cut out by a professional cat groomer, who will shave the affected fur away using special grooming tools. To avoid this situation regular grooming by the owner will prevent these mats from forming.

There are many types of cat combs and brushes on the market especially designed for owners to painlessly and easily be able to groom their cats. Always make sure that the equipment is suited to the type of cats fur, as short haired and longhaired cats require different types of brush. Using the wrong one may cause pain and distress to your cat and not be able to adequately groom the fur.

The following steps will take you through the common process for grooming your cat:

1. Settle your cat down by gently stroking them and getting them in a relaxed frame of mind. 2. Gently part the fur and look for any injuries, lumps or parasites. 3. Check the feet and press the toes gently to see if there are any foreign bodies caught between the toes or in the fur. 4. Clip any long claws using special nail clippers. (Remember not to go near the pink quick of the nail) 5. Gently brush the catís fur in the opposite direction to its growth, making sure to get down into the fur closest to the skin. 6. Pay particular attention to the fur around the back legs especially in longhaired cats, as this is one of the areas most prone to matting. 7. Check inside the catís ears for any signs of wax of ear mites and clean with a small damp piece of cotton wool if necessary. 8. Wipe eyes with damp cotton wool if there are any signs of discharge.

The more often you groom your cat the more confident you will become and the more excepting your cat will be of the process.

It is generally not necessary to give a cat a bath. However if something gets on the fur that cannot be brushed out, like oil or paint then washing the cats fur is the only option. Remember most cats donít like water and so bathing your cat may be quite a traumatic experience for you both. Try to keep the situation as calm as possible and always keep water away from the cats face. A cat should never be submerged in water, use jugs of warm water or a light flow from a showerhead. Use only special cat shampoos, as it is important not to wash away oils from the cats fur that help to keep the coat in top condition.
5. Product Review
Unfortunately we have been so busy this month we have not had the time to review a product and in fact are a little worried that as the site gets busier and busier we will have less time to do product reviews.

So here we are sending out to you all a special request. If you would like to send us a review of any cat products you have used or still do into us via the contact us page on the happy cat website we will post it in our forth coming newsletters. It can be about any cat related product including food and treats. Your experiences will help benefit other cat lovers and also help to protect our feline friends from anything they should avoid. We look forward to hearing from you.
6. Special E-zine Subscribers Offer
As a special thank you for subscribing to our E-zine we are giving you the opportunity to buy your very own ďOur Happy Cat Tile CoasterĒ with your catís picture replacing Moís picture as seen in the image, for the special price of $4.99 +p&p (normal price $6.99).

The Tile is 4.25" x 4.25" ceramic tile coaster. 1/6 inch thick. Dishwasher safe.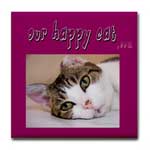 Just Email Us your cats picture along with your delivery address and we will do the rest. We will send you a email to let you know that we have received your picture and a link for you to pay us via PAYPAL.


---
Thatís all for this month

Big Purrs and Head Nudge to you all

Little Mo

https://www.our-happy-cat.com

© Copyright Our Happy Cat.Com 2007