Welcome to Augusts edition of the Happy Cat Ezine
Its very HOT here in the UK and we're just not use to it The cats are looking at me as if saying "can you turn down the heating". they are spending most of their time outside sleeping under bushes, the lucky things, i wish I could too.
Anyway i hope you are enjoying your summer.
I just wanted to let every one know that our CAT HEALTH GUIDE EBOOK has been revamped and is available to download from the site.
The price is only $6.99 and this also includes a free copy of the "Homemade cat food recipe ebook"
.
Remember if you have a cat story to tell us or a favorite feline poem to share it with us here.
hope you are all well and i hope to see you soon on Our-happy-cat.com.
See you next month
Best Wishes Kate
------------------------------------------------------------------------------------------------------------------------------------------------
CONTENTS
1. New Cat Gallery Photos This Month
2. Competition
3. Byron and Shelley's Latest Diary Entry
4. Cat Story - Does your Cat Understand What you say to it?
5.. Article - Why Choosing A Trust Worthy Pet Sitter Is Essential
----------------------------------------------------------------------------------------------------------------------------------------------
1.New Cat Gallery Pages
Lots more of your beautiful cats have been submitted to our cat photo gallery to see more visit the cat gallery . Enjoy. Don't forget to submit your cat to the cat gallery so that others can enjoy your cat as well.

Click on their pictures to find out more about them.
-----------------------------------------
2. Competition Number Aug31
Here is August's Caption Competition. All you have to do is write a caption for this picture. .
Simply send us your caption to go with this picture.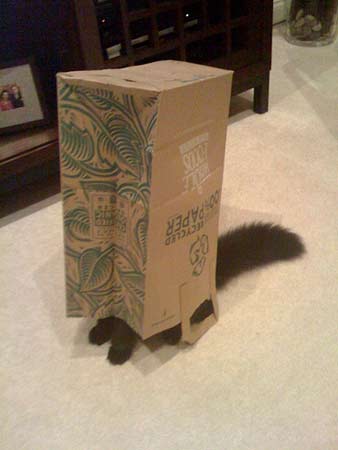 picture by Benjamin Thompson on flicker.com
The deadline for this competition is August 27th. The best caption will be chosen and the winners name and caption will be posted on the www.our-happy-cat.com competition page.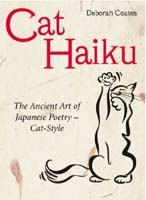 This month the prize is a copy of the Book "Cat Haiku" A lovely little book full of little cat quotes and poetry. It really will bring a smile to your face..
GOOD Luck
--------------------------------------------------------------------------------
3. Byron and Shelley's Latest Diary Entry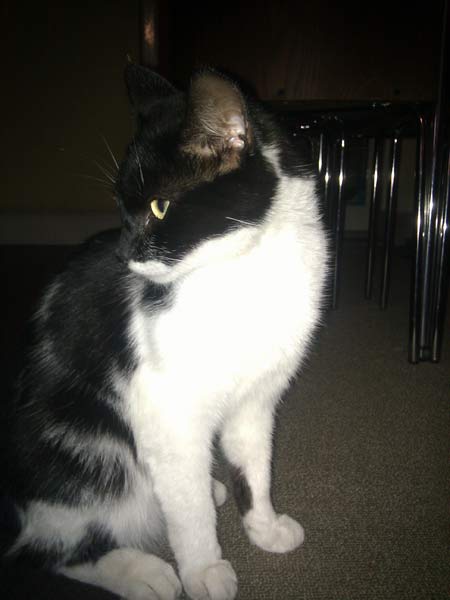 The other night Byron stayed out all night for the first time and I must admit to being a little anxious for him.
He usually quite happily comes in when i call them both around 11 pm but this night thee was no sign and I had to go to bed and hope he was ok
the next morning I thought he would be on the step waiting for his breakfast, but no there was still no sign. I shook his food bowl, I walked up and down the street for awhile and still no sign. Now i was worried.
Then at about 10am i open the front door to look out again for him and there he was calmly looking at me from the pavement. he saw me and ran chirruping and purring like mad. He was absolutely fine and totally oblivious to the fact that he had been out for so long.
I'm afraid Byron will always be the adventurer and i will have to get used to his little ways. Shelley on the other hand is quite happy to stay close to home and likes to check on us often throughout the day.
I guess i will just have to remember that he is a free agent and that it is up to him at the end of the day when and if he returns home. You can never truly own a cat.
I will be adding regular updates about them on the web site so keep an eye on your RSS feeds for those. Here is their page
--------------------------------------------------------------------------------
4. Cat Stories and Poems
we like to encourage our visitors to the site to share their cat story or poetry with us here. we certainly enjoy reading your tales of rescue, joy and sadness too. So if you have a story or poem to tell us please let us know HERE
This month we were sent a story from Mary from North Carolina about her cats and how they seem to understand her..
Does your Cat Understand What you say to it?
I had 5 cats then which I had rescued and they was my babies as are all my cats even today.
He would get VERY annoyed when I would Talk to my cats.
He would roll his eyes and shake his head as if you say "I was crazy" for expecting them to UNDERSTAND what I was saying to them".
He also would make negative comments that suggested that CATS ARE DUMB and don't understand what we humans say to them.
This attitude of his caused MANY heated arguments between us in our 7 years together.
I remember always telling him "My cats were here BEFORE you came and they will be here LONG after your gone".
At the time, those comments was made to hopefully get him over his negative ideas about communication between Cats and their humans, but it never worked and after 7 years of this battle (and others not related to cats), I chose to walk away and ended the relationship. (No, we were not married)
Thus, The cats remained in their home and in my life LONG after he departed as I had always promised. ( No surprise, huh)?
But over the years, one thing has stuck in my mind and I wanted to share it with other Cat lovers and get your ideas and comments on a question that he once posed to me.
One day I was relaxing on my sofa and wanted to cuddle one of my cats. I called out to the cat and said "Come and sit with mama".
Even though the cat leaped into my arms immediately and cuddled down on my lap, my partner at the time made a statement that has always stuck in my mind.
He said" Do you HONESTLY think those cats understand what you are saying "?
Of course I defended the intelligence of my cats and my partner gave me the silent treatment the rest of the day.
Even today, when I talk to my cats, I think about that day and I still laugh and think to myself " What kind of person don't believe that their pets understand what they are saying"?
My question to you cat lovers is simply this.
DO YOU THINK YOUR CATS UNDERSTAND WHAT YOU SAY TO THEM?
Click here to read the rest of this story
______________________________________________
5.. Article - Why Choosing A Trust Worthy Pet Sitter Is Essential
These days the cost of traveling is far less than it used to be. In fact more and more of us are taking advantage of all these low air flight prices and package deals and are now going away on vacation several times a year for long vacations and mini weekend breaks. This is great for us but what about our pets?
Pet ownership is increasing every year and this means that there are more animals out there that require looking after while we are away on vacation. Of course there are several options open to the pet owner, you could pay out for kenneling or you could ask a neighbor or family member. Both of these options are acceptable if you are in the position to pay the kenneling fees or have very good relationships with your neighbors. But if not, then there is another option, Pet Sitters.
Pet sitting offers many benefits over kenneling and asking friends and not just for you but also for your pet. Here are just a few of them:
Your pet will feel happier remaining in their home environment.
Your pet will have structure to their day and receive regular human contact and care.
The sitter will know what to do in and emergency and be able to give any existing regular medications.
The costs involved are far less than kenneling.
There is no need for your pet to travel anywhere, often a cause for stress.
You will not feel as if you are imposing on your friends.
Your home will be regularly visited while you are away.
Of course ensuring that you hire a pet sitter that you can trust is not as easy as it first sounds. There are many people advertising themselves as pet sitters who have no formal qualifications or experience and who may have other motives for wanting to access your home. The best way to find a trust worthy pet sitter is via a recommendation either from friends and neighbors or from another animal professional such as a vet or groomer.
There are also some specialist companies set up who act as agents for pet sitters who monitor and regulate their Sitters regularly. They can also provide a backup sitter if your regular sitter is unable to attend your pet due to unforeseen circumstances. This may add to your piece of mind.
Before you hire someone to look after your pet while you are away it is important that you meet up with them to ask them questions about their experience, qualifications and to see how your pet reacts to them and visa versa. This will help you make your final decision.
Once you have hired your pet sitter a written agreement should be made between you both highlighting what services your sitter will carry out and how often and the costs involved. It should also include details of your pets likes and dislikes, there eating habits and routine, any medications which need to be given etc. You should also show your sitter where everything they will need is kept in the house, like cleaning equipment, the food and litter and the pet's toys and bedding. You should also provide your sitter will full contact details for yourself, a neighbor, a nearby relative and the local vets, along with a copy of your pets medical papers and record of vaccinations.
To ensure that everything will run smoothly and that your pet will be properly looked after and not feel stressed while you are away there are a few last minute things you will need to do.
Make sure you have supplied enough food and litter for the sitter and have left it in a convenient place.
Make sure doors are closed to rooms you do not whish your pet to enter.
Make sure a small light is left on or is timed to come on for the comfort of your pet.
Ensure that familiar toys are left available for your pet while they are on their own.
Leave a few items of your clothing lying around, the familiar smell will reassure your pet.
Inform a neighbor that a pet sitter will be visiting your home and leave a spare key with them and your contact details in case of emergencies.
With all of this in place, your vacation should be a happy and relaxing experience for both you and your pet.