Welcome to Oct/Nov 2011 edition of the Happy Cat Ezine
------------------------------------------------------------------------------------------------------------------------
CONTENTS
1. New Cat Gallery Photos This Month
2. Competition
3. Byron and Shelley's Latest Diary Entry
4. Cat Poem - Goodbye Bill - A Cat Poem
5.. Article - Neuter Your Cat and Stop Tom Cat Odours and Unwanted Kittens
------------------------------------------------------------------------------------------------------------------------
1.New Cat Gallery Pages
Lots more of your beautiful cats have been submitted to our cat photo gallery to see more visit the cat gallery . Enjoy. Don't forget to submit your cat to the cat gallery so that others can enjoy your cat as well.

Click on their pictures to find out more about them
-----------------------------------------
2. Competition Number Oct 11 / Nov 11
Here is the new Caption Competition. All you have to do is write a caption for this picture. .
Simply send us your caption to go with this picture.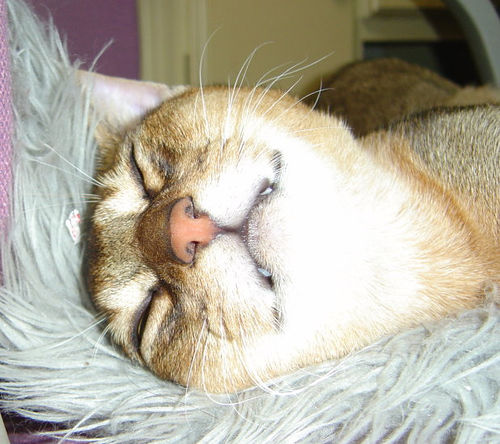 The deadline for this competition is Nov 25th. The best caption will be chosen and the winners name and caption will be posted on the www.our-happy-cat.com competition page.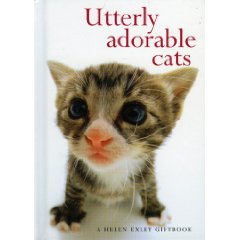 This month the prize for the competition is a copy of the Book
"Utterly Adorable Cats"
Lots of cute cute pictures pf cats and kittens.
(please not the cover of the book differs from picture)
GOOD Luck
--------------------------------------------------------------------------------
3. Byron and Shelley's Latest Diary Entry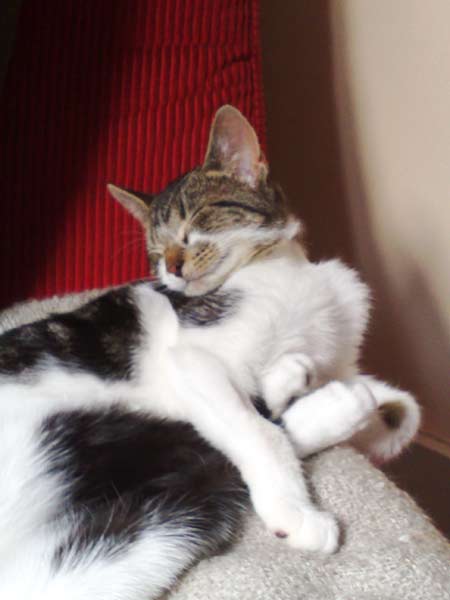 Sick Cat Updates
Well what a few weeks we have had. I reported on July 8th that both our cats were sick and that we were going to take them to see the vet.
well it turned out to be more serious than we first thought. the cats deteriorated over a period of four days, not eating, not drinking, limping and sleeping all the time.
After three visits to the vets they were finally taken into a vet hospital because they were both severely dehydrated, both had very nasty mouth ulcers and Byron was jaundiced.
After more tests it was discovered that they had caught the calici virus, which meant that they were highly contagious and at one point we were told that they may not pull through.
I was devastated, we weren't allowed to see them for five days and every day I thought I was going to get a call telling me that they had gone.
However because they were vaccinated it had given them some immunity against the virus and after a week they started to recover.
Read more here
I will be adding regular updates about them on the web site so keep an eye on your RSS feeds for those. Here is their page
--------------------------------------------------------------------------------
4. Cat Stories and Poems
we like to encourage our visitors to the site to share their cat story or poetry with us here. we certainly enjoy reading your tales of rescue, joy and sadness too. So if you have a story or poem to tell us please let us know HERE
Goodbye Bill - A Cat Poem
by Laura Baggio (Chicago, IL )
I'll never forget the first time I saw you
So innocent and tiny, if only I knew
In those first few years you became a great friend
You made me so happy, I didn't want it to end
You made me forget that I was sad and alone
You made my empty house feel like home
Throughout every day you were right by my side
Except when I vacuumed you'd run and hide
I brushed you, petted you and bought all your favorite foods
You loved me and sat by me in my darkest moods
Sometimes I'd think you'd be around forever
Other times I'd realize that's not very clever
But I tried to forget this and enjoy each day
So I'd hold you and kiss you and then we'd play
Read the rest of the story here
Read more stories and poems here
______________________________________________
5.. Article - Neuter Your Cat and Stop Tom Cat Odours and Unwanted Kittens.
To neuter your cat or not that is the question? In fact it is a very easy one to answer. If you don't want the responsibility of rehoming and looking after a litter of kittens and you don't want your male cat spraying everywhere and generally making a nuisance of himself in the neighbourhood, then the answer is YES.

Having your pet castrated can be an important part of your cat care responsibilities. There are of course many other reasons to have this operation and the importance of providing this care for your cat can never be underestimated.
Benefits of Neutering your Cat.
Stop the senseless destruction of thousands of cats every year just because there are not enough homes for them all.

Your female cat won't develop womb infections or come into season which means no bleeding or late night yowling.(More information about the female heat cycle).

You won't have to suffer your male cat becoming aggressive and trying to mount your arm (if you haven't experienced that then count yourself lucky). Also you will prevent that nasty Tom Cat smell in your home and your friends and neighbours will want to come and visit again.

You will have a much happier cat, contented to stay at home and not get into fights with other cats in the neighbourhood.

You will be helping to reduce the number of unwanted cats being born and there associated problems of cat over population.

There are many health benefits also associated with having your cats spayed/neutered. Read on to discover more of these reasons to go ahead and look after your cat in this way.