Animal Rescue Centre
Wood Green, UK
A day at the Wood Green animal rescue centre HQ in Cambridgeshire. This is one of the largest animal rehoming centres in Europe.
The sun was finally shining, so we jumped in the car and headed towards Cambridgeshire to visit the Wood Green rescue centre.
We had looked up their website and knew that it was a very large site that also held occasional non animal related events. Today was just that sort of day. They were hosting a steam rally in their adjoining fields, so we knew that there would be large crowds.
The Wood green animal rescue centre has three sites for rehoming animals but it is only at the HQ site that they are able to also rescue larger animals like horses, goats and sheep.
The HQ site is situated in the Cambridgeshire countryside on a farm site. The site consists of a large specially built cattery, a large heated dog home, an arena, restaurant, small animal village, large wind turbine and many fields. It really is an impressive site.  
The Cat Village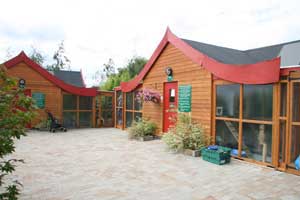 As predicted there were hundreds of people at the animal rescue centre, some had come for the steam rally but many were there to see the animals and hopefully rehome them.
We headed straight for the specially built cat village. The village was funded by a legacy left to them from one of their supporters and it certainly was like no other cat centre we had seen before
There are four housing units, 24 cats in each one, situated opposite each other in an octagon shape with a paved area in the middle, which sported a little wooden bridge. It looked so new and clean and open.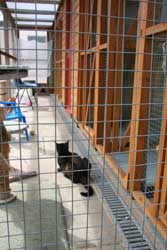 A lot of other cat homes I have seen do not have as much space and can often feel cramped and a little claustrophobic. But not this one. It was like wandering around a garden centre. Lots of flowerbeds and hanging baskets.
Each cat house has an inside area for each cat and an outside area attached at the back. All the cats are able to have their own quarters inside and out and are provided with lots of toys and soft bedding. They really have tried to make it as homely as possible.
One of the best things I noticed that day was that nearly all of the cats looking for homes had a little sticker on their door saying that they were reserved and had found a new home. Of all the cats there, only a small handful were still looking for homes and by looking at their notice boards they manage to find homes for all their cats generally in a short period of time. Brilliant.
Meet Tigger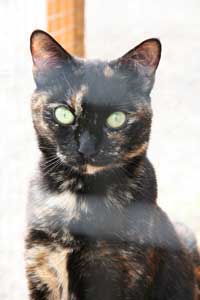 One of the cats that had been at the animal rescue centre for a while was Tigger. When we found him he was sleeping in the sun on his own in one of the outside areas.
As soon as I raised my camera to take his picture, he sat up and gave me this lovely pose. A moment later he was trying to get his nose on the lens. He really was a beautiful cat and very friendly. I wanted to take him home myself, but I don't think little Mo would take to kindly to that.
So we crossed our fingers that someone would re-home him that day, the only problem was, that I heard many of the families looking for cats asking for kittens and Tigger was 10.
The Rest Of The Day At The Animal Rescue Centre.
The sun had remained out, so we decided to take a tour of the rest of the centre. The small animal centre houses Rabbits, chinchillas, rats, mice and even ferrets. It just shows you how many people really don't think about the commitment it is to have any sort of pet. According to the animal rescue centre 50% of rabbits are not wanted after 6 months of ownership as the owners become bored with the pet. They get at least 3 telephone calls a day asking for a rabbit to be rehomed. It really is heart breaking. Thank goodness for places like this. 
The stable area was currently home to several horses and some goats. One of the horses was a shire horse, the giants of the horse world. We couldn't even start to think how hard it must be for the animal rescue centre to find new homes for such large and very expensive animals. No wonder the centre spends over 4 million pounds a year on the care of the animals alone.
Other areas we visited at the Wood Green animal rescue centre were it's own giant wind turbine to supply power for the site, it's water garden with lake filled with Koi Carp and a special memorial garden to remember all the people who had supported the centre over the years and who's love for animals was central to their lives.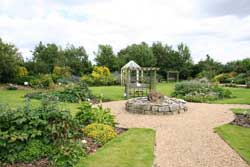 By the time we had done all this, we were very hungry, so we decided to see what their restaurant was like. Well, we were amazed to discover that not only could you have a full Sunday Dinner, with dessert and wine, but also that it was as good as visiting a restaurant in the high street. It was delicious and very reasonably priced, with all of the profits going to the animal rescue centre.
Our day had been fantastic and we both agreed that you would be hard pressed to find such a well run and comfortable animal re-homing centre anywhere else. But of course if you know different then please let us know. You can find more information about the Wood Green Animal rescue centre on there website.
---
---
I'd love to hear what you think of this page or my site. Let me know if you like what you have read or if it has helped you with a problem.
It's easy to do just leave a comment in the box below and click the like / share or +1 to let others know about my site. Thank You It really is most appreciated.