Automatic Cat Litter Box Guide
No More Scooping That Poop! 
An automatic cat litter box sounds like a wonderful idea doesn't it?
Just think - no more handling dirty kitty litter or having to see or smell the cat poop when you're cleaning the litter tray out. Wouldn't it be great to have a machine that does all that for you!
Well, there are automated litter boxes out there that can do just that, but how do you know if they are really any good?
This page will hopefully answer some of your questions
What are the benefits of an automatic cat litter box? 
Do you feel like you want to gag every time you empty your kitty's litter tray? Does the smell, sight, or even just the thought of having to deal with cat poop make you retch?
Or maybe it's the dust from the litter? Some people are sensitive to the dust and it affects their eyes, makes them sneeze or they have other reactions.
Anyway, an automatic cat litter box is meant to help deal with these types of problem. Ideally, it should mean that you have to deal with the litter tray less frequently AND that disposing of the offending waste material is a lot easier as well.

| | | | | |
| --- | --- | --- | --- | --- |
| | smartscoop  | litter robot | cat genie  | |
They can also be a good option for multi-cat households. Usually you should have a separate litter tray for each kitty in your home, because they don't like to go where there is poop or smelly urine from a previous cat.
However, with an automatic option, because the waste is sifted away after each and every use, this shouldn't be a problem.
They can also be a good option if you are away all day, or even if you have to go away over night. You might have a friend pop in to check on your kitties, but what happens to the litter tray in between their visits? Again, a good automated option could help with issues like these.
What Types of Automatic Cat Litter Box Are Available? 
There are lots of different makes so you will always have plenty to choose from. They all work slightly differently to each other but generally there seems to be three main types:
Rake mechanism: In this type, an electronic sensor waits for ten to fifteen minutes or so after your kitty has done their stuff (to let the clumps form) and then a mechanical rake moves forward and scoops the clumps and solid waste into a removable tray lined with a disposable bag.
Carbon filters or similar are used to help odour control. smartscoop and LitterMaid are examples of this type of automatic cat litter box.
Rotation method: In examples of this type, the litter box is shaped a bit like a cylindrical drum. A slow rotational method is employed to turn the litter over and sift out the dirty litter. As the interior drum returns to its original position, the clumps are deposited into a waste draw, leaving a clean layer of litter in the bottom of the machine ready for the next use.
The manufactures state that this method removes the need for a rake which can get clogged or break. An example of this type is the litter robot which on Amazon appears to generally get very good reviews.
Self- washing: Another type is a self cleaning cat litter box which is actually plumbed into your water disposal system. These types, of which the cat genie is an example, actually flushes the waste away and then washes itself clean every time!
The Cat Genie has reusable washable granules instead of litter and it even blows everything inside dry after cleaning. You buy replacement cartridges of cleaning solution and the machine has to be connected to a water supply, electrical point and a suitable waste disposal outlet.
What Should I Think About Before Buying An Automatic Cat Litter Box?
Some of the top designs cost a couple of hundred dollars or more, so you will want to do your research before buying!
Take a good read of the product details and customer reviews that are available, as that way you can learn from real pet owners actual experiences.
Some of the main things to consider include:
Size of the machine: Will it be big enough for your cat to use comfortably? I have seen a few comments from reviewers about one of the most expensive options (that generally gets really good reviews) saying that it isn't suitable for large cats.


Budget: Only you know what you can afford, but there's not much point in buying a cheaper machine that doesn't do the job so well and means you go back to using a normal litter box after all! (See my notes about a possible affordable alternative below).


Appearance: Are you concerned about what the item will look like, or is it more important that it does the job well? Also, have a think about where you will keep it in your home.


Running costs: You might save some money on cat litter, but there may be added costs such as electricity use, replacement filters or special cleaning fluids depending on the type that you buy.


Cleaning: Although these machines save you from having to scoop the poop every day, you will still need to clean out the machine thoroughly at least once a month to disinfect it. Always check the manufactures instructions.
Are There Any Common Problems With An Automatic Cat Litter Box? 
This is where reading the customer reviews can help! Some of the most common problems you might read are things like:
Noise
Reliability and maintenance
Machine not cleaning properly
Too small inside for a large cat
Cat's not liking it, or not using it properly
Expensive
So as you can see, it really helps to do a bit of research. Any product line will have the occasional problem or dissatisfied customer, so you don't want to just look at the negatives. Read the good reviews as well but most importantly look for models that get far more positive reviews than negatives.
Is There An Affordable And Effective Alternative To The More Expensive Models?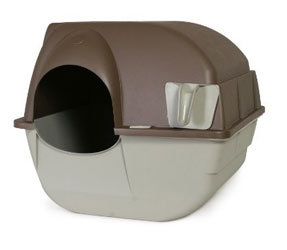 If you like the idea of an automatic or self cleaning cat litter box but can't stretch to the expense (and these are tough times at the moment aren't they?) then you might like to take a look at this idea.
The omega paw litter Self Cleaning Litter Box is not actually automatic, but it is so easy and simple to use while still solving most of the problems around scooping poop, it looks like a really neat solution.
It works on the rotation method similar to the Litter Robot except it is manually operated – you simply roll the box over by yourself!
By doing so, the used litter is poured through a grid which catches the clumps and solid waste before depositing them in an easy to remove waste tray.
Have a look at this video to see how easy it is.
I saw one listing on Amazon.com where the Omega Paw had got over 1400 five star reviews, so at a fraction of the cost of the electric self cleaning cat litter boxes, this could be a great solution!
So happy hunting for your automatic cat litter box! I hope you find one that helps both you and your kitty to stay happy and hygienic!
---
Top of this automatic cat litter box page
---
I'd love to hear what you think of this page or my site. Let me know if you like what you have read or if it has helped you with a problem.
It's easy to do just leave a comment in the box below and click the like / share or +1 to let others know about my site. Thank You It really is most appreciated.