6 Week Old Kitten With Leg Problem
by Kristin
(California)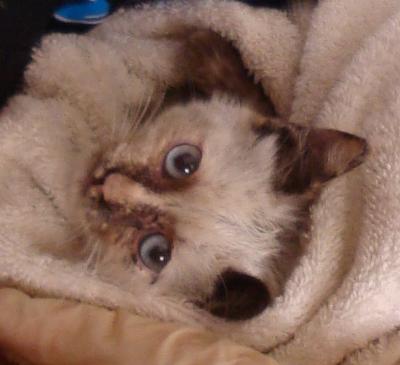 After Her Bath
Hiya there!


One morning I was told there was a white kitten with a broken leg under my parked (not running) car in the driveway to my home. After looking under the car and seeing nothing, I proceeded to the hood of my car and found a cute 6 week old Tortie Siamese girl.
She was absolutely covered in fleas, ticks, oil, dirt, and malnourished. We bathed and fed her immediately after removing her from my car.
The very next day we took her to the vet. They told us she had 'Radial Nerve Damage' just from touching her leg. No x-rays were taken. They gave her an anti-inflammatory and her first distemper vaccine.
The anti-inflammatory seemed to help more and more each day. By the third day, she was no longer clubbing her left front leg like she was originally doing. She would stretch it out and lay it flat, but not on her paw. Fourth and fifth day were fine. But come the sixth and seventh day she is starting to walk on her leg funny.
She responds to very lightly pinching her paw, so she does have feeling in it. She just cannot walk on it properly, bend it, or use her claws. It looks like she may have some swelling in her front left leg again.. but I'm honestly not sure.
Next paycheck she'll be going to the same vet again or another vet.
But until then... Any ideas what's wrong? :[
Answer by Kate
Hi
Unfortunately i am not a vet and so cannot give a medical diagnosis. i would assume though that if the vet thought it was nerve damage only that it is still healing, i know nerve damage can take some time.
However without an xray I can't see how they could be a 100% sure that nothing else was wrong. i agree with you, take your cat to another vet as soon as you can before any more damage is done to the leg. She may need it strapped up so that it heals straight etc.
She is beautiful by the way.
best wishes Kate
---
I'd love to hear what you think of this page or my site. Let me know if you like what you have read or if it has helped you with a problem.
It's easy to do just leave a comment in the box below and click the like / share or +1 to let others know about my site. Thank You It really is most appreciated.