Advantage for Cats
This year I tried Advantage For Cats for the first time as a flea treatment for my two kitties and I have to say I have been really pleased with the result. 
Earlier this year my poor Shelley had a really bad case of cat fleas. I was so disappointed because I had been applying my usual sqeeze-on cat flea treatment that I bought at the local supermarket, regularly every month since they were kittens. 
But gradually I noticed Shelley scratching more than he usually does. I gave him a comb and yep, there they were, a couple of those horrid little critters.... cat fleas!
It didn't seem too bad at first and I know that every cat who goes out can pick up a few every now and then.
But I made sure he was up to date with his squeeze-on treatment (at the time I was using a different brand than Advantage For Cats) and I gave him lots of combing to get rid of any that I could still find. I then treated the whole house with cat flea treatment powder and vacuumed to make sure.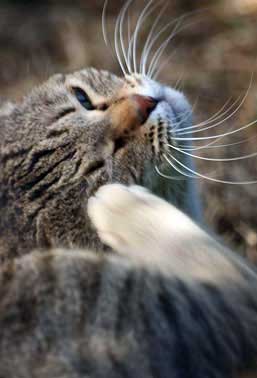 That should have done it! But no.
Over the next few days and weeks poor Shelley was scratching more and more. And when I combed him again .... Yeuk! There were more than ever!
It was a horrible feeling knowing he was bringing them into the house, but also horrible knowing how irritated and distressed my poor kitty must have been feeling!
So I thoroughly combed him again and treated the whole house once more.
The only thing that was left was the type of flea treatment that I was using. The cat fleas that he was picking up were obviously immune to the treatment I was giving him!
In the meantime, my other kitty Byron didn't seem to have much of a problem at all.
So Shelley must having been going somewhere when he went out where there was a real infestation, and he was bringing them back home. Thanks Shelley!
So I had a look at the different brands available and found that Advantage Flea Treatment appeared to be a lot more powerful than the brand I had been using up until then.
Advantage For Cats Range
There are various packs available depending on the size of your cat.
Shelley was by then due a fresh treatment, so I went ahead and applied the Advantage For Cats flea treatment in the same way.
If you are unfamiliar, this type of cat flea treatment comes in a little pipette that you squeeze onto the skin behind their necks, just once every month. It's really easy. The cats don't usually like it because of the smell but they soon forget about it and with it only needing once a month, it's one of the best types of flea prevention available.
The result? In just a couple of days Shelley had almost stopped his scratching completely (his existing bites would obviously still be itching a little bit) and when I combed him .... nothing! Zero. No more horrible cat fleas in site. Thank Goodness for that!
I was so relieved, both for my poor Shelley, but also for the fact that I could rest assured that they had gone from my house as well.
For more information about the product from the company that make it see here
---
Top of this Advantage For Cats Page
---
I'd love to hear what you think of this page or my site. Let me know if you like what you have read or if it has helped you with a problem.
It's easy to do just leave a comment in the box below and click the like / share or +1 to let others know about my site. Thank You It really is most appreciated.