Airline Approved Cat Carriers
So what are airline approved cat carriers and why do you need a special carrier for your cat when travelling abroad.
This is not an easy question to answer, as each individual airline will have their own specific rules and regulations which may change often. So the main advice is to check with your own individual airline for any specific regulations regarding travelling with your cat.
Carriers featured on this page
The Federal Aviation Administration and the Animal and Plant Health Inspection Service
These two services have however set some basic standards which must be met when transporting your cat via an airplane. Airline approved cat carriers must be:
Airline Approved Cat Carriers
The following carriers have been approved by most large airlines. But do check with your own airline first in case rules have changed.
I have chosen these four as I think they are the best in this range. Yes there are other similar designs but after reviewing them I feel that these four give the best all round protection for your pet and are the best value for money. Happy holidays.
Sherpa Original Deluxe Carrier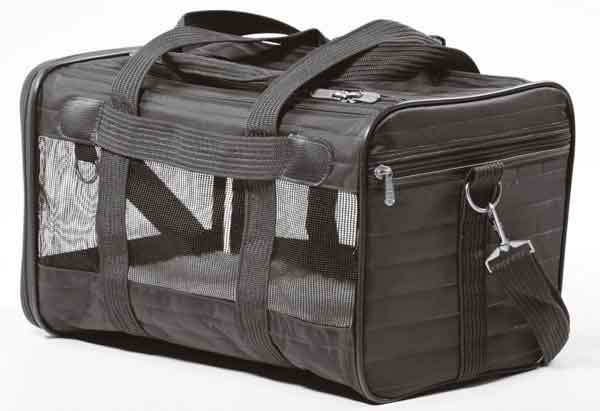 I like this soft sided carrier as it has lots of see through panels all the way round the bag so that the cat is able to see out and not feel enclosed for the journey.
As some airlines allow cats to be carried onto the plane as hand luggage, (check with airline) this bag would be easy to handle, big enough and less scary for your cat. It also conforms to current under seat dimensions, due to its flexibility.
This carrier is also perfect for car travel as it has seat belt straps and two openings for the cat to enter, top and side. Find Out More
Argo Airline Approved Pet Carrier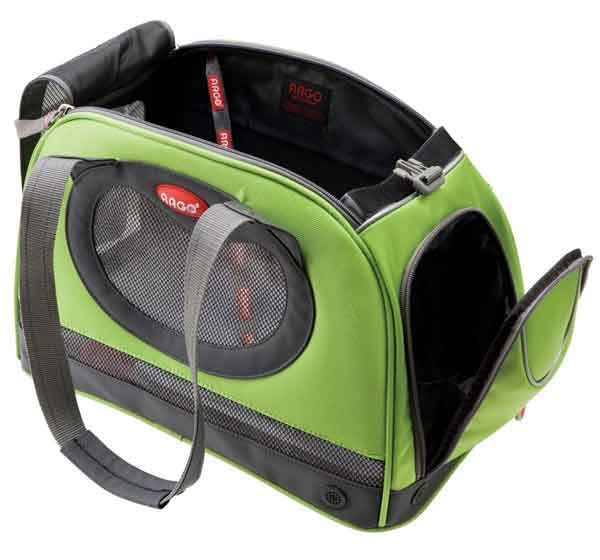 For something a little more stylish and perfect for in cabin use, this Argo carrier conforms to strict airline regulations.
Sturdy but lightweight which is something you will really appreciate when you have all your other luggage to carrier around the airport.
The carrier has two external pockets too, so that you can tuck away a little treat for your pet and perhaps some wipes too in case of any little accidents.
I really like the look of this bag however I would say that it is probably more suited to smaller cats.
Wheel Around Travel Pet Carrier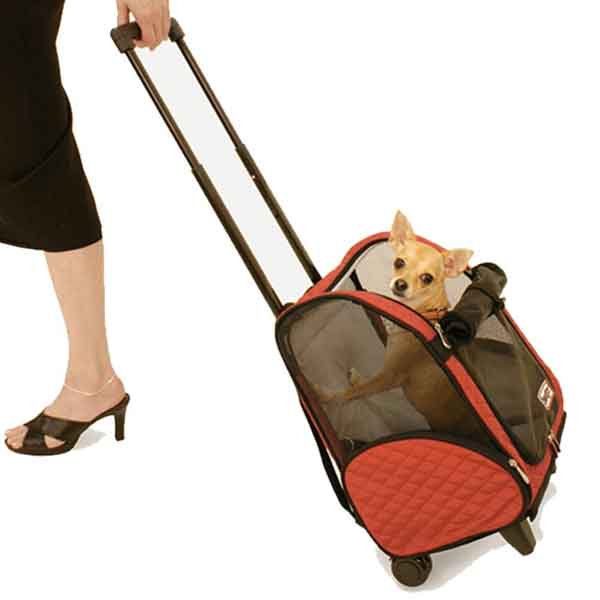 For something a little more portable, this cat carrier on wheels is perfect. It folds flat for storage too which I think is a great feature.
I find that the motion of being carrier can make some cats sick (I know from bitter experience). This carrier on wheels will provide a smoother ride ensuring your cat is more relaxed as they board the plane.
Again this type of carrier is designed for the pet to be carried with you in the cabin. More information here
Hard Shell Portable Carrier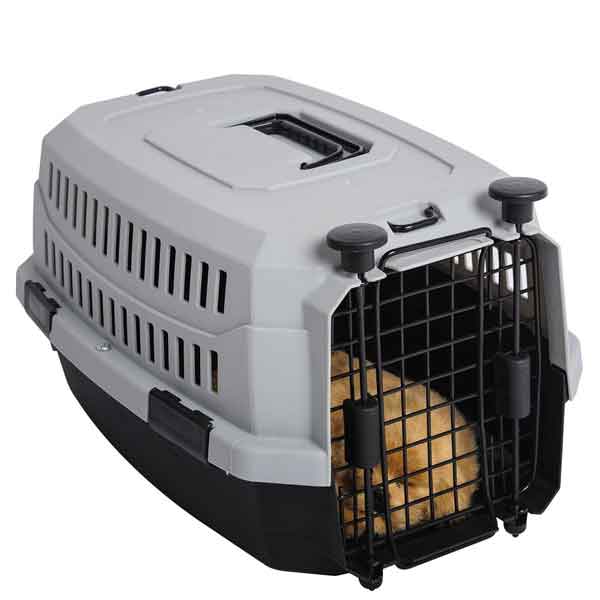 For something sturdier and which will protect your cat on longer journeys in the hold of the airplane, this medium sized carrier will allow your cat to stretch their legs and stand if they wish during the flight.
It meets with American airlines regulations for strength, ventilation and ease of opening and will provide you with piece of mind that your cat is safe and secure in the hold during the journey.
Airline approved cat carriers that are designed to be kept in the cargo bay generally look very similar to this one as they tend to get knocked around a little and need to have strength over style.
---

Top of this Airline Approved Cat Carriers page
---
I'd love to hear what you think of this page or my site. Let me know if you like what you have read or if it has helped you with a problem.
It's easy to do just leave a comment in the box below and click the like / share or +1 to let others know about my site. Thank You It really is most appreciated.