Aubrey Our Stray Cat Nov 2020
by Kate
(London)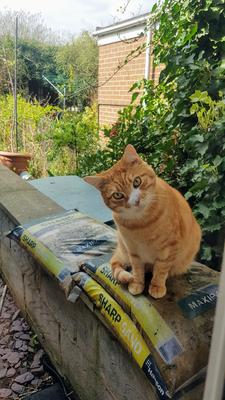 Aubrey our Ginger Stray
Some of you may know that in 2015 a rather thin and scruffy cat came into our lives. We eventually names him Aubrey after the street he was found in.


Sadly just at the age of six, last month November 2020 we had to say goodbye to him. The pain is still very real and will be felt for a very long time.
Here is Aubrey's story.
One late september day in 2015 Matt pointed out to me a very shy and scared looking cat hiding in our garden. He was obviously a stray as he was very thin and his fur was rather scruffy and unkept. He was an intact male cat with a Ginger tabby coat. He had a very odd look about him, he sort of stared and tilted his head a lot. He had big round sullen eyes that simply looked terrified all the time.
He didn't come close the first few times we spotted him in the garden, but seemed content to just watch us and our cats come and go.
We had no intention of having any more cats in our lives. we already had Byron and shelley who were a handful in themselves. plus the cost of taking on another cat would be difficult. But slowly this scruffy ginger boy won over Matts heart, who started to (i didn't know this) leave little bits of food for him out side. Gradullay over time, he crept closer and closer to the house until finally Matt was able to touch him.
Long story short, it took six months before Aubrey was happy to come into the house.
He developed into a very handsome strong Ginger boy, who won the hearts of everyone who met him. In fact Matt my partner fell in love with him so much that they grew very close and were inseperable most of the time. Aubrey would follow matt around and indeed if Matt sat down for even a few minutes, Aubrey was on his lap.
he was one of those cats that just made you smile every day. He had strange little habits and loved to talk to you all the time. He became one of the biggest cat characters we had ever had in our lives, which sadly has made it all the harder to lose him.
The End Story
As you know we have had cats all our lives and pride ourselves on giving our cats the best care we can. The first sign of ill health and off to the vets they would go. But this time we simply didn't see it coming.
Aubrey was a big fatish cat, who was solid muscle. So much so that in the middle of this year we decided that all our cats needed to lose a bit of weight so we changed their food to a lower calorie one. So when Aubrey started to lose a little bit of weight we thought nothing of it. He continued to eat, use the litter tray and behaved completely normally, right up until the beginning of November. Then he started to scratch a lot, we found some fleas so we treated as normal. But then he started to not want to stand on the floor, looking accusingly ( as cats often do when they itch). So when he then started to not want to come into the house but instead wanted to sleep in our shed, again we just thought, it was because he thought his itching was being caused by the house and that once the fleas were gone he would come back in. But then within days his weight just dropped off of him and that's when we thought it was time for a visit to the vets. we really thought he must have an allergy and happily took him to the vets as we normally would.
Now this is the year of the pandemic, so a visit to the vets is not the same any more. You have to hand your cat over tot he vet outside the office and wait for them to come out and tell us what they think is happening. So we handed Aubrey over and waited outside, chatting happily away to each other. The vet came out and said she could feel a mass in his tummy. We were dumb struck.
The vet said they wanted to keep him over night and in the morning to do a scan and then possibly and operation. So we agreed. The next day we were told that yes he had a mass and they needed to operate. we agreed. Two hours later, the vet phoned (with Aubrey still on the operating table) to tell us that it was very bad and that to be honest even with some treatment he probably only live for a few months and that the best thing was to let him go.
We were totally unprepared for this, we hadn't even said goodbye to him as we thought he would be coming home again. But after some discussion it was agreed that it would be cruel to put him through months of treatment only for him to die anyway. So we let him go.
Needless to say our hearts are broken and we will always miss him. the house is strangley quiet even though our other cats are around.
So m message to all those that have contacted me in the past, blaming themselves for their cats passing. I want to say, that it is not always possible to spot serious illness in our cats, but all you can do is to do your best for them always. There is no blame as long as you have loved and cared for them during their lives.
R.I.P Aubrey, we glad you came by and chose us.