Belle (Bellamy, Belly button!)
by Lisa
(liverpool england )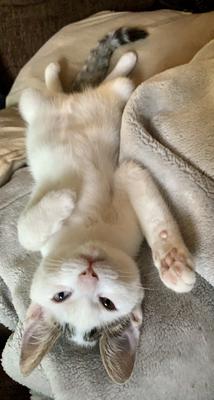 just chilling
Our little Belly is 4 months old, and is such a lovely little boy, he loves nothing better than to sit on his human mummy for snuggles. His second favourite thing is to sit looking out of the window having a little nosy at the world outside. He is soo cute, he replies when i call him by making these cute chirping noises!!
Everyone thinks he's soo special coz he's got one green eye and one blue!!
Join in and write your own page! It's easy to do. How? Simply click here to return to Copy of Cat Gallery.
---
I'd love to hear what you think of this page or my site. Let me know if you like what you have read or if it has helped you with a problem.
It's easy to do just leave a comment in the box below and click the like / share or +1 to let others know about my site. Thank You It really is most appreciated.