blue russian cat losing fur
by farooq
(detroit,mi USA)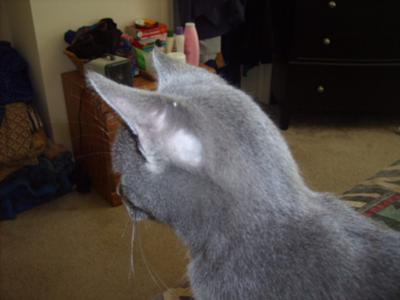 My Blue Russain Cat
my girl blue russian cat losing small areas of hair everywhere, her behavior is fine help


Reply
Hi
As it is near the ear on the picture i am wondering if it could be
ear mites
.
They can crawl out of the ear and cause irritation around the head causing your cat to scratch. I have more on ear mites on my page here
cat-ear-mites.html
However if she is losing fur on other parts of her body too it may be caused my another parasite or even an allergy. Please see my page about cat fur loss here
cat-hair-loss.html
---
I'd love to hear what you think of this page or my site. Let me know if you like what you have read or if it has helped you with a problem.
It's easy to do just leave a comment in the box below and click the like / share or +1 to let others know about my site. Thank You It really is most appreciated.