Carrot Our Cat
by pamela
(St. Helens Merseyside )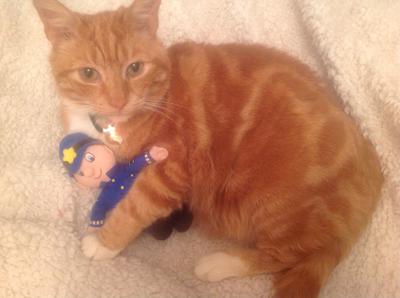 Carrot our cat
carrot was a stray ginger cat that tuned up at ours and after 2-3 weeks at staying at the door meowing for food what we would give him 4-5-6 times aday we took him in took awhile for ou other cat ozzy to get to know him he got his name because our 3 year old grandson was there when my husband said what should we call him and graham(hubbie)says he's orange like a carrot and Oliver (grandson)shouts call him carrot and it stuck he was in such a bad way at 1st had fleas,ear mites,fesies all over him his teeth had been kicked in so afte nearly a year of him going to and from vets he's finally on road to recovery but my husband feels imbarissed every time they shout CARROT and people giggle when he was in pdsa hospital after operation to remove 5 teeth including a front molar that the vets says had been kicked so hard it broke into several pieces which then he had to fight a battle of 6 month of infections bless him we could out he has to be on mediation for the rest of his life fo muscle wastage to his back legs and then finding out he also has a heart murmur As if he's not got enough to put up with bless him he is so happy and content now,all the staff and pharmacy staff know him by his name now CARROT ,
---
I'd love to hear what you think of this page or my site. Let me know if you like what you have read or if it has helped you with a problem.
It's easy to do just leave a comment in the box below and click the like / share or +1 to let others know about my site. Thank You It really is most appreciated.