cat doesnt come to his food being shaken any more
by Roisin Fitzmaurice
(Corsica, France)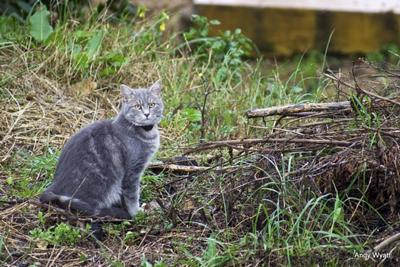 cat playing outside
I have two questions to ask,


My cat is just under a year old and is free to go out when he wishes, he used to come running when i would shake his food tub but recently he seems to be ignoring when i do this, i have a feeling he is doing this as he doesnt want to come in and knows that i will keep him in. Also do cats wander further at dark??
and
There are a few neighbourhood cats that hang around, I have noticed recently that there are two female cats that are always around, they are pregnant and my cat (male spayed) follows them around and appears to be protective of them, he keeps his distance but keeps and eye on them! i know for sure he has not inpregnated them, is he just feeling maternal and looking after his friends??
Thanks
Roisin
Reply
Hi
Yes night time is the natural time for cats to be more active anyway and so it is not unusual for cats to want to stay out at night time, i know my two would love to be out all night if i let them. Also even though he is neutered at this time of the year especially cats may still feel a little more frisky (it has a lot to do with instinct) and want to be more active so i wouldn't worry too much.
As for your cats behavior towards other cats, yes they may simple be friends of his. I know this may sound strange my cats have friend cats too who they like to hang around with and follow. the fact that they are pregnant may not have anything to do with it.
best wishes kate
---
I'd love to hear what you think of this page or my site. Let me know if you like what you have read or if it has helped you with a problem.
It's easy to do just leave a comment in the box below and click the like / share or +1 to let others know about my site. Thank You It really is most appreciated.