Cat Gallery - M
Cat gallery of cats who's name begins with M. 
Mr Marble
Hi my name is Lynda and this is my cat Marble.
Sex - Male
Age - 11
Lives In - Venice USA
My favorite food - Purina One Healthy weight and Hairball (dry), Fancy Feast wet (as a treat).
This is what I like to do the best - Snuggling with his "kitty love" Hope. Sleeping on his kitty condo or on mom.
My funny habits are - 9 months after I adopted Marble I adopted and bottle fed my other kitty hope. She was so tiny, her eyes weren't even open. When she was old enough to play, she would run between marble's legs, under and over him. She would jump on him and he would fall over, grab her and wash her all over. He does all this to this day, he is so in love with Hope! They eat together, sleep together and she gets a good grooming at least once a day!
How I found my cat - Mr Marble was a feral kitten living under the cars in the carport of my apt. complex. It took forever to catch him, I would put food out on the porch, but if I tried to go near him he would growl and run. Finally on day he let me sit by him while he ate, growling away! Then I went to pet him, he still growled and ate, but didn't run. When he was done eating I pick him up and held him close, he purred so loud for such a little guy. He was so dirty I thought he was mostly gray, but after bathing him (With no problem!) I could see he was mostly white "marbled" with many colors, that's how how got his name. Mr Marble is a Main coon mix, now at 29 pounds he is my gentle giant.
Mr Marbles' Monday Blog
Well we had a nice, quiet weekend with Mom. Hope and I spent most of the day cuddling. I gave her a good washing, especially her ears, she loves that! Mom went "OUT" today. we don't like that very much, but she always comes home..good thing too, I get nervous if my food bowl gets low mol (Mewing Out Loud). Well, I think I need another nap now. I sure hope I have my "Fishing Dream"! Mr Marble.
Merlin
My name is Peter and this is my cat Merlin. Hope you enjoy reading about him.
Sex - Male
Age - 3
Lives In - midhurst, UK
My favorite food - he loves most cat foods fresh fish chicken spam ham lamb prawns mashed potato baked beans sausages fillet steak porridge
This is what I like to do the best - eating sleeping running up and down the stairs snuggling up with us on the sofa watching television
My funny habits are - sitting in boxes of any size      attacking the mail when it drops on floor trying to get in bags getting in cupboards
How I found my cat - we got merlin when he was 6 weeks old from a friend
THIS LITTLE GUY LIVES WITH MY WIFE SARAH AND MYSELF AND IS REALLY FUN TO HAVE AROUND HE LOVES TO EAT AND IS VERY ZANY AND CUTE AS CAN BE
Makaroni
My name is Tibi and this is my cat Makaroni.
Sex: Female
Age: 6 months
Lives in: Romania
Her favourite food is: Ummmm.. Purina, Whiskas Junior (both dry)... watermelon, corn or anything we eat.. be sure she wants some too!
This is what I like doing the best: Playing with her snowman, eating all day long, biting our hands, catching flies and sleeping on my neck like a scarf!
Her funny habits are: Yes! Every morning she comes to me purring like a tractor, looks for my necklace and likes and bites the hell out of it! i don`t think she does this because she wants to get fed since she does this during the day too, everytime she is in need of some affection and cuddling!
How I found my cat: Well I got her from a local pet shop. It was quite funny `cause I decided to adopt her and leave her sister there but the sales lady and some customers begged me to take them both home. So I did that and adopted her sister Sock too. But she ended up at my girlfriend`s grandma`s place and she`s ok too!
Maggie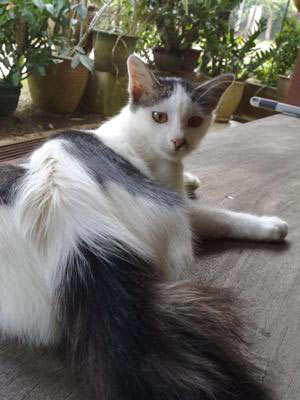 My name is Normey and this is my cat Maggie. Hope you enjoy finding out about her.
Sex - Female
Age - 1.5
Lives In - Kuantan, Malaysia
My favourite food - Purina
This is what I like to do the best - Hang-out with me , Sleep near me , Follow me everywhere in the house the best
My funny habits are - She shares the same chair with me when i study . She just can't get rid of me.
How I found my cat - Her mother left her in the garage
Maggie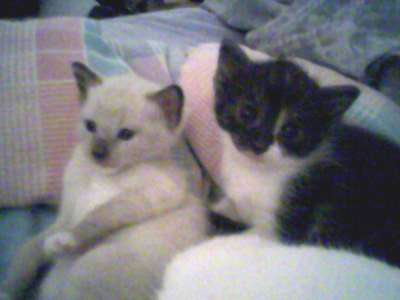 My name is Sheree and this is my cat Maggie.
Sex - Female
Age - 2
Lives In - East London, South Africa
My favorite food - Anything made by Whiskers. But I love to hunt for things, especially geckos!
This is what I like to do the best - I love being really high up and my mommy mostly finds me on top of cupboards and the roof. When mommy is sleeping, I like to paw her to show her how much I love her. Sometimes mommy gets upset, especially really early in the morning, but she never turns me away :). I love to sit in the rain a lot. Mommy worries about me and drys me off, but I just go back... I also really like it when mommy brushes me. That's when she talks to me and strokes me and I feel really loved.
My funny habits are - I'm a mommies-girl. I follow her around wherever she goes. I'm a pretty little girl and I have gorgeous eyes that I use mostly to get food :). I talk to my mommy and daddy a lot and I love being petted by them. I roll around and look really cute when there is an audience, then lie back and wait for the love. My favorite toy is a bunch of feathers on a rod. Mommy plays with me for hours with that toy... It's so much fun! It looks like a bird, so I jump really high to catch it. Sometimes my brother and sister try to catch it, but they don't jump as high as me!
How I found my cat - I was born to this family and wormed my way in! They found me so irresistible that now I'm part of the family!
Muffin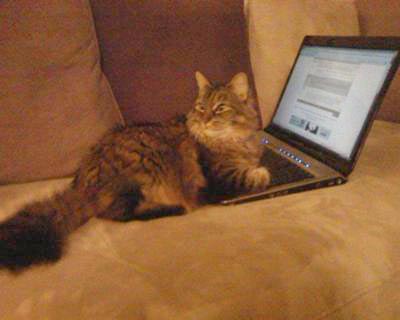 My name is Pamela and this is my cat Muffin.
Sex: Female
Age: 5
Lives in: Hinesville, United States

Her favourite food is:
It's weird because sometimes we try treating her to other foods like tuna, chicken and such but she won't eat anything but Science Diet, lol.
This is what I like doing the best: Likes to sit in our padded dining room chair in the furtherest seat and just watch us move about.  She also loves to sit on the arm of our couch and watch t.v.  She could watch tv for a while until she dose off to sleep.
Her funny habits are: She moans and growls like a dog, lol!
How I found my cat: Muffin's previous owner was unable to keep her and posted that if no one would be able to adopt her, she would have to go to the animal shelter to be put down.  We couldn't allow that.  Now she is a part of our family and we are very excited.  She is a very fat cat and make baby cries when she wants something.  It is strange because she actually sounds just like a baby whining.  But when she doesn't want to be bothered, she will surely let you know.  So far she favors my oldest son Jamal whom she cuddles with on the couch all the time.  She is very protective, lol!  When someone rings the door bell, she jumps and go running as if she is a puppy.  People are frighten by her size and unique shape but she is truly a sweetheart. She is a wonderful cat and we just love her!
Misty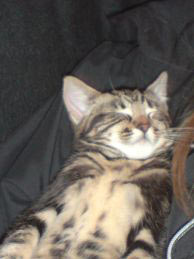 My name is Vicki and this is my cat Misty.
Sex - Female
Age - 6 months
Lives In - Glasgow UK

My favorite food - She loves whiskas pouches in gravy and prawns!! 

This is what I like to do the best - She loves playing with my 1 year old dog Gucci she loves her to bits but when shes not doing everything Gucci is doing she likes to eat an sleep and cuddle up with me shes such a wee suke!

My funny habits are - Yes she kicks her litter out all over the floor. 

How I found my cat - I bought Mist from a farm.

Misty is anh adorable bundle of fun she is 6months old and is in absaloute awe of my one year old dog Gucci they do everything together it is so cute! When shes not following gucci everywhere shes having random wild moments to herself from running around and jumping all over the palce to kicking her cat litter all over the floor! She even comes up and give me a proper kiss on the lips I love it when she does. I have to say tho my faviourte time is when shes sleeping I had never heard a cat snore before and its the cutest snore in the world not to mention she looks goergeous thats why Im sending a picture of her sleeping x x x
Molly
My name is Dalila and this is my cat Molly.
Sex: Female
Age: 6/8 months
Lives in: Toronto, Canada
Her favourite food is:
Friskies Chicken Dinner In Gravy
This is what I like doing the best:
Following us everywhere looking cute getting attention

Her funny habits are: jumping up to us to get attention and forgetting to cover her business in litter

How I found my cat: 
Collin found her in a snow bank

Shes so super special to me because we rescued her and she loves every bit of attention
Milly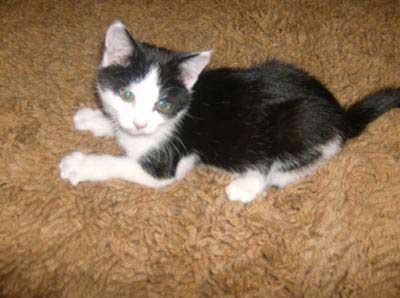 My name is Charlene and this is my cat Milly.
Sex: Female
Age: 6 mouths
Lives in: Derbyshire, United Kingdom

Her favourite food is:
Bought kitten food for now Milly is only just 6 months old. She loves to eat a little fresh fish too as well.
This is what I like doing the best:
Milly loves to play hide and seek, peeping our from under tables or from behind curtains. She is very affectionate and loves nothing more than to be snuggled up against people or on their laps.

Her funny habits are: Milly loves to hang upside down off the sofa or off her cat bed which has tiers to it for her to jump onto. She loves to bring worms in from outside for me, as a present! :( 

How I found my cat: I purchased Milly,my cat from its previous owners, who had put an advertisement in the local pet shop, as they no longer wanted to keep her.

Named after the Milly Molly Mandy childrens books I used to love reading as a little girl...She is the sweetest most adorable loving little kitten. The previous owners of Milly, told us she was anti social and yet she is anything but! She loves attention and is so affectionate. My partner bought her for me as a present as I was very unwell at that time and since we bought Milly home, she has made me feel so much better and she is the best thing to come into my life in a very long time. We adore her!
Matsi
My name is Cveti and this is my cat Matsi.
Sex: Female
Age: 5
Lives in: Varna, Bulgaria
Her favourite food is:
Chicken,whiskas and me!!!
This is what I like doing the best:
Unhanging wallpapers

Her funny habits are: Likes to answer my questions

How I found my cat: 
From the street. she is the most clever cat!!! 

Matsi is the most beautiful and clever cat all over the world. I love her very much!
---
---
I'd love to hear what you think of this page or my site. Let me know if you like what you have read or if it has helped you with a problem.
It's easy to do just leave a comment in the box below and click the like / share or +1 to let others know about my site. Thank You It really is most appreciated.