Cat Gallery - P
Cat gallery of cats who's name begins with P. 
Precious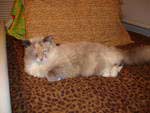 My name is Aliyah and this is my cat Precious
Sex - Female
Age - 15
Lives In - USA
My favorite food - CatChow
This is what I like to do the best - Napping and being petted.
My funny habits are - No that I can remeber.
How I found my cat - Precious was born in a bad home. A home that she could not survive in. Until my mom took her!
When precious was born, she was born in an abusive house.
The kids there killed the mother and the other kittens accept Precious and her brother. Something happened to her left eye but I don't exactly know what. You cant really see it but her left eye lid covers half her eye. The police later heard about the family and the last two kittens and decided to take them away from the family. The police came to my moms door because she was a foster parent for cats at the time, they asked if she would foster them till they found a home for the kittens. My mom said she would.
As days passed my mom fell in love with precious, later my mom decided to adopt her after she did they took the male away.
Now she has a loving family we love her like she is a very close relative.She used to bring gifts for us that were alive, she didn't like to kill her gifts. One was a mouse and another was a bird.
I sometimes think God sent her. To watch over my mom and I untill I was old enough to help my mom and somethimes look after my self when needed.
It means so much to me to see people reading this story. When she passes away she will know that people know about her and will remeber her sad but true story.
Parker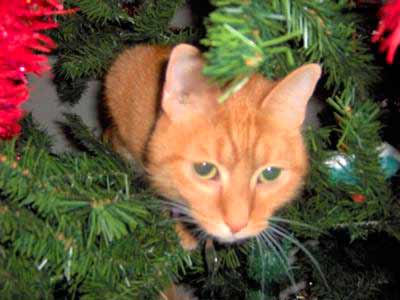 My name is Evee and these are my cat Parker.
Sex: Male
Age: 8
Lives in: USA
His favourite food is: Lettuce
This is what I like doing the best: Sleeping and paying around.
His funny habits are: He will knock anything down from anything higher than the floor.
How I found my cat: I adopted him from petco.
My cat is 8 years old. He is a feisty little guy. He loves to play and can amuse himself with almost anything. (He knocks down objects from anywhere that is higher than the floor too.) Parker does not like going outside (he is an indoor cat anyway) and is not fond of other animals other than cats. He only likes cat food, lettuce, cat snacks, and the red skins of peanuts. He is very very quiet as well. Oh, and he is a good listener.
Pippin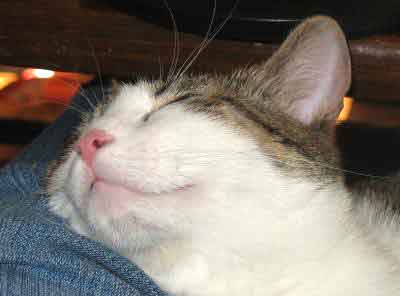 My name is Gina and this is my cat Pippin
Sex: Female
Age: 2
Lives in: Placerville, United States
Her favourite food is:
Fancy Feast
This is what I like doing the best:
Chase the other kitties around the house! 

Her funny habits are: She likes to burrow under the bed covers, so all you see is a lump on the bed.

How I found my cat: 
We picked Pippin out of a litter of kittens. She's the only one who would engage with us.

Our two year old cat Pippin is quite a character. She loves to chase our older cats all around the house, and has been doing so since she was a kitten.
My husband and I are especially close to her because she was diagnosed with Feline Leukemia at the age of six weeks. To our great relief, she re-tested negative five months later.
Believe me, it was a heart-wrenching five months! I love her coloring and her sweet face; she is a patched tabby with big round moon eyes. I want to love and kiss on her all the time, though she only allows it when it suits her. She definitely has a mind of her own!
Pumpkin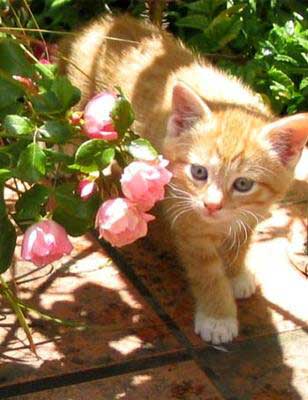 My name is Ayia and this is my cat Pumpkin.
Sex: Female
Age: 2 weeks
Lives in: Alexandria, Egypt

Her favourite food is:
Nana one baby formula and soon to be Whiskas dry food and canned or packet wet food.
This is what I like doing the best: 
Sleeping, eating, and playing little maze games with me.

How I found my cat: 
I found her in the street knowing that her mother was dead so I asked my parents if I could have her and they agreed.

She is an Egyptian street cat and an orphan to. Her mother was ran over by a car. I am 12 years old with my 2 brothers. One is 8 and the other is 2.
Me and my 8 year old brother cryed for the cat until my parents finally agreed to keep the cat. Unfortunately we only got to take one out of the three. I love her with all of my heart and I hope she stays healthy.
Pharaoh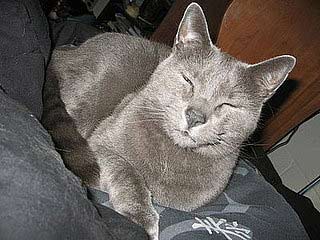 My name is Niki and this is my cat Pharaoh.
Sex: Male
Age: 5
Lives in: North Adams, United States
His favourite food is:
Any canned cat food and treats. His absolute favorite food, though, is cat treats with this milk cream on the inside. I've caught him trying to get into cabinets to get them.
This is what I like doing the best:
He likes to spend all of his time outside, but when he's home he likes to bother our other cat Hiei and Virginia, the female of the house. 

His funny habits are: He has this really strange habit of finding hairties and carrying them around the house with him. 

How I found my cat: 
Pharaoh was found in the woods when he was 6 months old, completely feral.

While Pharaoh can be really anti-social, he's very fun loving and energetic with a sweet side. His favorite things are milk cat treats and hair ties, plus any small wild animal that he can bring home as a present.
Payton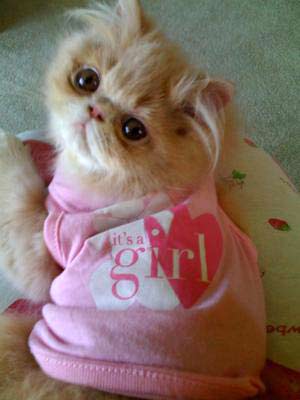 My name is Laura and this is my cat Payton.
Sex - Female
Age - 3.5 months old
Lives In - Philadelphia, USA
My favourite food - She loves raw beef!
This is what I like to do the best - Payton loves playing soccer and being brushed.
My funny habits are - I can always tell when she is hungry for breakfast because she wakes me up with a silly meow song.
How I found my cat - I purchased her from a Persian breeder.
Payton is my first cat and the first pet I've had in many years. She is so well behaved and I am amazed at how much fun we have together. She has made my life very happy and can always put a smile on my face.
---
---
I'd love to hear what you think of this page or my site. Let me know if you like what you have read or if it has helped you with a problem.
It's easy to do just leave a comment in the box below and click the like / share or +1 to let others know about my site. Thank You It really is most appreciated.