Cat Gallery - T
Cat gallery of cats who's name begins with T. 
Tilly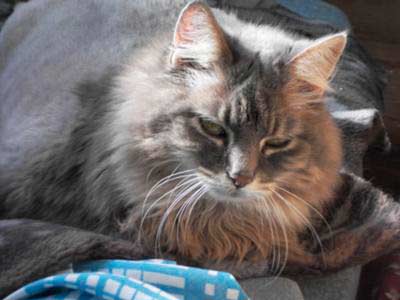 My name is Jay and this my cat Tilly.
Sex: Female
Age: 12
Lives in: USA
Her favourite food is: I would say she prefers Fancy Feast, followed by Purina Moist Indoor with the greens added.
This is what I like doing the best: She'll play at night when i'm in bed with a soft squishy ball that I bought for her, she has about 8 of them but most are somewhere i can't find! She'll carry it in her mouth & mew like she's carrying a kitten! It is the cutest sound & thing to see (she does this now & then when i'm awake but mostly when i'm in bed.)
Her funny habits are: Can't think of any; Tilly is basically hiding most of the day sleeping somewhere, since she was deprived of a normal life & too scared for attention for too many years, i think she's fairly stunted in the sense of having a real distinct personality but she does like to be petted, just not held. She will come in the bathroom & sit sometimes tho when i'm in there! She's a very sweet cat & gentle, you just want to protect her because of her walking problem.
How I found my cat: She was a stray that had come to my mom's in 1999. She & the only daughter she had left were fairly wild, you could only pet them once in a while. I only happened to catch Tilly one day when she was just laying there. Raced her to the vet & he gave her an antibiotic & took her right to my home that very day (my dad used to catch her & her daughter always in time for the rabies shots amazingly!)
TJ
My name is Lynda and this is my cat TJ.
Sex - Male
Age - 3
Lives In - Venice USA
My favorite food - Purina One Healthy weight and Hairball, Fancy feast (as a treat).
This is what I like to do the best - Chasing Hope, chasing Mr Marble, chasing Mom, and chasing nothing lol. He loves water, he peeks in on me while I'm in the shower, then he gets in the tub and rolls in it. He likes to sleep in the bathroom sink and drink from it too.
My funny habits are - Playing in water, gently attacking mom's ankles. He is very vocal and makes all kinds of different sounds. He loves my lap and will follow me and complain until i sit down so he can sit on me.
How I found my cat - TJ is a Bengal mix I adopted from the shelter.
TJ's Day
Hi all kitties!! I'm TJ and I want to play! My brother and sister don't like to play as much as I do, they are old hee hee and Hope hates it when I tell her that. But I love them though, and I chased my Mom good today, I love to attack her ankles, she says it tickles. She was a little upset last night, it was 3 am and I wanted to play. I kept jumping on her, she didn't want to play! (And she was cranky too). Ohh never mind..I see a squirrel up in my tree in the bedroom, I'm going to watch him now..bye!
Tzilly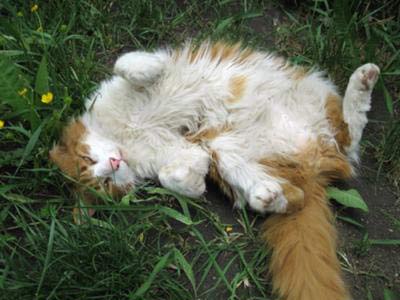 My name is Augustin and this is my cat Tzilly.
Sex: Male
Age: 4
Lives in: Cluj, Romania

His favourite food is: Brand: Gourmet Gold, Content: Rabbit&Liver
Presentation: Gentle Bits

This is what I like doing the best:
Playing in the garden with inanimate (strings, balls) or just no more animated (birds, mice)things. 

His funny habits are: When happy, galloping through the garden like crazy, growling like a dog!

How I found my cat: My wife rescued him as a small, dirty kitten from under a parked car..
parked car as a small, dirty, desperately meaowing kitten and brought him home. Now he is a handsome neutered cat never leaving the garden, although the fence is only 7 feet high. When we are leaving in the morning going to jobs, Tzilly decides if he wants to remain sleeping in our bed in the house or playing in the garden, where sometimes he catches small birds or mouses. He has a litter box in the house, but prefers always the garden. He understands everything we are saying to him, but normally ignores our opinions; conversely, we are not able to understands all his demands he sets forth by appropriate meaows. Of course he can not be forced to do anything, only begged; however, showing him a small water spray for flowers ("Tzilly, look here!") can sometimes improve the situation, but not always. We both consider ourselves as Tzilly's servants.
Tigerlily
My name is Marion and this is my cat Tigerlily.
Sex: Female
Age: 5 months
Lives in: London UK

Her favourite food is: Whiskas wet food, prawns, cheese, anything stolen from our plates

This is what I like doing the best: Playing with feet! she's a little attention seeker and absolutely loves everyone. She enjoys nothing more than human company. 

Her funny habits are: When we watch football on the telly, she'll jump next to the screen and try to 'reach' for the players :) 

How I found my cat: Donation

Meet my TigerLily, 5 months old, she is the best behaved and most affectionate cat ever, she can be mischievous sometimes but always makes up for it with lots of cuddles! As you can see she's a right little poser as well :) she's my sweet naughty baby girl and she follows me everywhere!
Turbo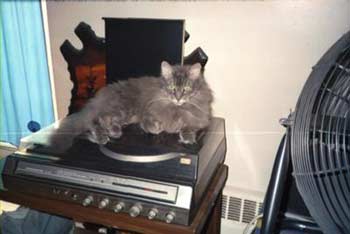 My name is Joy and this my cat Turbo.
About my cat:
Sex: Male
Age: 11
Lives in: Oakville, Canada 

His favourite food is:
Any brand of cat food, but he won't eat human food, lol
This is what he likes doing the best:
He likes chewing on plastic bags, shoe laces, bugging me, and hiding in boxes.
His funny habits are: Just that he used to like chewing on plastic bags, no bag went unchewed by him

How I found my cat: 
From the S.P.C.A. in Hamilton, Ontario
Treacle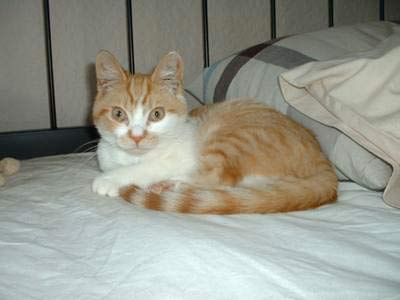 My name is Donna and these are my cat Treacle.
Sex: Male
Age: 5 months
Lives in: Norfolk, United Kingdom

His favourite food is:Salmon

This is what I like doing the best:
Sleeping

His funny habits are: licks the concrete outside

How I found my cat: 
My best friend is a breeder and she gave me him for christmas 2007

Treacle is a british shorthair cross with a burmese he is five months old and a character in his own right he is gorgous he has a brother a full british blue named Mergo and a black british shorthair named Sabbath 
Tabby
My name is Teresa and this is my cat Tabby.
Sex: Female

Age: 10
Lives in: Bath, United Kingdom
Her favourite food is:Tuna
This is what I like doing the best: Sleeping in the window
Her funny habits are: Sleeps in the tumble dryer

How I found my cat: From a newspaper advert when she was a kitten 

I've had Tabby since she was a tiny kitten. She is very independant and although friendly is not a very cuddly cat
---
---
I'd love to hear what you think of this page or my site. Let me know if you like what you have read or if it has helped you with a problem.
It's easy to do just leave a comment in the box below and click the like / share or +1 to let others know about my site. Thank You It really is most appreciated.