Cat Jewelry
Unique Cat Gifts for the Cat Lover in Your Life 
I love cat jewelry, either for myself or buying it for other cat lovers who I know!
Whether it's cat earrings, cat brooches or a lovely cat necklace, they all make great gift ideas.
But it seems that finding something that is genuinely original and just that little bit different can sometimes be a hard task!
So I thought I would show you a couple of my favourites! Take a look at these fantastic ideas for original cat gifts: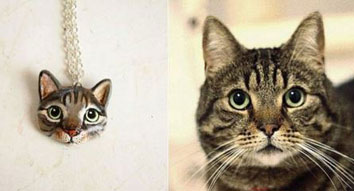 Unique Hand-Made Cat Necklace
How about having something totally unique, a true one-of-a-kind?
Did you know that you can get a piece of cat jewellery that is a portrait of your own beloved kitty?
These custom made cat necklaces are handmade in Italy by an artisan called Flowerland, available here from CatsPlay.
You send them a photo of your cat and they then sketch the design for you to approve before they go ahead and make the piece.
Hand made from polymer clay and then hand painted, the artist can also inscribe your kitties name on the back!
How about that? You can take your beloved feline friend with you wherever you go! And nobody else will ever have a cat necklace quite like yours! Cool!
Modern Art Cat Brooch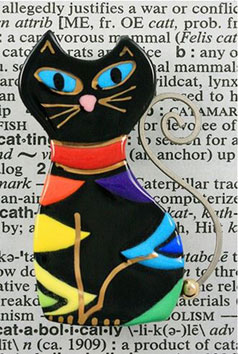 I also love these stylish and colourful handmade brooches by Sean Brown.
These are top quality designs, made from ceramic with 22k gold accents and they are signed and dated on the back.
I love the way Sean has captured the expressions on the kitties faces!
Bright and colourful with a modern and contemporary feel, these are true works of art as much as pieces of beautiful jewelry.
It's no wonder that Sean's work is highly collected and has won him numerous awards!
So how about starting your own personal collection of Sean's unique "wearable cat art" available here?
Sterling Silver Cat Jewelry Earrings
If you are looking for something fun, attractive and easily affordable, then a visit to AnimalDen could be the answer.
There you will find a wide variety of cat jewellery at discount prices including these charming sterling silver cat earrings.
You will also find brooches, charms, figurines and other top choices of the purrrfect cat gifts.
Enjoy!
---
---
---
I'd love to hear what you think of this page or my site. Let me know if you like what you have read or if it has helped you with a problem.
It's easy to do just leave a comment in the box below and click the like / share or +1 to let others know about my site. Thank You It really is most appreciated.