Cat keeps crying when has her claws cut
by Verena
(beijing, china)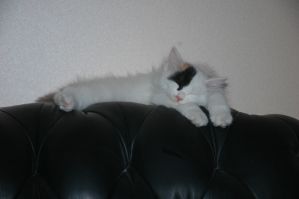 Hi,


We have a 3 month female cat(not spayed)and whenever it's time to cut her nails she cries like she is in pain. My mom only cuts a little bit of it off. The cat squirms and struggles to get out of my moms arms. Is she in pain, or is it just that she's not comfortable in that position? Any advice of suggestions would be very helpful.
Answer by Kate
Hi
No this sounds to me like normal cat behavior, my cat cries and squirms like mad when we cut their nails.
As long as only the tip of the nail is being cut it is not painful at all. please see this page for some more information about cat nail cutting
https://www.our-happy-cat.com/claws.html
best wishes Kate
---
I'd love to hear what you think of this page or my site. Let me know if you like what you have read or if it has helped you with a problem.
It's easy to do just leave a comment in the box below and click the like / share or +1 to let others know about my site. Thank You It really is most appreciated.