Find The Best Cat Litter Mat 
For Your Kitty Litter Problems 
A cat litter mat can be a good purchase if your feline buddy keeps missing their litter pan, or keeps kicking their kitty litter all over the floor!
There are several common problems that pet owners regularly report about their kitty using a cat litter tray. These include:
Your cat kicking their litter out of the pan onto your otherwise clean floor
Kitty missing the pan and actually urinating over the side of the box onto your floor
Litter sticking to your cats paws after they have used their litter pan and then tracking it all across your floor
All of which leads to a lot more cleaning and hassle for you!
So finding a good cat litter mat and the right sized litter pan can go a long way to solving these problems.
Make sure you get one that is washable, is non slip and has a waterproof backing so nothing soaks through (such as the mat from Dry Mate pictured here. It also comes in a pleasant design and gets a lot of favourable customer reviews!).

The best type of cat litter mat will also help reduce tracking, by catching the litter that is sticking to your cat's paws.
My Choices For Best Cat Litter Mat
This is a great mat if you have the sort of cat that seems to find it difficult to keep the litter in the tray. Some cats just seem so eager to get out of the tray that they take a lot of the litter with them, tracking all through the house.
This mat has a lovely Loofah texture which captures the litter from the cats paws before it gets into your home.  It is also water proof and extra thick and has an attractive appearance that blends in perfectly with your home.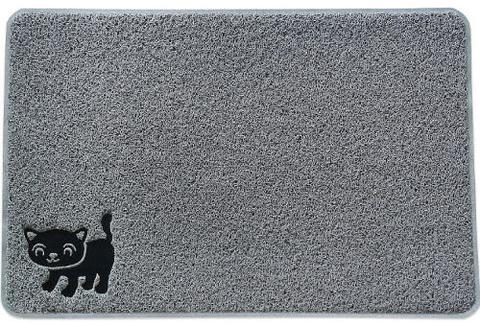 Smiling Paws Litter Mat
A good mat will also be water proof and big enough to catch the litter before it gets into the house.

Any loose bits are then easily picked up and disposed of.

Some cats can find it difficult to get their aim right and this can mean that the urine can be squirted outside the box. A water proof mat will help reduce damage to floors from urine.

The drymate mat has a special backing to prevent seepage.
This short video shows the benefits of the dry mate mat.
---
| | |
| --- | --- |
| | The mat by Purr-fect Pet in the picture below is an example of one that does this by catching the pieces of litter in little holes.  |
---
Another example is the mat by PetFusion which has small indentations and an outer channel to catch the pieces of litter.

This mat is made from a soft and comfortable material which is easy to wipe clean and has the added advantage of coming in an attractive and stylish design!
Of course you can always simply use a normal piece of rug or carpet but these can be harder to clean and might fray at the edges and look a bit tatty.
Also, make sure you get a decent sized tray. Problems with your kitty urinating outside of the box are often a result of the cat litter tray simply being too small for them to use comfortably!
One possible option is to buy an enclosed litter box, which you can read more about on my other page all about cat litter furniture.
But occasionally some kitties just don't like to use a fully enclosed box and this can mean they won't use it at all, or when they do, they jump out of the box as fast as they can afterwards, often spreading the litter far and wide!
So a good alternative is to find a litter pan that has an open top but also has good high sides. This will be more likely to catch any litter when your cat tries to cover their dirt.
| | | |
| --- | --- | --- |
| | | |
| Smart Cat corner litter box | Cat Litter Scoop & bag | Iris cat litter box |
Find out about these Cat Litter Pans and more here.
So take a look at the types of litter mats and cat litter trays above. Read through the customer reviews and think about which ones will not only do the job well, but might also look nice in your home.
You can also find lots of other accessories to make dealing with your kitty litter problems a bit easier such as disposable tray liners and litter scoops.
With the correct sized pan for your kitty and a large easy-to-clean cat litter mat, toilet time can be a less messy experience for both you and your feline friend!
---
Top of this Cat litter Mat Page
---
---
I'd love to hear what you think of this page or my site. Let me know if you like what you have read or if it has helped you with a problem.
It's easy to do just leave a comment in the box below and click the like / share or +1 to let others know about my site. Thank You It really is most appreciated.