Cat Memorial 2009
A cat memorial page for cats which passed over to the Rainbow bridge during 2009. Tributes paid my loving cat owners to their beloved kitty friends. Never forgotten.
Princess
by Jo-Ann Buchanan 
(McHenry, IL - USA)

January 17, 2009
Echo
by Sarah 
(Missouri)

2/1/2009 Our sweet Echo left us. We will always love and miss her.
Nicci
by Bronwen 
(Perth Australia)

March 5 2009
Nicci you brought love and loyalty and character into a baby and toddlers life and now they are teenagers, thanks you for visiting us for 14 years.
Fibi
| | |
| --- | --- |
| passed away 03/06/09 | |
Minux
by thekaz 
(western canada)

Minus passed away March 13, 2009. He was our constant friend and loved to meow. he will be missed but always remembered.
Fluffy
by Katherine Van Beekum 
(Haledon, NJ)

passed away - January 13th 2009
Peppi
| | |
| --- | --- |
| | January 30 2009 |
Abe
by Miss Courtney D.V. Hall 
(Southgate, Michigan United-States)

Our Abe Kitty He Departed Us Today 
In Heaven We Will See Abe Cat Someday
We Will Never Forget You Our Precious Friend
From Our Hearts To Yours Our Love We Send
You Brought Our Souls Much Delight And Joy
And Will Always Be Our Pretty Boy.

Thursday March 26th, 2009
Barney
by Dan Mascaro 
(Plum Boro, PA, USA)

8/2/2007 - 3/22/2009
Harley
by Karen 
(Bangor, ME)

I will always cherish our 13 years together Harley-man. Fresno and I miss you so much.

passed away 04/03/09
Sadie
by Rebecca

She was about to take a nap!

Passed Away April 5th, 2009
Buddy
by Renay and Stacy 
(Lexington, SC)

Passed on March 30th, 2009 at 13 1/2 years old. He was the love of my life. We miss him so much.
Callie
by Robyn 
(North Carolina)

We love you callie

April 14,2009
Juno
by Ann 
(Goderich. ON, Canada)

Passed away April 12th 2009
Beau
by Bernetta Glasser 
(Arlington, Texas, USA)

Beau you are the love of my life! You and I shared over 19 years together.The pain of losing you is so great, and I miss you so very much. You are the "bestest little kitty ever!" I love you, Beau!

Passed away April 19, 2009
Sequoia
by Dawn and Bill DiOrio 
(Stoneham MA)

April 19, 2009 
Sequoia, we will love you always and forever miss your sweet face!
Kiki
by sue 
(cincinnati ohio)

my angel is in heaven with precious and ernie.

passed away 4-30-09
Sophie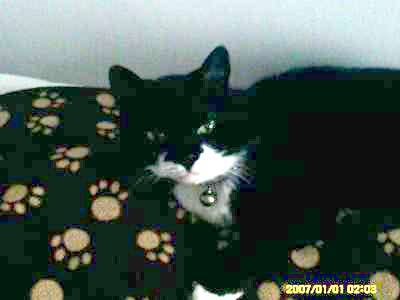 by Sarah Douthwaite 
(Newcastle upon Tyne ,United Kingdom)
23/4/09 I found you one day by chance as you stared in through the window, we let you in and you never left us.I had you for 11 years, before a husband and children came along you were there always ready for a stroke and a lie on my knee if you weren't cosying up you would be in the garden soaking up the sun.It's so hard to bear our hearts are full you were the most beautiful loving and most loyal friend anyone could ever have and you chose us to share your life with. We all miss you so bad,even Gracie has been searching for you, what we would do for just one more day.

You have taken my heart and I will miss you always, we will be together again sadly missed your loving family Sarah, Robin, Chloe, Lucy & Emily and not forgetting your furry cat sister Gracie xxxxxx
Munch
by Lauren Bedingfield 
(Margate, Kent, UK)

02/05/09 - We rescued you to give you a better home, you were so scared and tiny, from that day i loved more then you will ever know, miss you always you left paw pints on our hearts!
Mogli
by Heike 
(Cologne, Germany)

passed away 09.05.2009
Tiger
by bridget 
(chicago il)

RIP Tig: May 6, 2009
dearest tiger, you taught me to think outside the box. you were a master cat extraordinary. everyone said you were a mean cat and noone wanted you anymore. i remember the day you sniffed me and bit me on the cheek.you have been the tamest cuddle bunny ever since.i miss you buddy, and i always will
Prince
by DebD 
(Ohio)

Prince was a very smart and lovable fellow. We were very close. He passed away at the age of 15 a few weeks ago.
Mr. Mike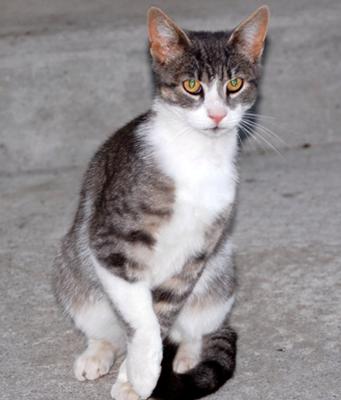 by Pat 
(Pennsylvania)
May 29, 2009

Dear Mr. Mike a year ago someone droped you off at the farm down the road. There was already a boss tom cat there. He always fought with you and you found out if you came in my fenced in dog yard he would not follow. My dogs don't like cat but somehow you made them except you. I will never forget the day you walked into my heart by way of the dog door. I was watching TV and you came walking in with your tail held high. You walked right up to me rubbed up against my legs meowed and looked at like you saying I home. I never wanted a cat but you know better. No matter how meny times I put you out you always came back in the dog door and made yourself at home just like you always belonged here. You chose us to be your family. You made us all love you. Now you are gone. I will always miss you rubbing up against me to let me know you were in and ready for your food. The way you would stand in the middle of the dogs and let them smell every inch of you when you would come in. All the little things that you would do. There is a big empty hole in my life now that olny you could fill. I will see you again one day. Or maybe one day another cat will walk in the dog door and I will know that you came home again. 
Love Pat
Aleyoop
by Vonnie 
(Auckland, New Zealand)

2 June 2009
No words can describe our sorrows on your departure. We love you!
Maud
by emma 
(london)

you were taken too soon and it broke my heart....RIP little one.xx

8th may 2009
Missy, Max and Milo
by Dina & Jaime 
(Medinah, IL)

just weeks on earth, forever in our hearts

June 10 & 14, 2009
Charlie
by Jennifer Farley 
(Chicago, IL)

Charlie Sweet Angle Taken Too Soon - You have the hugs you ball of love. xoxo in my heart always

6-12-09
Sharman
by Michelle 
(Willenhall, United Kingdom)

21st May 2009
EVA
by Judy 
(Malaysia)

IN REMEMBRANCE & EVERLOVING MEMORY OF OUR BELOVED EVA

Eva our cat passed away on 09 JULY 2009. we will miss her every day but we will never forget her. She will always have a place in our hearts.
J.T.
by Abel 
(Alpine, Texas, USA)

J.T., Lisa and Abel love you and miss you.

We lost our JT on July 4, 2009. He will be sadly missed everyday.

comment
Every cat we ever know in our lives will always remain in our hearts forever.
joshey
| | |
| --- | --- |
| joshey is the most precious cat anyone has ever met. he died on wed 18th of feb 09 after someone shot him on fri 13th of feb 09.he was only 3 years old when he was killed. he was always there for me and he loved to cuddle me all the time. i miss and love him soooo much and would really appreciate it if you voted him cat of the week!!!!! | |
Mr. Whiskers
by Dawn & Tom 
(Chattanooga)

Our Beautiful Boy

Passed away 8/5/2009
Pandabear
by Sonya Sams 
(Gatlinburg,Tn,USA)

Our cat Panda bear passed Away July 21,2009. We loved him very much and we will never forget him.

Comment
what a gorgeous cat, so sorry for your loss but i bet he had a very happy life with you.
Patches
by companion to Vera 
(Budd Lake, NJ)

Sweet Patches

Passed away Jan. 7, 2009
Kenzee
by Michelle Janosi 
(Cincinnati, OH, USA)

Aug 15, 2009 the day we lost our Kenzee. He is now at the rainbow bridge waiting for us.

comment
Sorry for your loss and I hope you have many happy memories of your time with him.
Cosmo
by Sandy & Neil 
(Dumfries ,VA. USA)

Aug. 24, 2009


It seems like yesterday that daddy brought you home with him. 

Though it was 13 years ago, we have loved you very much and always will. 

My heart is stil broken with the decision that I had made on the last day of your life, but, you are in a better place, not suffering anymore. 

Though you are terribly missed, we know that some day the four of us will be together again, in heaven. 

Good-bye to our little angel, the one that is sorely missed
Hugs and kisses from mommy, daddy, and your (cat sister) baby girl.
Kip
| | |
| --- | --- |
| 9/3/09 You were going to grow up to be a huge Maine Coone kitty. But you never made it to your 2nd birthday on 9/24/09. I remember bringing you home, a little grey fluffball and how you were always followed me around the house with nothing but love and adoration for everyone in the family. We used to call you our little dog for loving to knock over trash barrels, drink out of the toilet, and how you loved to curl up on my keyboard as I typed away on my pc. I love you Kip, and will never forget you. | |
Elmo
by MIA 
(BRISBANE)

JUST HANGING AROUND LOOKING HANDSOME

15 September 2008 
YOU ARE STILL MY BEAUTIFUL BOY, AND YOU ARE ALWAYS ON MY MIND
Natashia
July 28, 2009

We miss Natashia (aka "Piggy Puss") a great deal. She came to us with her litter mate Boris. Boris is at a loss too.
Tigger RSMAS Ward
by Sandy Ward 
(Virginia Beach, VA, USA)

September 16, 2009, I lost my feline son, my angel. Although I have loved all of my feline children, Tigger will always hold a special place in my heart. Tigger, your grandpa will spoil you until we are together once again. I miss you incredibly and ALWAYS LOVE YOU!
Ayja
by abby 
(denver, co)

For the love of Ayja, 
Your love, friendship and silly cat antics will always be with us.
Sept. 20, 2009
Shorty
by Monica 
(UG, Alabama)

Oct 3, 2009
Shorty, my little snuggle buddy. I miss you, will always remember you and struggle with the emptiness you have left behind in this home. T-T, my little baby. :-(
 Samantha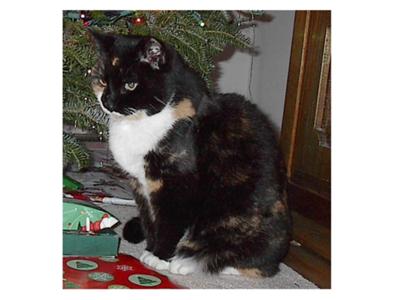 by Donna & Fred Kramer 
(Cameron, NC)
September 22, 2009
When we first saw you at the shelter on that fall October day in 1990, you touched our hearts. We took you home that day and you were with us for 19 years. You became a world traveler including 8 household moves, traveling by auto and plane, visiting many states from Texas going east. You stayed with relatives, in kitty condo's and hotels. You were always there in every thing we did; you were the inspector, made beds, did laundry, nursing duty, gardening, home repairs and especially wrapping Christmas presents. You enjoyed soaking up the sun as traveled it from room to room and stealing our comforters, claiming them for your own. You enjoyed listing to music, especially Floyd Cramer's piano music.

We spent many hours relaxing to his music. Most of all you were always loving, loyal and playful, choosing to share you life with us. We miss you terribly, our hearts are broken and our lives are empty. We continue to search for you in all of your favorite places. You were very beautiful and we are surrounded by your many pictures, since you managed to be in almost every one we took. We will always miss you. Thank you for your unselfish love and we will cherish memories that will brighten our days for the rest of our lives. We will be together again at "The Rainbow Bridge".
Simba
by Paul Newman 
(Manchester)

Fell asleep Saturday 5th September 2009 aged 11. You are so sadly missed every day. Goodnight x
Pishy
by Paul 
(Lincilnshire)

This is Pishy our 3 year old British shorthaired cat. Pishy is Afganistan for kitten. Sadly Pishy was killed on 2nd Oct 09 by a hit and run driver outside of our daughters school.We all miss him very much. I don't know any other cat with his name,and would love others to use it in his memory.RIP Lil Pish.
Zoey
by Kris 
(Indiana)

Who is that great looking gal?!

July 2009
Zoey you were my pride and joy and I will never ever forget you!
Yoche My Apache Friend
Yoche died 6 Nov 2009

Yoche,

You were our first fur baby and we learned so much from you. You we such a little love bug. 
Today we had to send you to heaven and it broke our hearts. I'm so sorry we couldn't make you well. Your Dad and I are going to miss you so much my little man. Thank you for being our first fur baby. Thank you for the love. Thank you for the kisses and even those little stomps you use to make.

Bye for now my little one!
Precious
by Aliyah

I will always love you. See you in heaven. You were my big sister. Saturday August 1, 2009
Mouth
by Valerie 
(Lenhartsville,PA)

11/27/09 Mommy will always love you, my handsome man.
Persephonie
by Craig 
(Ellicott City, MD, USA.)

Persephonie passed December 4th, 2009. She touched the heart of everyone she met, and will be missed greatly. I love you kitty!
Lint
by Human Kambakhsh 
(Toronto, Canada)

Passed away December 19, 2009

We miss you Bear, you will forever be in our hearts.
Tiki
by Patti 
(Pennsylvania)

Tiki, always an angel on earth became an angel in Heaven on August 16, 2009. Honey I miss you so much. You were my best friend, my comfort when mom died. Such a gentle, funny and loving girl. You will always be loved, always be missed and forever have a very special place in my heart. I love you baby. Mama
Bud
by Kristen 
(Rhode Island)

February 7, 2009

Sadly missed by Kristen, Rich and Chico
Cocoa Puff
by Diane 
(MN)

Our little catperson passed away on June 29, 2009. He wandered onto our deck in CA over 18 years ago. Just a little "puff" of black fur. The cutest little kitten I had ever seen. His beautiful black fur was so soft and the sun lightened it to a lush cocoa color. He moved with us to MO and then his final home in MN. He loved his backyard and was leash trained because he was wild at heart and always wanted to roam. He was one of my best friends and I and his best cat-friend Ginger will miss him forever. Cocoa you are always in our hearts...until we meet again.
---
Lucy
by Holly 
(Independence, OR)

September 14th, 2009
You were such a loving social butterfly. So young and certainly gone to soon. You are so missed! We love you! I miss your snuggles! xoxo
---
Top of this cat-memorials page
---
---
I'd love to hear what you think of this page or my site. Let me know if you like what you have read or if it has helped you with a problem.
It's easy to do just leave a comment in the box below and click the like / share or +1 to let others know about my site. Thank You It really is most appreciated.