Cat Memorials 2010
Cat memorials for 2011. This is a place where cat owners can remembering their furry friends and celebrate their lives together.
Cocoa Puff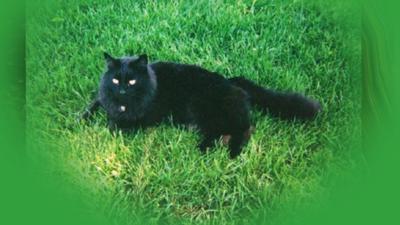 by Diane (MN)
Our little catperson passed away on June 29, 2009. He wandered onto our deck in CA over 18 years ago. Just a little "puff" of black fur. The cutest little kitten I had ever seen. His beautiful black fur was so soft and the sun lightened it to a lush cocoa color. He moved with us to MO and then his final home in MN. He loved his backyard and was leash trained because he was wild at heart and always wanted to roam. He was one of my best friends and I and his best cat-friend Ginger will miss him forever. Cocoa you are always in our hearts...until we meet again.
Dinky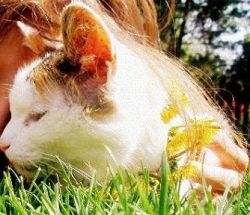 by Dan Jones
April 27, 2010

Dink had been my cat since the moment I was born. When I was a small child around the age of four, I sometimes played roughly with her, something I still feel bad about even though I was young. She was still a great, great cat. She was wonderful to have around the house.
About two years ago, it was discovered that she had developed a deadly disease and only had a matter of weeks left. When it seemed likely that she was about to die, suddenly she recovered and went back to her normal self. However, she was old, and I knew it wouldn't be an overly long time before she died.
I am writing this on the exact same day as Dink had died. When I had returned from school earlier today, I was told that Dink had died. Because I had been able to predict this, it wasn't as horrible as I thought, but I was still extremely sad. This is the first day that my fair cat has not been in my life. Although it will never be the same now that she is gone, I know that she would not want me to weep over her departure, and that she would prefer that I move on. She will still be greatly missed; there was a cat bed that she has grown rather fond of in recent years. I will keep that as a talisman of her life. I'm sure that Dink has had a great and fulfilling life, and I hope that creating this memorial will help me resolve this situation.
Rusty
by Tim 
(Atlanta, GA)
1997-2010. My sweet pink nose. You came into my life unexpectedly. A little crying ball of fur I immediately loved. How fun you were. You became such a sweet buddy and love cat. You went too fast. I did all I could and it wasn't enough. I miss your pink nose, snuggles, standing in front of the computer, keeping me on schedule, looking in the shower and so many other things. You were a good companion during illness, heartache and happiness. I'll always love you.
Sabrina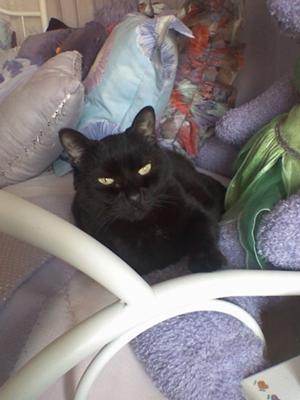 by Susan 
(Staten Island, NY, USA)
Monday, May 3, 2010

I found you under that truck almost 15 years ago. We named you right away. We loved you more and more each and every day. You were my forever shadow, where I was, you were. You left your paw print on my heart forever. You passed away earlier today and I will never be the same. I lost my shadow. I love you Sabrina, you were my mommy girl. Love, Mommy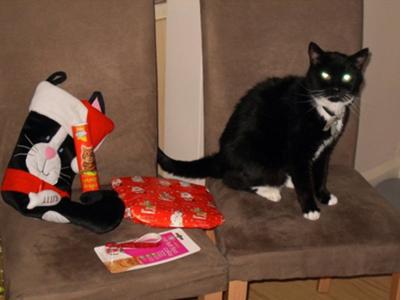 Paris
by Ann 
(Co Durham England)
31st April 2010

Forever in our hearts
Manikutti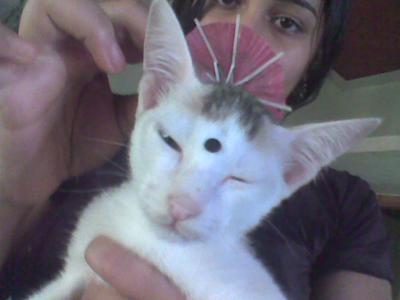 by Rajeev ,Rasmi , Amma , Achan 
(Shoranur)
15-5-2010

Our sweeet loving MANIKUTTI (PINJAANI or PINJU or VESHUTTAN or AMMUNU)..he is like one of my family member..

WE LOVE YOU MANIKUTTEE...WE LOVE YOU SO MUCH...MISS U SO MUCH....
Georgie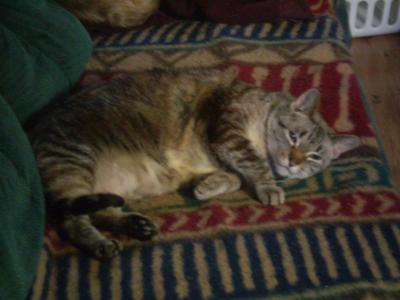 by Jerry 
(Garland TX)
03/02/10 - 

Georige... you will be missed. You chose me that night 12 years ago. Walking onto my patio and sitting at my feet. You always chose to sit near me, but very rarely on me. Always meeting me at the door when I came home. I just want you to know you gave me more than I could have asked for. You went so quickly I didn't get a chance to hold you one last time. Rest in peace gigi..we will meet again. 

Love ya baby girl.
Boog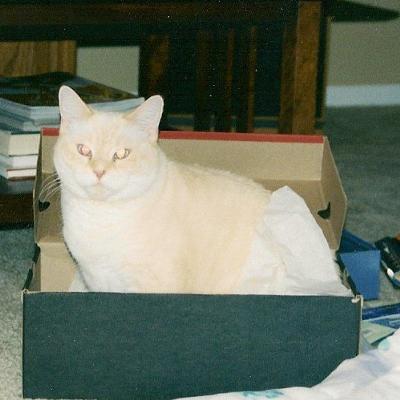 by Bart 
(Grand Rapids, MI)
Boog our cat died on January 21, 2010.

comment
Looks like he was a happy cat with everything he ever needed, even his own cardboard box :)
Hank
by Matthew Floyd 
(Mansfield Ohio)
We found his body March 23rd and we buried him March 24th. He got hit by a car, and he was found 4 miles from our house. I don't know how he got so far away from home. I wrapped him in my old red hoodie that doesn't fit anymore, that I use to always wear while holding him, and I put him in the ground. 

We originally found him and took him in 2005, on the roof of where my Mom worked. I can't believe he's gone.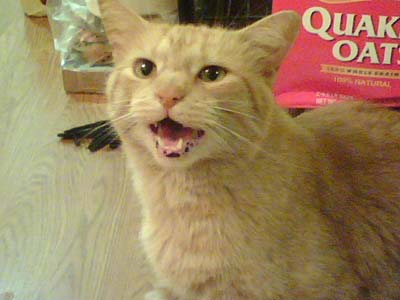 This is the letter I wrote and read for Hank on March 24th:
I love you Hank you were my best friend. I feel more alone now than I ever did without you being around. You were more than just a cat you were my damn friend. My best friend, you knew me better than anyone else. You read my thoughts, we even had conversations with each other. You responded to a whistle song that I wrote you and you would come home. You use to curl up between me and the couch and watch Lost with me laying on your back.

You would come in my room and startle me with your kitty meow surprise hello's. You were a little kid to me, more than a cat. You're eyes were big and awesome. I already miss your greeting howls in the middle of the night because youre hungry n want a can of food. I am sorry that I didn't protect you like I promised!! I miss you.

Good bye "kitto"
Good bye "hanko"
Good bye "wittol kiddo"
Good bye "little friend"
Good bye "hankleton 9,000"
Simba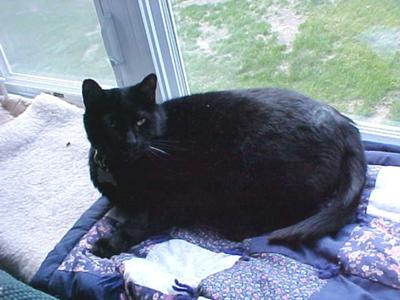 by Gigi, Don & Alex 
(Salem, WI)
April 13, 2010

You came in our lives it seems just yesterday, and so soon as 12 years you departed for a heavenly journey. We always said an angel sends a cat our way when we need a soft shoulder, a tickle to make us laugh, and a constant forever forgiving companion. Go in peace on your journey and be free and play with your Mitzie, that went on this heavenly journey on August 1, 2009. We will always love you and keep the happy memories close in our hearts.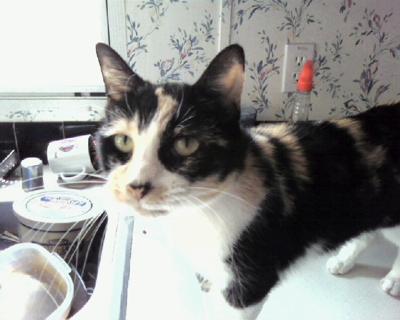 Snickers
by Mary 
(Morth Carolina, USA)
02/15/10
Rest in Peace Sweet Snickers
We will miss you always.
Mama and your feline family
Hart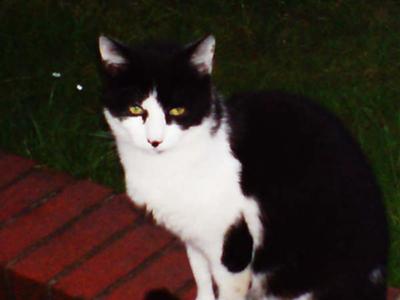 by Jennifer Jones 
(UK)
Hart was only 3 years old and was an outdoor living feral cat, one of a family of four cats. He was very beautiful and funny and friendly in his own way, allowing strokes and smooths but would not be picked up and refused to be shut in the house. 
Today he had to go through the trauma of a vet visit and had to be euthanased because he had cancer in his mouth. I am so sad, I loved him loads and will miss him so much.
He gave much pleasure in his short life and I will never forget him.
Live long and play hard at the Bridge my friend. Luv you xxxx
Tabitha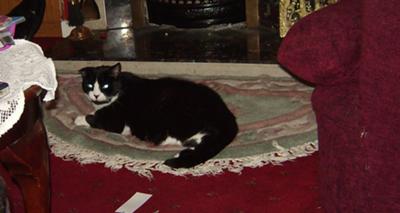 by pamela mcloughlin 
(Ireland)
Tabitha you died on 3-3-2010. I cannot believe it. After 14 great years that you brought to your family, its now over. You were the boss, and a loyal friend. You will always be with us Tabitha. Thank You so much for everything. All my love Pamelaxxxx
Mr. Jones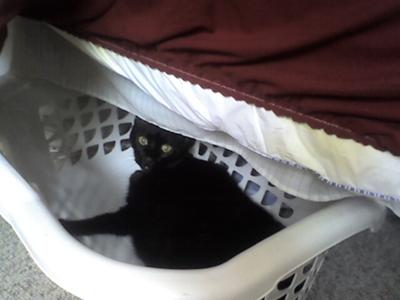 by Lea 
(Parkside,PA)
March 4, 2010

Our beloved one, you lived a long life and stayed strong till the end.Sixteen years your daddy had you and I had you for five. You waited for us at the vet and in your Daddy's arms you finally left. Thank you for the joy , pleasure and unconditional love you gave us. We will miss you so much! Rest in peace, Mr. Jones. We love you so much.
Chancey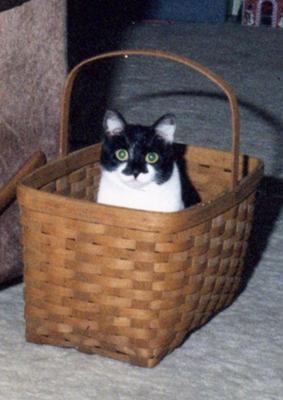 by Carolyn 
(Kentucky)
March 9, 2010

Chancey, We miss you so....

You left us March 9, 2010. You came into our lives in the Spring of 1994 and gave us 16 wonderful years.

We will always look for you.
Rest in Peace our friend Chancey

Love, your family
Precious Sarafina Taylor
by Carol Taylor (Atlantic Coast, Central Florida, USA)
Thursday, January 21, 2010

Dearest Preshy, 

At the least little sound, I turn, thinking it's you.
I see something dark in my periphery and I turn, thinking it's you.
I expect to see you, curled up next to the pillows on my bed, on the velvet chair, in those quiet, warm spots that you've recently come to prefer on the floor of my closet or under my bed, taking your naps. I expect you to jump up on my bed in the morning to touch your nose to mine, or to speak your sweet little "meow," gently awakening me to a bright new day, ready for your breakfast.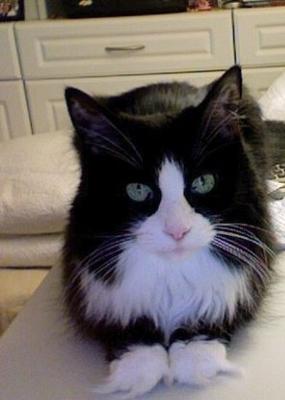 I miss our evenings together with you stretched out on my lap, so relaxed, while I pet your silky long, soft, shiny black coat and scratch you behind your ears, chatting with you the entire time. Initially, I adopted you because Danielle loved kittens and couldn't have one at her house, but over the years, you've become my Precious, a gift from God to me, a wonderful blessing, and I thank Him for you.
I miss you, Presh. Memories of you flood my heart and mind. Home is empty without you, Baby. I wish I could bring you back.

I'm so happy that we have had nearly 16 years together. You were such a good girl. And such a beautiful cat! Every time I looked at you, I marveled at how gorgeous you were. A few minutes ago, I thought I smelled your fragrance. I wish it was you.

My heart is overflowing with love for you, Preshy, and you will never be forgotten. Thank you for your love and companionship all these years. I miss you.

Love forever, Mommy

Piggly-Wiggly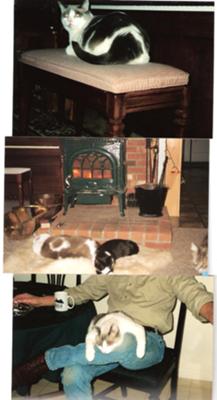 by Mark and Susan 
(Northwood,NH)
January 23, 2010 ; Mr. Piggles,we hope you have a nice tree to climb in your new life.
Doris Jones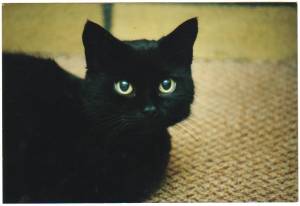 by Jennifer Jones 
(UK)
Doris left us on 25/Jan/2010 aged 19 years and 9 months, after spending her whole life with us.She was the most wonderful and loving cat and we are privileged to have been chosen as her family.
We will love you and miss you and forever keep you in our hearts,
darling Dotty xxxxx
Otis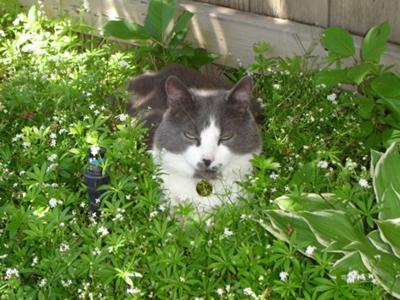 by Jason Gullette (Denver CO)
Jan. 11, 2010

Dearest Otis,

We will never forget the five years you gave us.
We hope you knew real love
for it was returned to us many fold

We will never forget you eating the catnip shoots,
jumping into my suitcase to "stowaway"
your unique voice and conversations in the kitchen,
roof walking, and "assuming the position" on the couch.
Your dining chair observation posts, rolling in the dirt at Sandy's lot

You are our guardian angel now - gone over the Rainbow Bridge into Heaven

Good-bye My Friend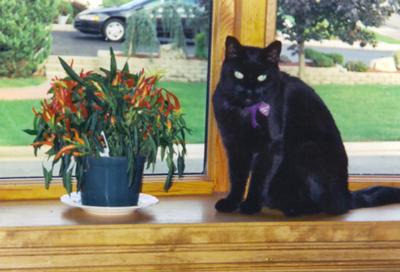 Tommy Sacci
by Yvonne Sacci 
(New Jersey)
January 30, 2010
Your girls LOVE YOU my Thomas. We miss you very much.
Lucy
by Renn (Little Elm, TX)
Lucy,

I love you so much and you have been a wonderful companion over these 15 years. I am so sorry that I have to put you to sleep Saturday but I know that you are in pain and that this is my only option. I will see you in heaven sweet girl.

Renn
Dillon
by teena (plympton,plymouth,devon,uk)
19/12/2009--

''i see you in your favourite places at home, shadows that fool my sight;
at different times throughout the day, but more when I'm sat here alone at night.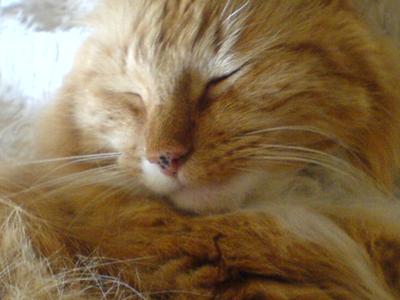 'dilly; my beautiful boy, my friend, my listener..my cuddle cushion.., what happened so suddenly will stay with me-i will never forget, i'm sorry i couldn't help you 'do dos' i loved you at 8 weeks i loved you at 8 years - the place in my heart that only you filled dillon will stay empty no other could ever replace you...

lavenders blue dilly dilly..lavenders green.,
when you are king dilly dilly..,i shall be queen...

love you always

your 'mum' teena xxxxx
Salem Louise
by Mary 
(North Carolina)
Salem Louise (Dec.1996-Jan.8,2010)

Salem was adopted by my Daughter and grand daughters several years ago after her prior owners left her at the vet and told them to "put her down" because the owners did not want her anymore.
She was placed up for adoption at a "not so well run pet store"
where my daughter and her children found her sickly and depressed.
She was an older cat and no one seemed to want her.
Her day's was numbered if no one adopted her.
My daughter and grand daughters adopted this beautiful girl and took her home and gave her a new life.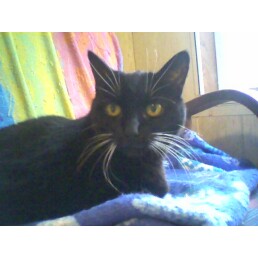 They loved her with all their hearts and she filled their home with feline love.
On Jan. 8th 2010, we sadly found Salem Louise limp and barely breathing under the grand daughters bed.
She was dying of what we now know to be liver failure.
She was 13 years old.
She will be missed by those of us she left behind but the Rainbow Bridge has a new resident in the beautiful green fields.

RIP Beautiful Salem Louise
We love you
Jaime, Peyton, Susie
Dezzy
by Darcy Perrin 
(Winnipeg, Manitoba Canada)
January 10, 2010

Well was a sadd sadd day.. Dezzy was such a great friendly cat and i miss him so much.. I found him outside in the winter time last year and took him in.. he was thin and very very friendly even when i picked him up.. from that day on he was the most happy cat i ever owned.. by the time he died he was a very heavy cat.. weighed over 20pounds lol he had a great life and i was happy to be a part of it.. i Love him so much and will never forget the year i spent with him.. i know he's not suffering anymore and im glad he's in a better place... Well Dezzy I love you and will never ever forget u:) He's the cute Black cat in this pic :)
Blackie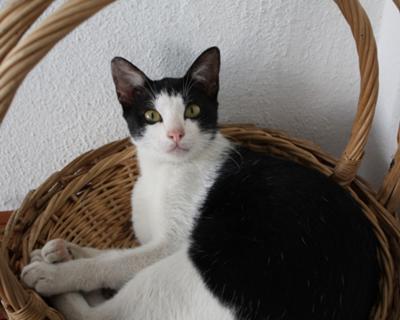 Blackie's Date of Birth: 05 June 2008
Date of Departure: 18 Jan 2010

We love u so, so much Blackie!!!
May God Bless your Beautiful Soul in Heaven...
At Rainbow Bridge...

Love Forever and Ever n For Always~

From: Your Loving Family
---
Pusskers

by Valerie King 
(Lenhartsville,PA)
1/20/2010 Momma loves you and will see you on the Rainbow Bridge.
Meseau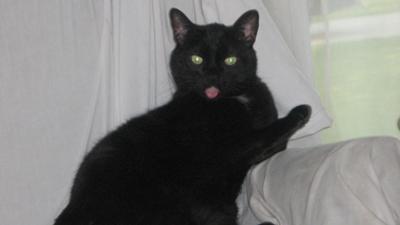 by Mickie 
(Canada)
April 29. 2010
Meseau it was a pleasure to have you as our friend for almost 14 years.. We miss you very much and will see you and your mom someday at the Rainbow Bridge. Love ya Baby Boy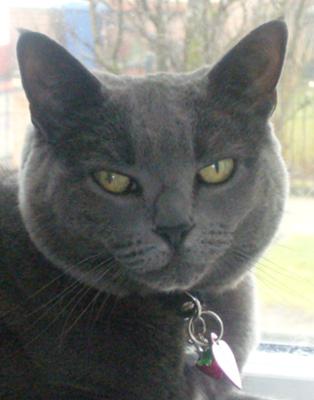 Gracie Douthwaite
by Sarah Douthwaite 
(Newcastle upon Tyne United Kingdom)
Our beautiful Gracie was born 20th april 2002.She was the most loving cat you could meet she came from cats protection charity to us aged 6 months and settled in right away,even though Sophie our older cat gave her a run for her money in the whos the boss stakes.She was the most regal and elegant looking cat that we had ever seen and was so kind natured ,she never used to bite or scratch and thats why are girls loved her, an allround big softie who adored her food and treats.
Macy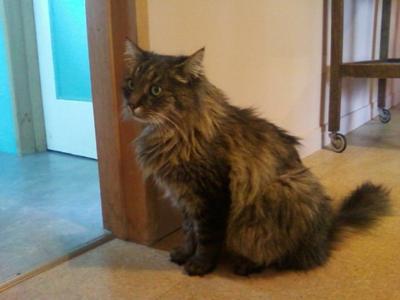 by Sean Matheson 
(New Zealand)
Macy passed away on the 24 May 2010.

Macy has been around for half of my life. I thank him for all of the love he gave me over the last ten years, he has been a true friend to me, and his recent passing has just left me feeling empty inside.

"I will always love you mace, will miss that little wink you always gave me and how you would sit on the dishwasher door when it was open, thank you for all of the love and affection you gave us in your short life. Miss you little baby x"
Scrapy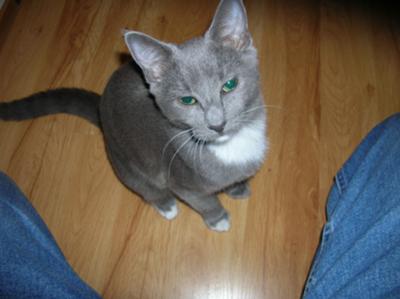 by chad lumley 
(victoria b.c. canada)
24/05/2010 very sad day today my little girl past away she jumped in the washer and we did'nt find her till it was to late. She was such a great cat we both loved her so so much and anyone who knows us no's that there are kid's...(very sad day) but I'm finding out that this happens all of the time. The vet said it is one of the ......most common ways for cats to die in the home....05/24/2010......im trying to get this out there for all to see so you never have to go threw what we are. we have lost are baby's befor but not like this.. if this save's one cat out there. it will let my little girl live on my baby will always be in are hearts and will be missed so so very much...please look and slow down life is to short not to be safe.....

Heidi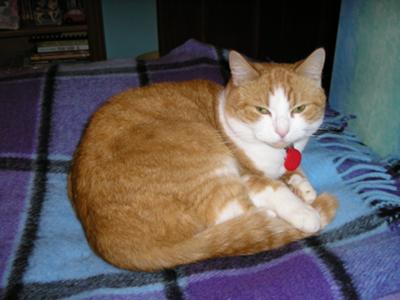 by Susie Phillips 
(Chester, England)
18/5/10 

Heidi was a truly special cat she was a great friend to me for eight years. She would comfort you if you were crying and she would share your bed if you felt lonely. She had her own little characteristics that were unique to her, she would chat to you, follow you to school, go on the trampoline with you and curl up in front of the t.v with you. She was the ultimate companion anyone could wish for and is missed by us very much. 

I'll never forget you x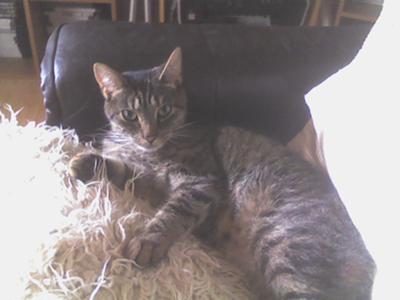 Phoebe
by Harriett 
(Plymouth)
12/04/06 ~ 28/04/10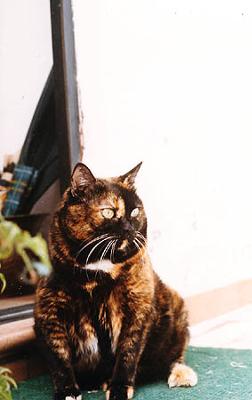 Ciocca
by gloria 
(italy)
3 sept 2004 my sweet old friend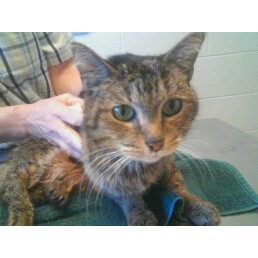 Rocky
by Mary (NC, USA)
(Rocky) Estimated DOB 1994
Date passed Away June 5, 2010

RIP Precious Rocky
You bought me unlimited joy the last 5 years we was together.
May you forever now live pain free.

I miss you terribly

Your human Mama (Mary in NC)
and all your feline house mates
My Beautiful LOLA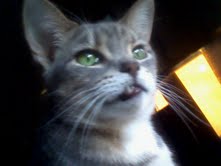 by Mary 
(North Carolina)
Date of Birth: November 2006
Passed Away June 5, 2010

Rest in Peace My precious Beautiful LOLA
Painfully Missed by her human mama (Mary in NC)
and all her feline house mates.
Riley
by Deb Hayes 
(Halton Hills, ON, Canada)
He left us today June 18th after a valiant fight with cancer.

Born 1997 to 2010 age 13 years.

He was our sweet "Little Dude" Pouty Face" "The Orange and White Naughty One","Baby of the Family" some of the many little names we gave you.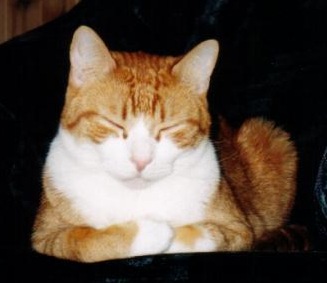 Your sweet little swaggering way of running down the hall to greet us. The toy mice you left at the door to welcome us home. 
Your love of frozen vanilla yogurt, always had to be pawpaws not mine. 

Your Brofur Somkey-Boo will miss his best buddy. Always playing "Kissy Face" with each other then bursting into kitty wrestling with me saying "I thought you loved each other" LOL.. you did. 

My favourite picture is of the two of you cuddled up on Pawpaws Lazyboy chair. Its always been my computer desk top wall paper.

You have given us so much love that we know you have earned your Angel wings. 

Peace, love and health little one, till we meet again across the Rainbow Bridge.

Love furever ... Meowmie, Pawpaw n Boo

Deb, Art and Smokey-Boo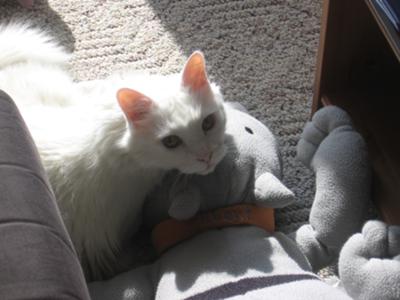 Shreddie
by Shelley 
(Airdrie)
Shreddie, without you I can't breathe.Bye My King June 30,2010 23 yrs old
Ashley and Tuesday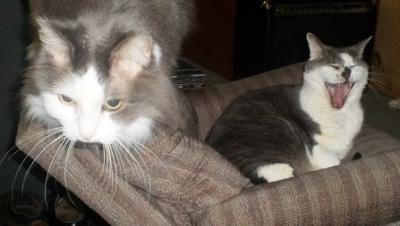 (Bradford, MA)
Ashley passed away on May 5, 2010 and Tuesday Passed away July 28, 2010.

These cats were my sister Christine's cats for the last 18 years. They were very friendly and were like her other children.

We will miss them both!!

Love, Cheryl, Walter and Derek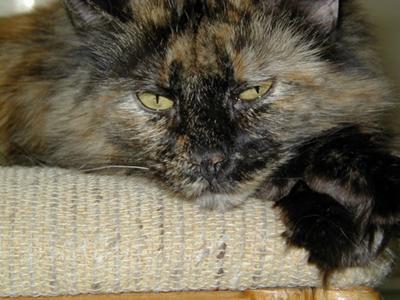 Fran
by melissa 
(PA)
My best friend passed on April 19th 2010. She was almost 16. I miss her so, not a day goes by that I don't think of her. She will forever be in my heart and a part of my soul. I love you Franny, I will never forget you.
Hexx
by Juliet 
(Staunton, Virginia)
Hexx RIP April 14th,2009-June 28th,2010

You truly were my friend and my baby. I knew I could not have children and God had given you to me as a gift. The love for you was maternal and was a very real love of a child. You were my "precious" :D I loved you with every inch of my soul. I will always thank God for the 22nd birthday present of a kitten named Hexx. You were a sweet beastie :D Your meow and purr unforgettable. I miss you and your soft fur, I miss having you snuggle with me at bedtime. I spent every day to take time to be your "mother" :) I treated you as child, even gave you treats when you were good. You were a very unique and special cat. I did not have to train you but, yet you came to me when I called. When I talked to you, you listened without any judgment on what I had to say. You truly understood me in a sense that I felt welcomed and wanted as a "mother" and a best friend.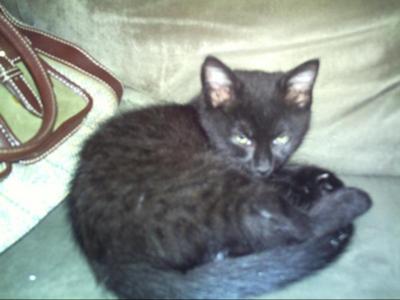 I miss you dearly, so dearly it hurts. Every so often, I cry but smile to know I was lucky enough to know you and hold you. I was blessed to have known such a special Kitten. I truly miss petting you and calling you my "baby." Because truly, you were my child by heart. You are missed by your brothers, Hobbes and Jinx. As well missed by your father and I. :( We both miss having you snuggle at night as well as your brothers. I understand that you are gone and I hate that you had to go like you did. But, I do know you are in a better place, for as special as a cat there is definitely a place in heaven for such a wonderful companion. I miss how you acted like a dog lol. You cannot be replaced or made up for. But, know that I am being taken care of by your brothers. My little sweet panther... may you rest in peace and know you will never be forgotten.
Peanutts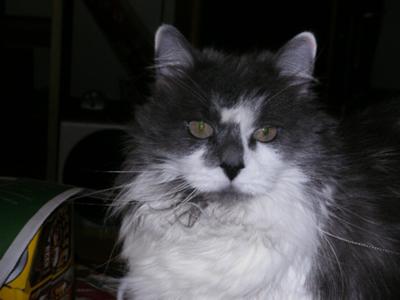 by kat 
(fl)
7/16/2010
I miss you so much baby girl but I know your in a much better place and with your best friend Shadow .Your paw print will be etched on my heart forver.

I love you 
mommy
Jasper
by JO 
(BEDWORTH, WARKS, UK)
07 August 2010

Jasper you were a very loving member of the family. So giving... especially when it came to birds bits on the back doorstep :-\

You hated the hoover... but loved the garden hose, and would race it down the garden!! 
Your morning 'waking up' cries became very irritating sometimes, but I would love to hear them again. Even if it was 5am, I wouldn't mind...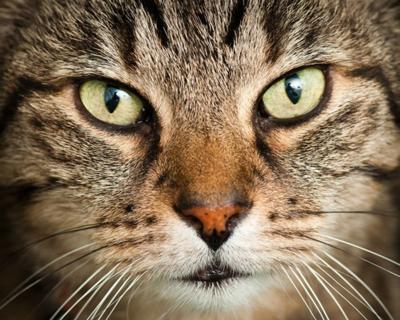 You were so very handsome and Dad liked to photograph you :)
So playful, Danielle liked to tease you with ribbons, strings.. anything really =D

Even though I hate to admit it you preferred Daddy best. Although I loved (still love) you so much I could burst.

You passed away on Friday 7th August 2010, after we discovered on the 6th you had advanced bowel cancer and you were simply wasting away. You were in discomfort and we couldn't have that. You were a mere shadow of yourself. 
Even though you were 12 you could have passed for 2 or 3 years old.

Take care my vocal old friend. I miss you so much.

Mummy xxxxxxxxxxxx
 Morris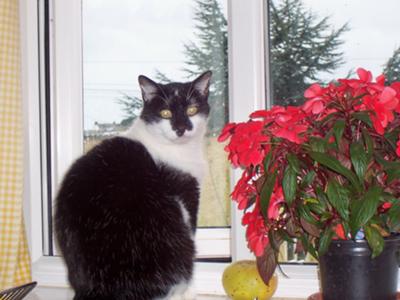 by Patricia Legg 
(United Kingdom)
07/08/2010

Our beloved Morris, Our faithful friend,
and your love you shared until the very end.
For 12 years our family was blessed,
now it's time for you to rest.

Your kisses and cuddles we'll miss so much,
Your purring was singing, your fur soft to touch.
We love and miss so so very much.

Goodnight little boy xxxxxx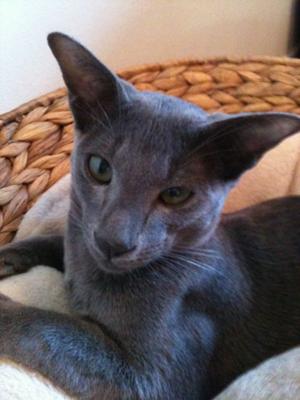 Chaplin
by Amanda 
(England)
10th June 2010
Not even a year old when Chaplin was taken from us. We all loved him very much and he is missed by all of us especialy Moggins. RIP beautiful boy xxx
Benson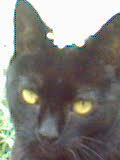 by Rhian (Wales UK)
August 10 2010

Its nearly a week now and it doesn't get any easier Bence You were so Special.
You were my little cuddle monster and I loved you so much and I feel so empty without you I just want to Thank you for everything you gave me through your life see you soon Mams boy. xxx
KIrby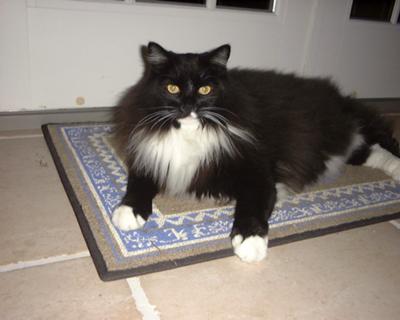 by Barbara (California)
August 5, 2010 We sent you to the Rainbow Bridge after losing you to cancer. What a dear and special boy you were. Thank you for all the joy you brought to us.
Ammu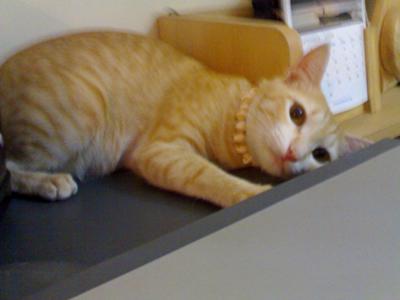 by Soumya (Bangalore,India)
21st August,2010

Ammu, You were with me for 3.5years.I didn't lost a pet, but a sweet and loving daughter.Without you its really difficult for me to live.I'm waiting for the day when I will get you back as my daughter.Till that I will see you as a shining star in sky...

-Soumya
Maisie-moo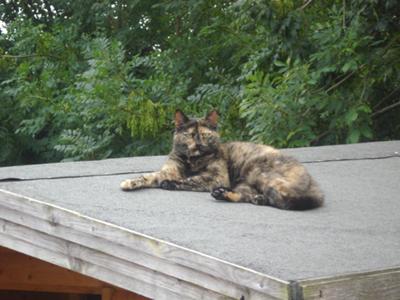 by Dolores Gowdy 
(ireland)
17/08/2010 age 13 miss you forever my wee shadow
Mara Marie Miske-Ziblis
by Victor Ziblis 
(Kalispell, MT)
Sometime in summer 2005, to September 1, 2010. A short life, but a happy one.

You were with your Mommy before I ever met you, and at first I thought you were so.. I didn't like you, or any animals really. I lived a hard life, and I didn't know real love until I met you and your Mommy. I'm so sad, I even twice hit you shortly after we first met and you didn't want to come inside when told. The look you gave me, the way you treated me after, the way you ran from me... but stayed in the room with me.. showed me it's always wrong to hurt the ones who trust and love you.. no matter how much I had been hurt in the past.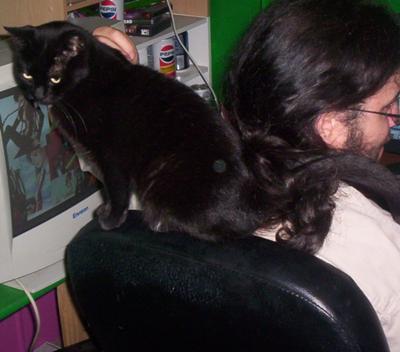 You finally forgave me last October, and would always turn on your back and show me your belly. You never were much one for play, but you were always one to sit close by and listen when I needed someone to talk to. You opened a door into my heart and taught me to love again. Do you want to know a secret, Mara? You're why I married your Mommy. You chased away the last second doubts I had. You taught me to feel safe, to get over my own hurt, and love again. The scars on my body were nothing compared to the ones over my heart, and you eased that pain.

I knew when we got your little claw fixed you would not live much longer. The vet knew by the tenderness of your belly and the little hard lump what was going on. I didn't know how to tell your Mommy... but you didn't even give me the chance to. I remember the last week so much.. I remember how you brought us mouse after mouse after bird after mouse for that week. I counted 22 in that week. I remember how you taught Atton to hunt as best as you could in that last week. I remember the last time I saw you... curled up on the shoebox under my Amiga's shelf, you looked at me.. and you just looked into my eyes, you looked content.. and you left, and you never came back.

Thank you for everything. You may have been a psychotic little runt, never got much bigger than a kitten yourself.. but you showed me true gentleness and love. You can wait for me by the Rainbow Bridge with your little chest puffed out proudly... you did good work. I wasted 20+ of the last years of my life wallowing in violence and pain, and it was a little black cat that stole into my soul and set me right.

I love you Mara. I miss you. You were my salvation.
Love,
Daddy
Jody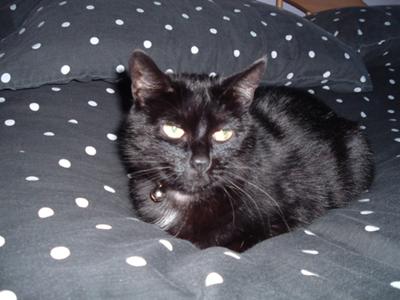 by Annie Jones 
(Walsall, England)
Friday 10 September 2010

To my gorgeous Jody Biscuit
Thank you for the 12 years we spent together. I'm so sorry the way things ended for you, I wish I could have spared you from the distress. You will remain in my thoughts and my heart forever, I will always miss you and just know that I loved you so so much.

Nanook will look after you and I hope you and Chandler are now playing happily together again.
Until the day we see each other again,
Nite nite baby girl xxxxx
Kitty Boy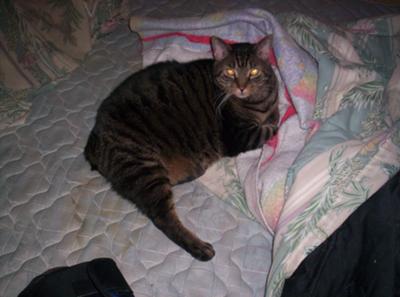 by Valerie King 
(Lenhartsville,PA USA)
08/04/2010 You were my Kitty Boy always there to cuddle up in bed or just hang out with mr..you will always have a special place in my heart. Mommy loves you!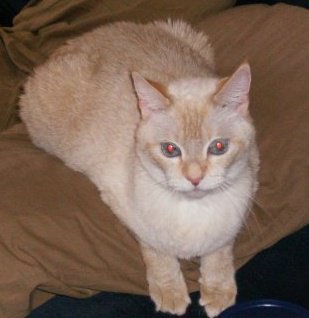 Polo
by Jenny Quigel 
(Lodi, CA)
September 20th 2010

Polo my precious daughter...... I will never forget you and you will always be in my heart! You were my best friend and I love you and I already miss you so much you have only been gone for less than an hour and I am a wreck! I can;t imagine life without you this is going to be so hard for me! I love you love momma
Mutt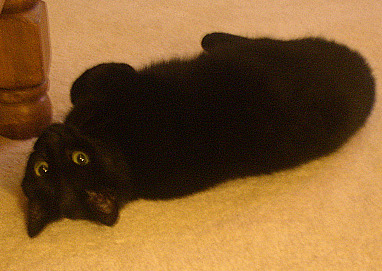 by Jen 
(Co. Fermanagh. N.Ireland)
31st August 2010. Aged 7yrs 9months. To our beloved Mutt. Miss you more than words can say. You were such a snuggle puss and I miss your snuggles. Daddy misses you too, even though you always managed to wedge yourself between us on the sofa when he wanted to cuddle! Fluff misses her sister and still looks out for you. 
You will always be my beautiful 'Pantene Panther'. I love you so much. 
Be safe Miss Mutty, and wait for me at the Rainbow Bridge. Be happy and play and never be afraid or sad.Be at peace. X
Bill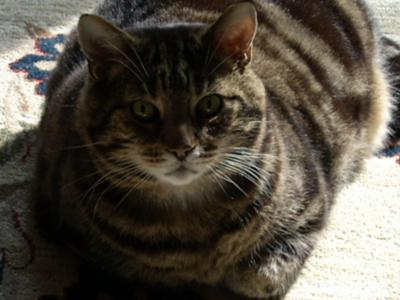 by Rodney, Pauline and Felix 
(UK)
27 September 2010.
Our dear big and happy cat, Bill. Passed away after illness. A much treasured and loved member of the family. He was a good soul and was always smiling. 
He is deeply missed and will be remembered always.
God bless Bill xxx 
Shorttail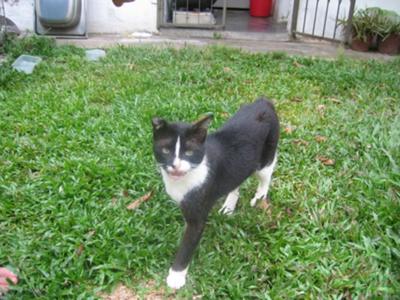 Departed :30th September 2010

It breaks my heart to let you go, but am sure you are in a better place now....
I'll miss your loving hugs, your voice, your everything...
I'll always love you...and I hope to see you again in Heaven one day...
Take care now my love, you are free from pain and suffering..
Madeliene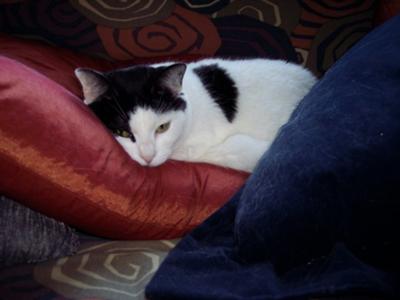 by Judy 
(Walpole, MA)
September 25, 2010

I loved you more than words can say. You were my best friend for over 15 years. You never let me down, you loved me unconditionally, and never judged. I miss you more than I ever thought I would. I have been lost without you. I loved you with all my heart and hope you do not feel I ever failed you. Thank you for giving me 15 amazing years with you.
Cloud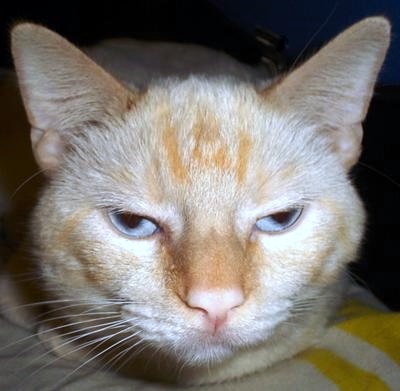 by Lisa Hitchings 
(Boyce, La, USA)
Cloudy passed away on October 20, 2010

Cloud was a loyal and loving lap cat. I will miss him so. Cloud was a Cat of the Week. A fellow cat lover wrote a couple nice poems about him which I would like to include in his memorial. Thank you Mike. You tapped in to his special nature.
Doodlebear
by Val King 
(Lenhartsville,PA)
10/28/2010 You were my Doodlebear..I had 12 wonderful years with you ..you will be greatly missed but I will see you on the Rainbow Bridge someday.Sleep well my boy.
Bob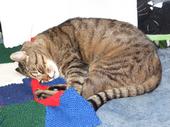 05/11/2010 in our hearts forever old fella we held you till the end
Miss Macy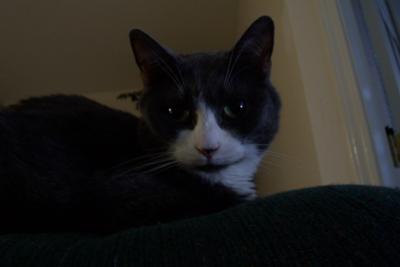 by The Kaz 
(Western Canada)
Macy died on Nov 9th ,2010
She left me far to early and could never be replaced. I will miss her deeply :o(
Ashley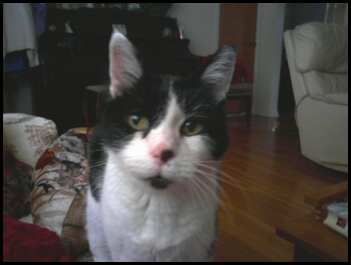 by Gayle Wildman 
(Champaign, IL USA)
January 16, 2010. 
Dear Ashley,
It's almost been a year since you left us. I still listen for you and wait for you to appear in the kitchen when I come home from work--expecting a snack or hug. Not many of my clothes have cat hair on them any more but I never did mind that at the time. :) You have been missed so very much and yet I know you are in a better place without any fear of loud noises or unleashed dogs or that male cat visiting us every winter while his owners go to Texas. There will never be another kitty like you, Ashley. I love you and always will. - Gayle
Lulu Mahoney Blue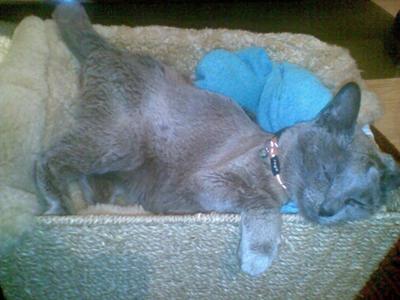 by Christina 
(Perth, Australia)
November 1996 - 26 October2010

If I had a crystal ball 14 yrs ago and could see the what those years would bring when you arrived as a little grey kitten, happiness and sadness and changes. Through it all you were my constant, always by my side giving love, laughter,comfort and sharing my days. The house is so empty without you. Goodbye my beautiful burmese girl. You were a blessing, until we meet again. Can't wait to see you shiny happy & healthy, to hold you in my arms and hear you purr with happiness. You fought a brave fight and tried so hard to get better for those 3 mths...
J.J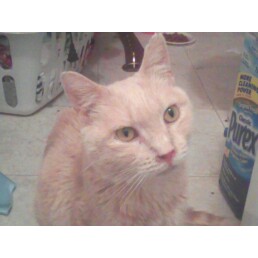 by Mary 
(North Carolina, USA)
I took in my beloved J.J two years ago as a feral , lost and all alone in the woods on my property. After months of feeding him and talking to him (from afar) he found confidence and trust in me and allowed me to touch him and befriend him.
I took him in and made him a part of our feline family and loved him dearly.
Unfortunatly, five months ago he was diagnosed with FIV and soon after that came a diagnosis of Cancer.
J.J lost his battle to the cancer in November 2010 and I miss him dearly.
RIP my dear J.J you will always be remembered and loved in my heart.
Frankie
by Michael 
(Maitland, FL)
You were a cat that embodied the word "cool". Laura and I were lucky to meet you at that apartment complex in Atlanta that someone abandoned you at over ten years ago. We knew you liked to visit us and a couple of other neighbors to get your food. We made that little shelter for you when it became cold and even put a warming pad inside. We wanted you to have a better life so we adopted you into our family and gradually changed your lifestyle to a safer indoor life. You were the only cat that didn't complain on car rides to the vet or even the longer ones when we moved....except the very first ride.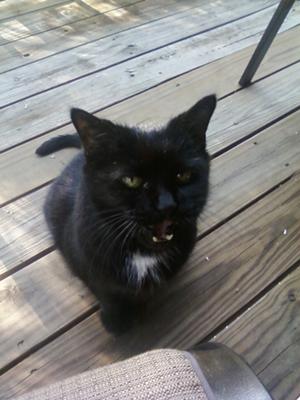 You were so independent and strong, but could be so loving. You LOVED meat more than your kitty mates. I will remember these and so many more fond memories of you. I know that you held on until we got home last night just to be with us before you left. We were able to spend your last four hours with you. It was so hard to watch you slip away. I love you baby and hope you are in a better place. This is the least I can do to honor your memory. Although my heart is hurting with the loss of you, I at least can find a little solace that mommy and me could be with you at the end.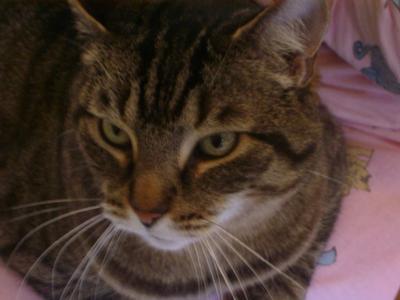 Sam
by Lisa 
(Kanata Ontario Canada)
Died suddenly on December 12, 2010
Sam: Thank you for being our wonderful boy. We were blessed to have you in our lives. You will be missed each and every day. We love you so much.
Borys (boris)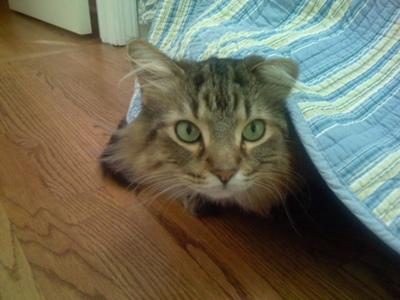 12-13-10

My dear Borys, you were the dearest, coolest, most lovable and well behaved cat. We love you more than anything and will never ever forget you. I will always remember your love of tuna, your big hairy paws and how just looking at you was enough to make you purr. You joined our little family when you were only few weeks old and shared wonderful eight years of love, laughs and warmth. We miss you very much and feel your presence in the house. You will always be in our hearts and your sister Cat really misses cuddling up with you. I am so so sorry that your little heart was sick...no one will ever replace you.

Love you sweets for ever and ever....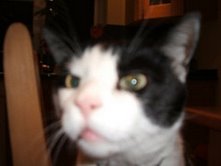 Domino
by Vanessa 
(Herts)
16/12/2010

Goodbye my big bear, I loved you very much xxxxxxx
Pest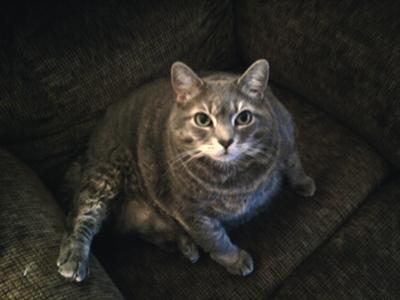 December 14, 2010 - my beloved little Pest was put to rest. I miss her terribly but she will always be in my heart.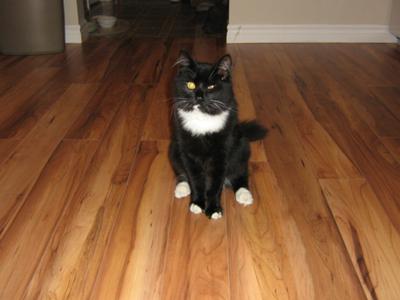 MeatBall
by valerie 
(corner brook,NL)
December 03 2010. My precious little angel,you came into our lives for such a short time but left an enormous empty space when you died.Feline leukemia is a terrible disease that took you from me to soon.I love you and miss you too much, I still hear your cry to get up & I feel so empty without your cuddles.Our home will not be the same without our little angel.RIP my precious baby
Stanley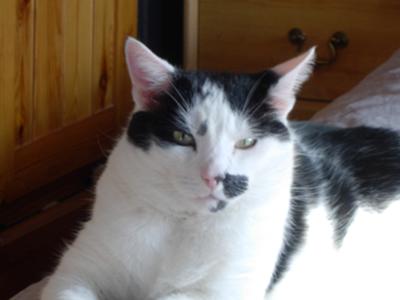 by Simon Jackson 
(Sheffield , UK)
23rd December 2010.
Sleep well my baby, you gave us both, the best 15 years of happiness, from the moment you chose me to be your dad !!
The loyality and love you gave will never be broken. You will forever be in my heart, from the paw prints you have left. Our home is so empty and cold without your misschief and games and your endless purring and cuddles.
I miss you so much !! And will always love you Stanley!!! XXXXXXX
Target
you were a good friend to us. Target was my first cat. Growing up I thought you carried cats by their tails. Target changed that. He had the best purr ever. Sleep well my little prince .December 14 2010
Skittles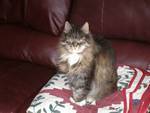 by Kathy Wilcox 
(Connecticut)
August 24, 2010

Not enough words can describe what a special cat you turned out to be. With me for 20 years, through high's and low's. You will be missed here, but know you are now with Squeak and Granny.
Sussy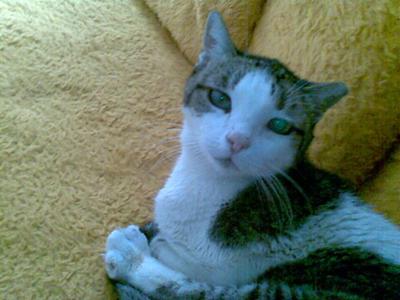 by Abi 
(Kenya)
26.12.2010. Its been 11 wonderful years, Sussy you brought lots of love and sunshine into my life. I will miss your cute little face, and the funny poses that you made when grooming yourself, but mostly I will miss your big heart, love and loyalty. My darling Sussy you will be greatly missed. Sleep tight sweets. love Mommy.

Sissy
by Brenda Talley 
(Loganville Georgia)
My dear precious Sissy mommy misses you so much. You may not be here visable,but you will always hold a special place in my heart for ever and ever,you might be gone now,but you will never be for gotten,i will always remember your sassy meow,and your prissy look,and your over all love that you showed me for all these years that we were together.. These 14 1/2 yrs that i had you in my life was the best years of my life.I have a poam that i wrote to you my Sissy in your own words and in mine,that's how i get by each and every day,that you wish for me not to be sad no more.I love you my Sissy.
Priscilla

by leisa persall 
(hamilton on canada)
June 7, 2010. Prissy sweetheart Mommy will miss you til we meet again at the bridge.

Reply
Sorry for your loss, she looks like a she was a very happy cat.
---
Top of this cat-memorials page
---
---
I'd love to hear what you think of this page or my site. Let me know if you like what you have read or if it has helped you with a problem.
It's easy to do just leave a comment in the box below and click the like / share or +1 to let others know about my site. Thank You It really is most appreciated.