Cat Memorials 2012
Cat memorials for 2012. Cats remembered by their loving owners.
Mobley
 by Michele Beckmann (Colfax, WA)
Oct 7, 2012.
Mobley was given to us by a college student when he was about 6 months old. He was such a vibrant cat. He made funny motor noises, almost like a toddler running a toy car. He would run through the house and slide on the linoleum. He had a very loud purr, Erica (who gave him to us) said he had to put him in another room because his purring kept her awake. When we first got Mobley we had a large dog named Chips. Mobley wouldn't necessarily cuddle w/ the dog, but he wasn't afraid. The dog's paw was about as big as Mobley but he would sleep next to the dogs feet. Mobley would sleep with me, on top of my hair and face and become perturbed when I wanted to breathe. We live in the country and Mobley was the best mouse-hunter. When he came inside at night he sometimes brought his fuzzy friends. He would leave them on the front stoop. If I was away from home, Mobley would not come inside for my husband, so the poor kitty was outside for one week. When I got home and called him, he chewed me out for being gone. We only had Mobley for 18 months. We really miss him.
Sobe
by Torrie (Hillsboro, OR)
November 1, 2012--Heart attack (pericardial effusion), sudden, Age: 3.
A little over a year ago, I met a man. He was shy at first but not stand-offish. He was beautiful and different, and a little anxious. At first, he was self conscious and had a skin condition. So I helped him out with that, made him feel more comfortable...and the second he started opening up to me, I was his forever. His name was Sobe, and he was a gorgeous, black domestic longhair. Though we only had a year together, I have so many memories, so many favorite things. Here are some of my favorites:

Sobe meowed when he went to the bathroom. It was ADORABLE. I loved his low, chest rattling purrs when I was cuddling him. While the other 2 cats would crawl up on anyone's lap, if I was around, Sobe was mine. He followed me around from room to room, sheepishly looking at me, and stealing my heart every time. He would lay on the rug in the kitchen while I was washing dishes or baking. He was like a puppy to me. On Fridays and Saturdays, I started the tradition of giving him a weekend treat of soft food, usually fish. He always knew what day it was. I even trained him when I was preparing his treat to meow for it before I put it down. One of my favorite moments was when he was so hungry that he scarfed down the soft food and then came over to me, soft food covering his cute little nose. He used to paw my leg every time I was sitting down. It was so endearing. Sobe loved plastic. He LOVED chewing through it. I had to lock it up everywhere because he could so easily sniff it out. His favorite toy was a cardboard box. I even had one in the kitchen so he could sit in it while watching me cook. Later, I moved it to the top of the stairs so that he could sit in it while watching me clean the litter box. It was his roost. He always was the first to inspect the litter box once I was done cleaning. Every time he heard me sifting the litter, he would come running. He was always at the door waiting for me when I came home from work, even if it was late. I loved that. No matter where I was sleeping, he would always lie just under my feet, as my wonderfully loyal protector. I loved watching him and Buffett curl up together in one big clump at night. They chased each other, licked each other, cuddled each other, loved one another. They even meowed in harmony while in the car on the way to the vet. He had the softest, most endearing mew. I could listen to that all day long. I loved how good he was at hiding from me. Some days, I would lose him for hours and then find him in a hamper by seeing his gorgeous yellow eyes blinking up at me. Whenever I was sad or lonely, Sobe was the first to sit with me, first to put him paws on me, first to wrap himself around my limbs. I loved the way his fur felt when I rubbed his head. Before he died, I was able to hold him and cuddle him. Even when he was drugged up, being prepared to pass on, he nuzzled up to my hand when I reached out for him, like only he would. In that one action, he broke my heart. I absolutely loved the way his fur felt on my fingertips, especially as he gave me love by nuzzling his neck up to my hand.
Oh, Sobe, I will miss caring for you and loving you. I will miss your timid curiosity. I will miss looking from the living room into the kitchen, only to see you drinking from the faucet or sniffing around the counter. I will miss your paws on my door, looking for me. I will miss cleaning up your hairballs and brushing out your gorgeous hair, and rubbing your grey belly. I will miss your kisses. I will miss loving you and loving you and loving you. You were the best man in my life. So sensitive, so caring, so gorgeous, so fantastic.

How could you ever be replaced? Well, I guess you won't...not in my heart, or in Buffett's, or in Pinchy's. I have learned much from your life and from your sudden and untimely death. I will always check out a heart murmur. I will always play with the cats. I will always pay for labs. I will never go to Banfield or VCA. I will always know the difference between a hairball and a heart attack. I will NEVER underestimate my love for a small being full of love like you. Of all the things that have happened to me this year, losing your kind little heart in my arms melted all of me, broke down my barriers, and allowed me to know and accept love AND grief. Thank you for coming into my life, even if only for a short time. You have changed my life and heart forever.
Oliver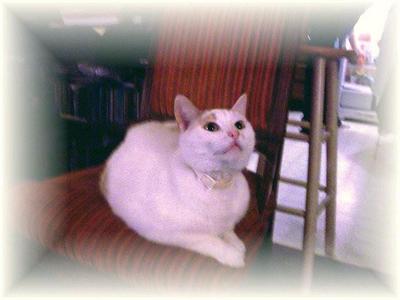 by Dan (Canton, Ohio)
November 11, 2012. Oliver was the best cat Ive ever known and he was my best friend. I miss him coming up and laying on my chest in the evenings and he would put his hand up for me to hold. He was certainly very special and he will always be missed. He brought years of joy and companionship to me and my family. He enjoyed life and loved his family very much. Oliver did not know a stranger and he loved when we had company and made them feel welcome in his home. We all miss him jumping into the grocery bags after we had got done shopping or finding him in a box taking his afternoon nap. I miss my best friend terribly, but firmly believe that he is in heaven. 
Chad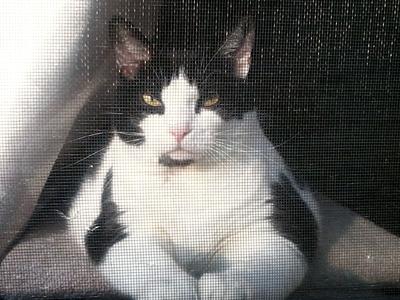 by Jayme Talson (Manassas, Virginia )
Chad entered my life in 2001. He departed from my life 2012 after a brief illness. I had him put down August 16th, 2012. It's coming around to the one year mark. I miss your beautiful face, your grace and your love you gave me through the years. You were my best friend, family and confidant. You are forever etched into my heart. Goodbye with much love, JAYME
Katya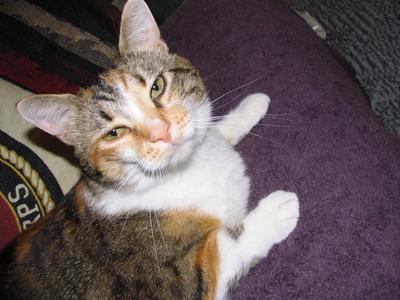 by Thom (Concord NC)
August 20, 2010. 

Katya was part of a large cat hoarders colony. When the law and animal control took custody of the cats she was filtered to a local cat shelter for adoption. She was rather obese and the people who worked there nicknamed her "Fatya". When I first walked into the shelter I couldn't help but notice this large cat walking around. I sat down and she walked across the room and jumped onto my lap. It was as if she knew that I was the one that was coming to finally give her a good home. She was with me for 6 years and not one day did we not kiss, cuddle and just enjoy one another. Her kidneys failed her this summer and I watched her go fat to a frail kitten like frame. She'll always be in my memories and I doubt I could ever find a suitable replacement. Miss you baby.
Buddy
by brenda (buffalo ny)
10/29/11.buddy was given to our family on a very sad day.he was given to us on may 24 2006 the day my mom passed away.he was given to my youngest son,trever.he was the coolest cat.he used the toilet to pee and we never trained him to do it,he used to go to each of our doors at night and meow until he seen that we where safely tucked into bed.he ate his food with his paws and washed them when he was done.everyone knew and loved him.i believe he had a part of a human spirit if that is possible.when he passed we lost a friend,he will be forever missed.
Fuzzy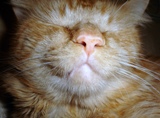 by Lisa (Boyce, LA)
ig Fuzz passed away on October 12, 2012. Fuzzy was a special boy. He loved to adventure and will forever be trucking around in our hearts. We will miss him so...
Lilly Belle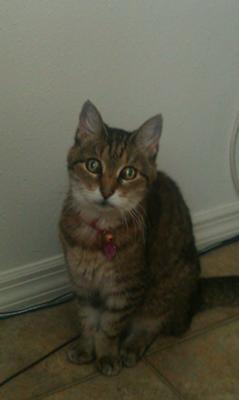 by Josey Wicks (Sebastian)
06/02/12 

My sweet sweet Lilly Belle, I cry as I type this to honor you, You adopted us 3yrs ago around Christmas time, I remember hearing your sweet meows at the front door, you had my heart right there and then, even though you didn't want to come into the house until a couple months later, you knew that we were the ones as you kept coming to our home, Your home. 

Your sissy Muggy was ill and you would always sit with her when we would give her fluids, You made us laugh, and loved us back so much, you little love bug. Your fur was so soft, like a stuffed plush animal, everyone who met you loved you. You were so silly and you loved bringing in "Daddy's sticks"(broken old blinds from outside)to us, You were so happy to bring them in.

We never thought that we would ever love another cat. You made the lost of your sissy so much bearable, lessen the pain. We thought you would be here forever with us, but that wasn't the plan. It always broke my heart not knowing your birthday, how old you really were, your life before us, but then I knew that we had you now and that's all that mattered. 

I know that you don't have to suffer, and you know your Mommy & Daddy loved you sooo much and you are with your sissy and cousin playing, running and having fun. You are now bringing "Daddy's sticks" through the cat door in heaven, Oh Lilly Belle, I wish you were here with us, but I know you are in heaven and you will send us some sisters as the house is so lonely with out you girls. We Love you so much Lilly Belle Wicks RIP our sweet baby girl. Forever in our heart, Mommy & Daddy
Grumpy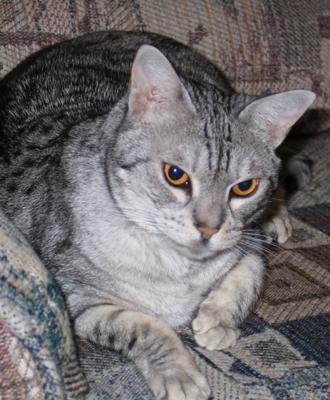 (New Albany, Indiana)
Feb. 27, 2012 we had to say goodbye

Grumpy ..This was your disposition...
You were a companion , a FRIEND
...We love you Grumpy.... 
.............. You were a part of the family
BabyCat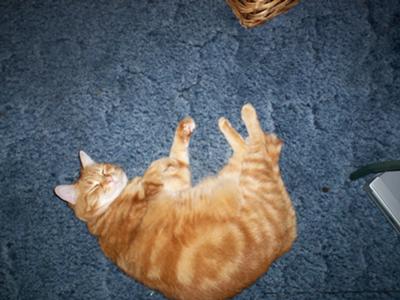 by Skyler (Lexington SC)
March 5, 2012

Goodbye my beautiful BabyCat. I'll miss your morning head butts and the quiet cuddles we shared. You were so much more than a pet. You were my comfort during sad times, a daily source of smiles and the keeper of many secrets. I don't know how I would have made it through the last 16+ years without you. How I'll miss you! It was a privledge having you as my little friend and my fur baby!
Felis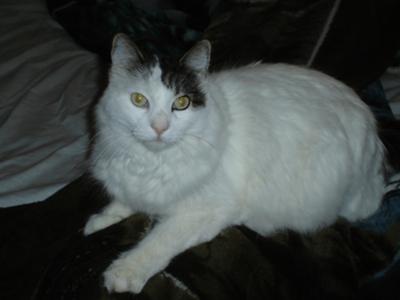 by Sarah A. (Minnesota, USA)
To my beloved sweet boy Felis, 03/16/2012:

Mama misses you so much and Daddy does too. I am so sorry you were dealt the hand you were, I wish there was more we could do for you and I hope you know how much we love you. I will always miss your wonderfully comforting purr. And we are so thankful and blessed that you were part of our lives and you will be in our hearts forever. I pray one day we will meet again and that you are happy and healthy and restored on the other side. I love you my sweet kitty Felis more than you know.
KitKat (Kitter) Clark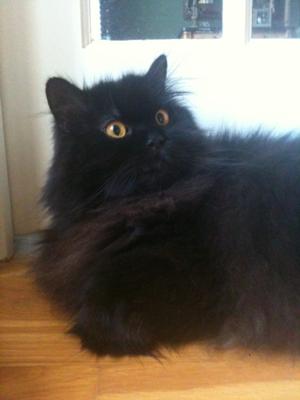 by Lee-Anne Clark (Duluth, Ga, USA)
January 8, 2012

KitKat was our beautiful, sweet, always purring little boy for 8 and 1/2 years. He was a black Persian with amber eyes and black whiskers. Kitter, as we often called him, would always jump down from whatever kitchen chair he owned at the time, and come to rub on our legs to welcome us home, or just into the room. He especially loved for our son, Connor, to get down on his hands and knees so that he could rub and swish his tail all over him. After all, he was Connor's cat. (When Connor was five years old we took him to get a kitten. One little black kitten, just five weeks old at the time, crawled over to Connor and ended up falling asleep in his lap. Right then and there, we knew that this kitten, later to be named "KitKat", had chosen Connor.)

At 3 years old KitKat was diagnosed with autoimmune hemalytic anemia (AIHA), a disease where the body attacks its own red blood cells. Miraculously, under the care of our loving vet, he recovered more than one time so that we were given an unheard of 5 and 1/2 years more with him. As far as I know, there are no cats on record for surviving that long with AIHA. 

While all cats are special and unique in their own way, KitKat was extra special to our family. His loving, laid back demeanour was a constant presence in our home. He rarely even meowed. He just loved. And purred. 

Kitter, we will love you for the rest of our lives. We are so happy to truly know that we will see you again. No kitty will ever take your place in our hearts. Thank you, sweet little Kitter boy, for all of your love and devotion. There will never be another you!!!

We love you!!! 
Connor, Mom, Dad, Peyton, Snickers & Godiva :)
Demon Kitty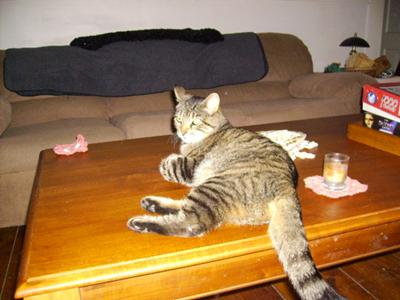 by Allison Senechal (Ashuelot, NH. USA)
On February 10th 2012 you were called away from us to Heaven. I will never know why, or even how because it was so fast. My sweet kitty, how you touched my heart, and those of everyone in the family.
Though I didn't know you until you were 5 you gave me so many memories, so much love and laughter. I miss you so much. All your furry brothers and sisters are grieving as I and daddy are...yes, even Menue...though you hardly got along over the years.
I miss so much about our time together over the past 7 years. Your big huge eyes looking deep into my soul. Your little way of speaking to me when you wanted something...your obsessive way of always wanting to be in my lap before I'd even get seated (That's why I called you velcro kitty). Who is going to guard the water bowl for hours on end? No kitty could do it as well as you my angel. I still feel you with me, and that may sound crazy, but I do.
I just hope and pray that you knew how much you were loved in this life. And that I will never forget you my sweet kitty...never.

We love and miss you so much,
Mommy, Daddy, Devin and Jerry

And your furry kitty family,
Mocha, Menue, Snowpuff, Angel & Baby Kitty
Murphy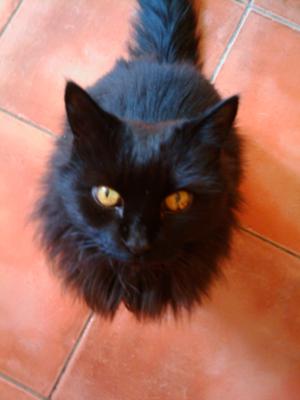 by Stephs (Oxfordshire UK)
25th January, 2012. Murf Murf, my darling little boy, was put down because he had a tumour in his tummy, and had diabetes for two years. You put up with so much, and I'm so sorry that I had to put you down, but you were so ill and in pain. I thank you for giving me so much love and being such a wonderful chatty character, whom everyone loved and enjoyed. You are now at peace and without pain, and most importantly with Chris. Tilly and I miss and love you so much and you will always be in our hearts. Goodnight sweet darling boy.

---
Top of this cat-memorials page
---
---
I'd love to hear what you think of this page or my site. Let me know if you like what you have read or if it has helped you with a problem.
It's easy to do just leave a comment in the box below and click the like / share or +1 to let others know about my site. Thank You It really is most appreciated.