Cat Memorials 2013
These are the cat memorials for 2013. All of these cats have crossed over the rainbow bridge this year and these memorials have been submitted by their owners.
Mitzi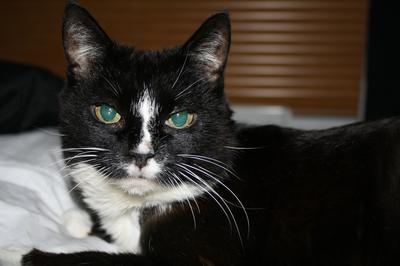 by Carol Norman
17.6.13
To my sweet little Mitzi cat, you came to us as a stray and we fell in love with you. We only had you for four short years but you were the centre of our world and we adored you. We did everything we could to make you better, but alas it was not to be. It has only been two weeks since we had to let you go but the house is so empty without you. Be happy and run free at Rainbow Bridge until we meet again. Miss you always.

Carol and Tony
Suzi
by Wendy Bacigalupi, (Apopka, Florida, USA)
Time is cruel to our earthly bodies, but love isn't. Suzi is now free from the constraints of an aging body and can be young again with our friends and beloveds across the bridge. I hope our paths cross again before it's my time to cross the bridge. May 31, 1995 - August 17, 2013. My beloved friend for 18 years. 
Keydoh
cat memorials by Amanda (SC)
August 2000 - August 8, 2013

My gorgeous Keydoh, You were my most dearest fur baby boy to date. From the first day i saw you at the shelter sticking your paw out at me, i fell in love. I opened the gate to pet you and you immediately starting licking my forehead. That was it, you chose me to be your mama right then. That was 13 years ago. Its crazy to think how fast that time went by. Ill miss everything about you but ill miss your forehead kisses and love bites the most. You never bit too hard cause you were such a gentle boy. Those night time cuddles were the best. Now you can run pain free and chase all the birds you want that were on the other side of the glass. You left gentle paw prints on my heart and i will always love you. Rest in peace beautiful boy.
Clio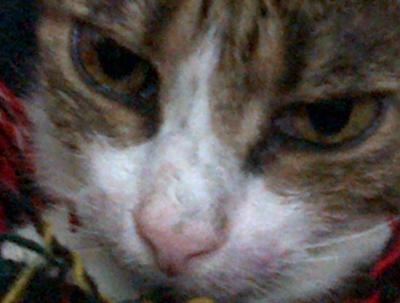 cat memorials by annalise samuel (malta)
Dearest Clio, On behalf of my dearly departed parents I would like to thank you for all the joy and pleasure you gave us during your time on earth with us .
You were a very special cat and I will miss you sorely.

annalise samuel 
Missy
by Harold and Mary (Plain City Ohio)
April 10 2013

Missy you will always be in our hearts. You have given great joy during your life. We will always miss you. We love you so very much. We are so happy to have you for 20 years. You are missed.
Sir Sabu the Magnificent
cat memorials by Tammy (Pennsylvania)
Born: 2/3/1998 Departed: 4/13/2013

You lived up to your name Sabby. You were so Magnificent no other cat will ever replace you. There is a scar left on my heart forever.
Havoc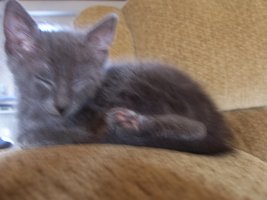 by Jeannie Nunnelley (Cullman, Al. )
Hit by car on April 19th, 2012. To my special friend, I'm sorry for not being there for you. May you enjoy warm sunshine on your fur, and a nice bed to go to sleep. May you have wonderful friendships with cats who have gone on. May you rest in piece.
Zachary
cat memorials by Terrie (Independence, Missouri)
4-15-2013
I am sure God's Angels lifted you up on their wings to a place where you are happy and pain free. Know that Sassy and I miss you, and we will never forget you. We look forward to seeing you in God's Glory one day. Rest and be happy my little angel!
Shadow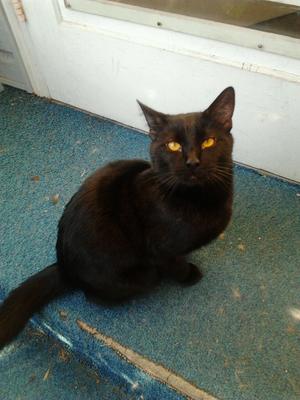 by Michelle S. (Middletown, Ohio, USA)
Departed on May 21,2013. 

I just wanted to say that I love you and you will forever be in my heart. You were around for such a short time, and it wasn't fair to you or to me. But you have made a lasting impact on my life and there will never be another cat like you. You showed me that black cats aren't "bad luck", but in turn, best friends.You brought so much joy to my life. I love you and miss you so. 
Cricket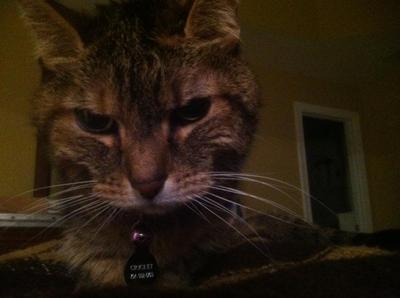 cat memorials by Jason (North Carolina)
Cricket, you were literally the most amazing cat I think I could have personally asked for. I found you when I was just 5 years old and I was frightened of cats. You helped me grow out of my fear. You were seven years old when we found you and amazingly made it to 19. I felt that you were immortal at a point. You were my best friend and helped me through everything. 

I tried my hardest to have you live. I don't want you to think we kicked you out of our family, we did what's best for you. I tried sleeping downstairs with you, I did everything as I sadly saw you decline. You lost the quality of your life and I wanted you to go out with pride. You were a feisty cat that hated everyone but me. I didn't want to see you weak and I know you are not suffering anymore. I love you Cricket. 
Jason
Cricket January 1st 1994-January 16th 2013
Buddy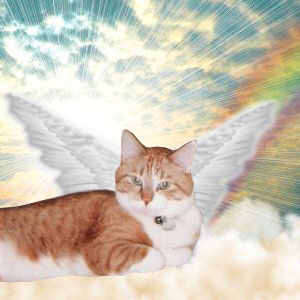 by Mary Johnson (Manitoba, Canada)
November 17, 2008. Buddy chose me when I went into the shelter. He was my first Kittie. Buddy taught me how to love and be open, and he gave me a home. I had the privilege of having Buddy in my life for eleven wonderful, beautiful years. He was already an adult when we met. The vet figured he was between six and eight years old, so then Buddy would have been about seventeen to nineteen years old when he left for Rainbow Bridge. Buddy was the most loving, gentle Kittie a person could ever meet. He just loved to meet people. The last couple of years of his life, Buddy became a PaPa when I found a little orange fellow I named Friday. Buddy just fell in love right away and was always loving and gentle. I miss my Buddy with all of my heart. I am sooo thankful for having the privilege of being his Meowmy even if it was for eleven very short years.
Tabitha
by Mike and Kim (Kansas City, Missouri)
Tabitha passed away on February 9th. She was a wonderful cat who was loving and cared for until the very end. We will miss her very much.

Jager Grogan
by CHARMAINE DYE(ENGLAND)
Sadly taken from us on the 14/02/2013 at 5 months old, your now up with the stars sleep tight my little princess love you forever Mummy, Daddy, Mallie, Upsy and Daisy xxxxxxxxx
Galaxy
by Rhian (Wales (UK)
Galaxy I remember the day I had you 21 years ago, you was a little tiny ball of fluff and you were only about 3 weeks old. I had to bottle feed you until you were ready to go onto cat food and the bond created between us was immense.
You have been having ongoing treatment for the past year or so for a couple of health problems but you proved to be a fighter and survived against all the odds. That was until today when at approx 10.30pm I had to make the decision to have you put to sleep as it became clear that you could not eat due to your jaw becoming misaligned due to the brittleness of your bone structure. The vet said this probably happened when you were eating a meal between yesterday and today and I thought you were being fussy with your food as you always are but you was in pain and I didnt realise, and I am so sorry baby girl I would never let you suffer pain and as usual you were trying to fight it, but I could see in the vets that you had finally given up and I helped you make your journey to Rainbow Bridge where you will be reunited with Benson and Suzy.

You have given me 21 years of pleasure, loyalty and companionship and I love you so much you are my special girl and always will be.

Have fun in Rainbow Bridge where you are now free of pain and having fun with Benson and Suzy rest in peace little one until we are reunited again love you loads will miss you loads baby girl. xxxxxxxxxx
Prowler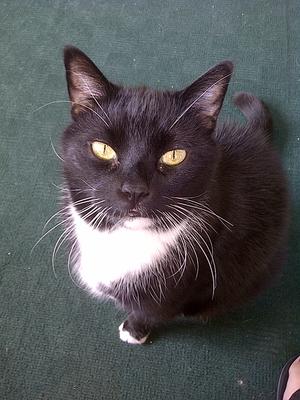 by Kendra (Guelph, Ontario, Canada)
03-26-2013

My Prowler - for just over 12 years you were my feline bestie. Every day you brought a smile, a laugh, a cuddle, or a song of purr to my day.

It was unbearable to see your health deteriorate so quickly in the last few weeks, and not being able to do anything for you - my last gift was to end your struggles. 

Your brother, Sneaker, comforts me and I comfort him as we learn to go on without you here. We both know you are forever with us in spirit, and nothing will ever take your place in our hearts. 

You will always be my "beautiful boy" in that stunning tuxedo! Words could never express how much I enjoyed our years together, how I miss you now, or how I'll love you forever. For you, a special place on this beautiful quilt. Love you always!! xo
Syn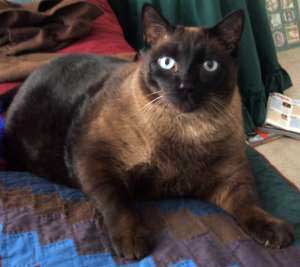 Jack Noe, Antioch, TN 
Syn passed away on December 20, 2013.  I spent almost 17 years with him.  He was my baby and my best friend.  He taught me how to love all over again.  His personality was larger than life and I miss him so much.  
---
Top of this cat-memorials page
---
---
I'd love to hear what you think of this page or my site. Let me know if you like what you have read or if it has helped you with a problem.
It's easy to do just leave a comment in the box below and click the like / share or +1 to let others know about my site. Thank You It really is most appreciated.