Cat Names Beginning With T
here are some great cat names beginning with the letter T sent in by other cat owners. hope you enjoy reading their stories as to how they named their cats.
Talladega My Bengal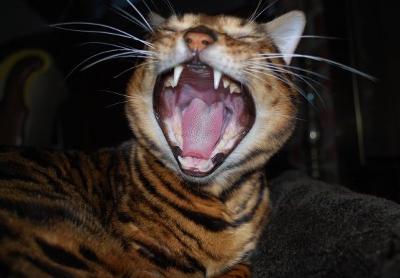 by Julie Sand (San Jose Ca)
I named my Bengal cat Talladega because he is super fast.

comment from Kate
What a fantastic shot of your Bengal cat. they are such beautiful cats and their markings are stunning and so vibrant. they are big cats too aren't they? It must be like having a big wild cat living with you.

And what a big mouth he has too or is that just the camera angle I wonder? Either way he could frighten away any big dog who cares to tangle with him.

i assume from your comment that you names him because he was was fast must mean that his name means fast

Thanks for submitting Talladega's photo to the site. 
Taylor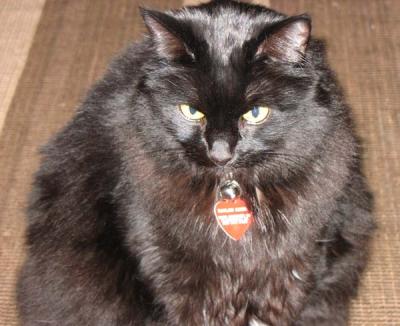 by Gina Woods-Norris (Placerville, CA USA)
I named Taylor after the actress Elizabeth Taylor. When she was a kitten, she had fluffy black hair. For some reason Taylor's halo of hair reminded me of Elizabeth Taylor's hair.
Tequila
by Jenni (Grand Rapids, MI)
Well, she is a domestic long hair mixed with calico so she has calico spots all of her head and butt that are the color of tequila. Also, I wanted to name her after something that I love...and I love tequila.
The Doctor & Rose Our Cats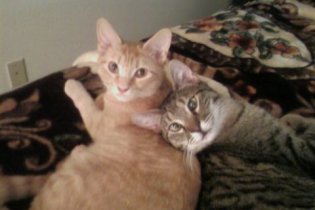 by Sherry (Kirkland, WA)
Our cats are The Doctor and Rose – We had lost our previous Cat due to a stroke and we really felt the empty nest, so I started browsing the online PetFinder for a Bonded Pair. We knew we wanted 2, if for nothing else to keep each other company. We found a brother and sister at Oasis for Animals, on Whidbey Island, Langley, WA. 

Our cat names came from our Favorite TV show.. Dr. Who – The Doctor and his true Love Rose Tyler. 

We think our Cats are very unique. My father insists that they are aliens in zippered cat suits since they are incredible smart. Rose is a chatty girl, talking to me even through the window once I have parked my car. Doctor is quiet and reserved, just what a Doctor usually is. Doctor came to us with one lazy eye, which we so lovingly call his "Googley Eye". Doctor is a big boy weighing in at about 20 lbs. He is a Silver Tabby. Rose is a petite one at about 8lbs. She is an Orange Tabby. About 2 yrs ago, Rose got herself caught under the couch after being frightened by getting her head caught in a paper bag handle and she dislocated her right leg and tore all the ligaments. We had the orthopedic Vet put her back together with pins and screws. She is doing great now, and we refer to her as the "Giddy Up Girl".
Thumper
by karen faiss 
(limerick pa 19468)
Because he is a kitten that we brought home from the spca after we lost our a oldest cat
. AND as soon as he came into the house he became this little bully thumping on everthing in site. the other cats and your feet or a toy just so happy to be there he sometimes hides behind a door and when u walk by he will jump and thump down on your feet his name and the spca was fluffy but he is to much of a bully to be a fluffy....
Thunder and Lightning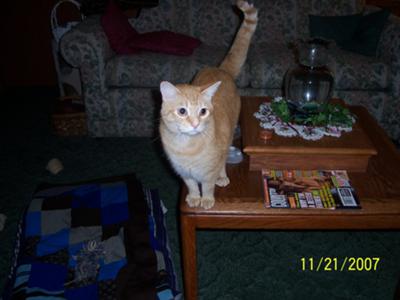 by Lori 
(Nashville, TN)
We adopted our brother and sister from the local animal shelter. Lightning is our male and came with his name. His sister was charcoal or something similar. I didn't like it at all. Hubby suggested Thunder. So now we have Thunder and Lighning.

Hi, thanks for submitting lightenings picture and name, he looks full of mischief.
Tia and Jaffa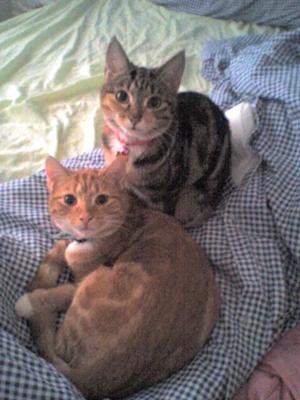 by Lynda Brookes (UK)
Tia is a tabby and is named after my favourite drink 'Tia Maria' which is what she is also called when she is being mischievous.

Jaffa is her brother and he is ginger, hence his name.
Tibby
by Alisha (Oregon)
I had just read the Sisterhood of the Traveling Pants and in it is a character named Tibby. Tibby was described as having big round eyes, sleeping a lot and being quite spunky. I was fostering three kittens and as soon as I saw Tibby I knew that was her name. Her brother and sister were playing and she was in the corner falling asleep where she sat. Her eyes are also amazingly round and expressive for a cat (or at least any I've seen) and it turned out that she is full of spunk. I kept her. I just couldn't part with my Tibby.
Tidliamo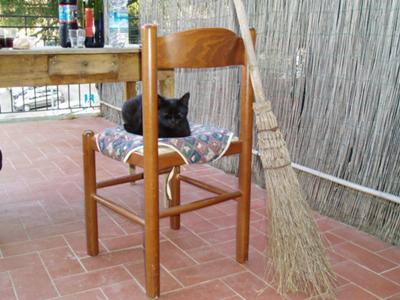 by David (Umbria, Italy)
We moved to Italy in August 2007 and while we were waiting for our house to be finished we had to stay in a tiny one room appartment. We thought this would be for a few weeks! The delays in the build got us down and the weeks turned into months and the one bright spot was this black cat that wondered onto our terrace in March 08. We used to feed her but thought she had a home! It turned out that she was abandoned and slept under a small bush at night. Over the coming weeks she fully adopted us so we named her Tidliamo. It comes from a slight merging of 'tiddles' which is almost a cliche name for an English cat and the amo is reference to the Italian we were trying to learn at the time which is linked to the verb 'to love' which seemed apt.

She happily came with us when we finally moved into our house here in Umbria, Italy in September 2008 and contents herself most days with catching lizards and sleeping.
Tiger
by Jan, (Waterbury, United States)
She looks and act like a tiger does. She started stalking us when she was a kitten, Now she catches mice and bugs. Just like a tiger you can't predict what she will do next.

comment
I had a cat called tigger after the tiger in Winnie the pooh mainly because he was a big softie and not a fierce Tiger.
Tigger
by Mone't (Kentucky)
My husband named her because he fell in love with her the second that she was born. She is a kitten from Spicy's first litter and we kept her because my hubby couldn't stand the thought of giving her away. He named her Tigger because she was always bouncing around the house.
Tilly 
by Leonie
She's the most adorable kitty, she's has such soft fur, however Tilly can be Timid and shys away from everybody until she knows/trusts you. Thankfully I'm the one whom she trusts. She hides from strangers/other cats. We bought her from the RSPCA when she was a kitten. She is affectionate but most of the time she likes to sit away from others.
She always stares at me when i'm doing something, even sing, and waits for me to come out the shower, then puts her scent on me, by rubbing her head on my legs. She's the most perfect kitty, ever. One of the best cats I've ever had, she's so relaxed, so beautiful. 
Chose her at Random too, so glad I did!!!!

I chose her name because our rule with cats is, their name has to begin with a 'T', No idea as to why, something we've always done.
Timmie Bear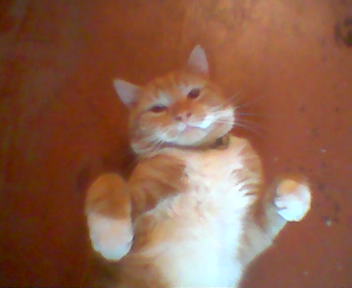 by gabbie Mackenzie-tutton (clacton-on-sea)
i gave my cat this name because when we got him he was really small so we called him timmie bear as he was soo cute and he couldnt scare anyone even when he was playing and had his claws out. he is ginger and white and he is soo big now that his name just matches him x
Tinker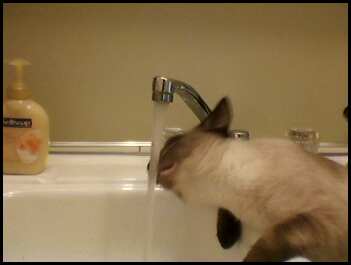 by Amy (Michigan)
He is an all over the place cat. He loves to jump onto your back. He is just a BIG "stinker", so Tinker for short.
Tinkerbell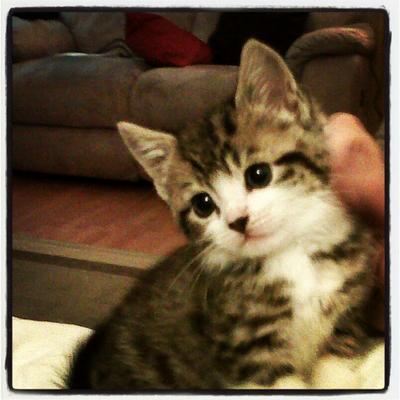 by Leonie
She's such a beautiful cat, got her as a gift for Christmas on year, when she was a kitten. She's very hyper, doesn't stand for any nonsense. She's playful, sometimes can become a bit ''too playful'.
She is very affectionate of a morning or during the night or when you come home from somewhere. She likes to suck on fluffy things, like dressing gown, and purrs whilst she does this. Always has done it and unable to find out why. She's so adorable, though when we have something she likes, she won't stop nudging you or putting her paw on your plate until she has it. She's a very curious kitty too. Wouldn't change her for the world, so beautiful. 

We called her Tinkerbell because we have the rule, our cats name have to begin with 'T' it was between Tinkerbell or Titch.. She suits her name. She's nice to cuddle up too..when she let's you.
Titus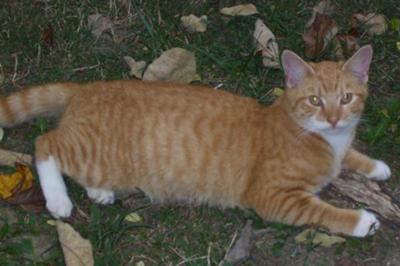 by Mone't (Kentucky)
My daughter had been calling him "Cream" because he was a yellow kitten and adorably cute. However, as he got older, I realized that he was going to be a large, muscular cat, and I wanted him to have a tough sounding name. I think Titus fits him purrfectly!
Toby
by Nancy (Richmond, Texas, USA)
While visiting Scotland we stayed at a little hotel that had a resident cat named Toby. Toby was a Bengal breed and was quite handsome and had a great disposition. Toby would freely go in and out of the reception area via a small street level window. Once we came home from our vacation we bought a Bengal and named him after our Scottish friend.
Tokyo
by Kelli (Gold coast Queensland Australia)
Tokyo is a silver tabby cat 6 months old rescued by our local vet who we have adopted.

She was thrown from a car :( we figure she has been through some horrible stuff just like the earthquake & Tsunami so Tokyo she is :)

Comment
What a great name and I can see your thinking behind the name too. I can see a lot of thought was put into choosing the right name.

Thankfully this poor cat has now found a great new home with you. i hope you all enjoy every minute of it together. Kate
Trouble
by Linda (Parksville BC,Canada)
I rescued him from being euthanised. No one would adopt him because of a sign on his cage that said'Beware,Cat Bites !' He had two days left before his time limit at the tiny town Humane Society office was up. I took him out of the cage,he bit me,but it was still love at first bite! After a year of misadventures we discovered he had no sense of smell which had lead him into all sorts of trouble. He recently passed away because of renal failure at the ripe age of 20yrs.
Truman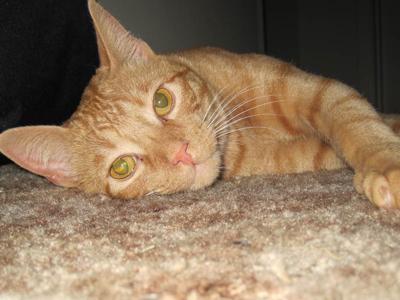 by Amber
He's named after the University of Missouri, Columbia mascot Truman the Tiger who is named after President Truman. He's an orange tabby so it works well.
Truffles
by carroll (united states)
Truffles wild mushroom in France(black)and Italy(white) is a sweet candy. 

She is a wild cat that has black and white in her body and getting to know her she is a sweet little girl.

Comment from Kate
i love the name truffles, its so cute and brings to mind gorgeous sweets (my favorite). Also as you say truffles are a delicacy in some European countries and very expensive to buy and this describes every cat i have known. rare, individual and with expensive tastes.

As a side, my cat Byron as a kitten would make this odd this ooff ooff noise with his mouth making his little cheeks and lips puff out. It sounded like saying truffles with a lisp. It was so cute but he hasn't done it for a long time now.
Tuxie 
by Jo Anne, (Mesa, USA)
She is a black & White tuxcedo cat rescued from a field where she was dumped. I fed her for 6 months and one hot day loaded her up and
took her to the vet and then to my house. 

Comment from Kate
Well done you, thank goodness for good people like you. I hope she has a long and happy life with you. Love the name too.
Twiggy Wiggins
by Shay & Dino House (Cloverdale, CA USA)
Twig is a male tabby we adopted from the local shelter as a kitten. We picked him because he was as skinny as a little twig and we did not think anyone else would ever adopt him. He was such an ugly little duckling of a kitten, but he grew up to be a very handsome cat and everyone comments on how stunning he is!
Tyler 
by Jayme (Manassas Virginia )
Tyler was adopted November 18th, 2012. He came already graced with the name Tyler. I let it stick because it seemed like such a strong male name and it fit him just right.

Tyler is an abundance of energy. He loves to fly through the house at high rates of speed and chase his plastic balls and swat them all over before slipping on the slick kitchen floor and falling over. He loves to run room to room looking for trouble. He loves sitting in his condo watching the world outdoors. 

He bird watches and squirrel watches and even has a chance in late evenings to see a skunk hurry by the front big window. He likes to talk. He has a high pitch sound that sounds like he is saying NOW. NOW. when its feeding time. He loves long naps.

He lays by my side in the evenings as I watch tv. When its time for bed he is the first one on the bed. He loves his tummy rubs and stretches out very long each time I arrive home. He greets me at the front door each day. He is a charmer and a beautiful boy weighing in at 10 pounds of love.
---
---
---
I'd love to hear what you think of this page or my site. Let me know if you like what you have read or if it has helped you with a problem.
It's easy to do just leave a comment in the box below and click the like / share or +1 to let others know about my site. Thank You It really is most appreciated.