Cat Names Beginning With K
Cat names beginning with K. From Katie to krypton. 
Kate
I gave my cat this name because it means that they are pure and clean. Guess what? My cat loves to groom herself, so it is the perfect name! I highly recommend this name! (It is also very cute).
Karma
by Kristie,(Notts, UK)
Because she is such a laid back cat
Katie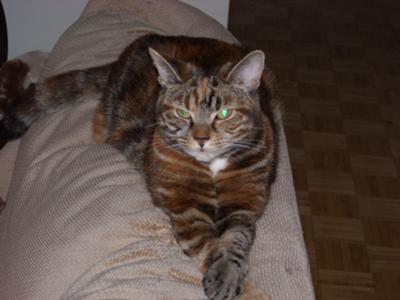 by Maria (Scarborough)
Its such a pretty name for a female cat.

comment by Kate
what a gorgeous colour and markings. very distinctive.
Keiko
He's black and silky and exotic looking. Keiko in Japanese means "adored". Of course, he is adored.
Kelby
by Lauren Rick (Burlington, WI )
Kelby is a rescued purebred Maine coon. Since its rumored that the Vikings brought the breed with them when they came to the Americas, I thought a name with Old Norse orgins would be perfect for him. It means, "farm by the spring", which is funny, because now we do live by a farm by the spring!
Keller
by kristy, (boise, id)
the orange spots in his fur are the same color as a little boy my sister knew named keller, and it just fit he looked like a keller
Kermit
by Kristie (Notts, UK)
When we got our kitten she would jump around like a little frog. So this is why we named her Kermit
Kes
by Katie, (Peoria, IL.)
We named her after a character in a star trek series Voyager.
Kiki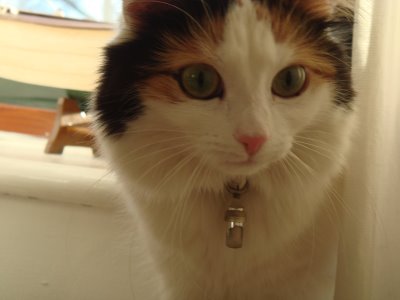 by Annah, (Halifax)
i gave Kiki this name because after adopting her from the humane society, we went home and watched Dr.Doolittle 3 with my children. And near the end, a girl named Kiki was singing on stage. My children thought it was the most perfect name for her! So Kiki it was.
KikiD
by Ruth (NH)
Kiki got her name because I didn't like the name the shelter gave her. Who names a cat Lisa?? 

Actually, I thought it was a cute but easy name for a cat to adapt to. Most people call for their cats by saying here Kitty Kitty, so I decided that Kiki would be an easy name for her to answer to! 

She sings pretty too hence KiKiD. If my husband let me adopt another it would have been a male named Elton :)

Comment from kate
i like it very much and yes you have to get a cat and name him Elton, which in itself is also a excellent name for a cat. I agree with you about the name Lisa, it just doesn't seem right for a cat does it. I guess animal shelters just run out of names for all the waifs and strays they take in. My sisters cat is called Clive and I've always thought that to sound a little odd but the ids end up calling him clivey, which is a little more cat like.

It's funny but only the other day i was watching an old episode of Top of The Pops and who should be on it but kiki and Elton singing their only hit together. Thank goodness dungarees and checkered jackets have gone out of fashion. the 70's really was a ugly decade for fashion.

If you have a picture of Kiki I would love to see it and add it to this page. I imagine a calico cat, don't know why. I suppose the name just conjurers up that image. Bet I'm wrong though. 

Just send your pictures using this form and i will add it to this page for you, the more the merrier. You can't have enough cat pictures to look at i feel . Hope to hear from you soon.
King Edward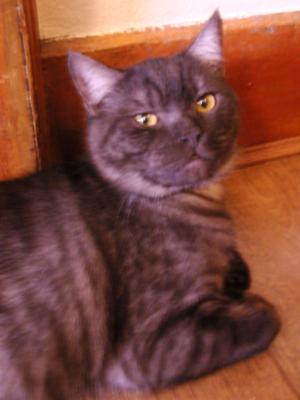 by Natalie (Stockport)
He just looked soo grand from the day we got him!!
King Tut
by Amy (Massachusetts)
He has an exotic look.... and he's our boy prince!
Kipper
It was meant to be Skipper but my son couldn't pronounce it and kept calling him Kipper.
Kippy
by Tamar (Wilmington, NC)
Kippy was found motherless when she was 3 weeks old, together with her four siblings, on Yom Kippur, the Jewish holiday. Hence the name Kippy. She and my other six cats served as the "focus group" for the cat hammock that I designed. Kippy is the model for my hammock and the mascot of my website - simply because she spends half her day in the cat hammock and is therefore easy to photograph.
Kittums
by Jamie, (Atlanta, United States)
I named my cat Kittums because she has a kissable tummy.

comment
very cute but don't you end up with fur in your mouth :)

My partner loves to kiss our cats foreheads and says he loves the way the cats smell and he says every cat smells a little different. A little strange but hey what's the harm.
Kitty
by brit, (nashua, nh, us)
well my friends cat had kittens and she just called the cat kitty as a way of not getting attached to the cat. she ended up giving me her and every time i tried giving her a name it just didnt feel right. after so long of hearing my friend talk about kitty and how excited she was to be giving her a good home i realized that the cats name was just kitty. she was small cute and cuddley, shes just kitty, not kissa, oragami, saki, savanah.. just kitty. :)
Kitty Meadow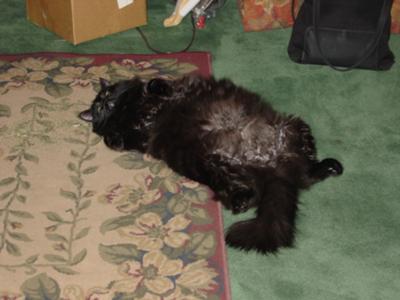 by Nancy , (Big Bear Lake, CA)
Because I liked it.

Comment by Kate
And why not. It works well as a name and is very spring like.

Looks like you have one happy and contented cat there :)
kitty sanchez and g.w.
by misty, (louisville ky)
Kitty sanchez is a 3 month old female tabby. My cousin found her at a friends house just wandering around and took her home. Her older cat was not happy about this and we were looking for a kitten for my sons 11th birthday so we took her in. She was only 6 weeks old when we got her and we went through a lot of names before we settled on kitty sanchez. We were calling her kitty anyway and at the time my fiancee and i had been watching arrested development on netflix. So kitty sanchez just seemed perfect! Not many people get it but its a good fit for her and she answers to it. Now our other cat is a 3 week old tabby who came to us in an interesting way. My fiancee was looking for work shirts at our local good will store and discovered that someone had dropped a box of kittens off there. He reached down to pet one and our little one climbed all the way up his arm! I guess you could say he picked him! So my fiancée brought him home and named him good will, g.w. For short. Since he wasn't weened we have been bottle feeding him and hes about 4 weeks old now. I was worried that he wouldn't make it but he is getting stronger everyday and is doing really well! He is such a funny little guy and a joy to be around. I love my kitties!
Oct 11, 2013
Am happy for you 
by: Anonymous 

Awee thats awsome. I love happy stories like yours and yes i love my cats more then anything in this world. Have a grat life with them and enjoy every moment. Good luck
Kohl
by Patti Hoover (Howell, new jersey)
She is all black and when we brought her home, it was December and she hid in my Christmas stocking like a lump of KOHL!
Kramer
by Wilma, ( Joplin, USA)
I got my cat second hand - they had named him peaches and cream (normal orange tabby) I could not see myself calling him with that name. I just started calling him Kramer. After picking his name he lived up to it. He lives at our business and loves to jump on my desk and slide across it sending all my papers to the ground. Just like Kramer entering Jerry's apartment.
Kuki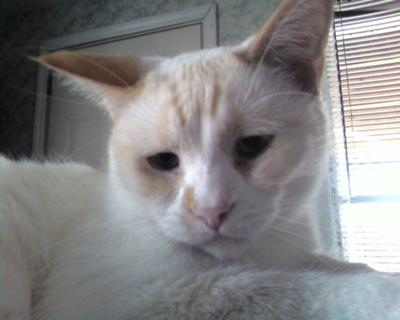 by Mary, (North Carolina)
Kuki reminded me of a fresh baked sugar cookie with his white and tan colors so I named him "Kuki" pronounced like Cookie.
He is also as sweet as a cookie.
Kryptonyte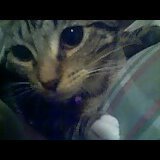 by Amanda, (Canada)
This is my cats name!Its awesome and most of all she awesome and better than all of you!

Comment From Kate
Great name but no need for you to be rude to everyone else. All our cats are special.
Kylie
by Helen (U.K.)
Because she wiggles her bum!
Cat names from the 80's yeah!
---
---
I'd love to hear what you think of this page or my site. Let me know if you like what you have read or if it has helped you with a problem.
It's easy to do just leave a comment in the box below and click the like / share or +1 to let others know about my site. Thank You It really is most appreciated.