Cat Names Beginning With H
Find cat names beginning with the letter H. Perhaps one of these will help choose the right name for your cat.
Hank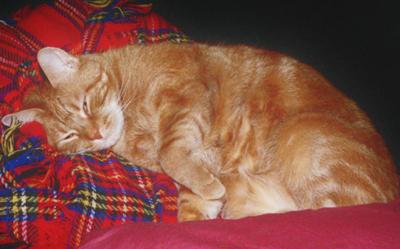 by Vintage 48 (Valley Forge, Pa.)
Hank has had about 5 homes in his somewhat checkered career and each new owner had given him a new name; talk about an identity crisis! When he came to me, about 4 years ago from a friend who decided, after living with him for 3 years, that she wasn't a "cat person" after all and was dialing up the ASPCA when I stepped in, his name was MARMELADE for his beautiful amber colored fur. But, as my husband pointed out, is that a name to give a MALE cat?? Just didn't seem "butch" enough (even though he had been "fixed"--the cat, not my husband!). The punchline of a favorite private joke is "so I called him YO HANK". We tried HANK and by the second day, the former Marmelade was responding to the new name. In fact, he underwent a slight "machismo transplant" and started strutting around our older female cat (Tessie); I think the more male name of HANK actually boosted his self esteem. Tessie is still Queen of the roost and when Hank gets a little above himself, she is quick to remind him that: 
1) She is the elder of the two and deserves his slave like devotion and respect; 
2) She WAS here first;
3) It is only with HER permission that he is allowed to stay, despite what the dumb humans think; 
4) SHE still has her front claws (he came de-clawed--I would NEVER do that to a cat!).

We do exercise some creative variations of his name: Hankie is the most common but he also gets called "Hankius Maximus" (usually after we've
watched "Gladiator"); "Hankus Pankus"; "Handsome Hank" because he really is a lovely cat; and "Howlin' Hank" for his more vocal moments--which is often (he has a lot to say about everything, it seems). Some of the other names that hubby has tossed out can't be printed on a family website but can be colorful, I assure you.

"Hank" is also a variation of the name HENRY, which I later recalled was my grandfather's name. I'd never met my grandpa, since he died maybe 20 years before my arrival, but I like to think he'd be pleased to know that such a charming, talented, talkative feline shares his name.

Hanzo
by Lisa (Indonesia)
it is taken from "Hattori Hanzo", the most famous ninja in Japan. gave this name to my cat because he was the only one survived from birth delivery, hoping he'll grow up as a strong and loyal cat.
Happy
by Karen Custin New York
She is black and white and tabby stripe. I got her at a shelter after my other 2 cats died. They were 1) calico and 2) orange tabby. Happy is my 3rd cat and she's adorable and sweet, as were my other cats, but she is also unique. She is named happy because after losing the other cats, she once again brought happiness to my home.
Harley
by ann parkinson (blackburn,lancashire england)
i gave my kitten that name because of his cute looks as he looks like a harley
Harriet
by Zooey (Alabama)
I would name my cat Harriet because i am obsessed with the tv show back in the 50's Ozzie and Harriet Nelson. I would also name my daughter that name.
Harry
by Sid (Florida)
Our cat was named after who else but Harry Potter. The kids are Potter mad and so it seemed a natural choice to name our new little male cat Harry. well he is very good at disappearing, perhaps he is a wizard too. 

Comment from Kate
I wonder how many cats are now called Harry since the whole Potter fame came about. I bet Potter is popular too. I thinks its lovely when kids get to name their very own cat for the first time. Hopefully it leads to a lifetime of happy cat ownership:)
Harvey and Barnaby Our Cats
by Rhian (UK)
We had Harvey after sometime after losing our cat Suzy to cancer. We had him from a local pet shop because our youngest cat Barnaby was pining after Suzy so bad. We named him Harvey because the name just suited him. He has been an absolute god send and our 19 year old cat is very fond of him and Barnaby and Harvety really get on well for 2 toms. He is wicked, into everything, very cheeky but very affecionate. He has helped us all cope with the loss of Suzy as did Barnaby after the loss of Benson. 

Barnaby Our Cat

We had Barnaby not long after we lost our beloved cat Benson at the age 18. After we lost Benson our cat Galaxy also 18 and Suzy 13 at the time were pining badly and looking everywhere for Benson. We thought maybe another cat would help and we found a kitten via the internet and went to collect him, we brought him home and introduced him to Galaxy and Suzy and they took to him straight away, so I searched the internet for a name for the kitten and found Barnaby which means son of comfort, and he has been a comfort to us all and helped us all cope with the loss of our beloved Benson.
Hemi the Cat
by Juli (Manitoba)
Both my B/F and I are car nuts. We agreed that we would not get a cat until we had a Dodge 'Hemi' vehicle. Well...I bought one in July of 2010. It wasn't even 2 weeks later when I got Hemi. We had discussed names before, and agreed on this one. My buddy has his name before we left the rescue shelter. Little did we know that he would suit his name perfectly. We didn't choose Hemi he chose us. We wanted a lively cat, not a laid back lazy pet. (Just our preference) we opened the pen to where he and his family were. I originally picked a different kitten. But being that we wanted a male, turns out the one I picked was a female. My b/f's daughter had picked up Hemi as he went to leave the pen cautiously. He snuggled right up to her. When we found out my choice was a female I told her that we would take the male kitten that she had been holding. When they went to take him out of the pen for us to take him home, he was waiting patiently by the door for us to take him home. He didn't even cry on the way home.
cat names based on car brands, umm could catch on :) kate
To this day he LOVES rides in the truck, and loves to peel around the floors, especially the hardwood ones where he nearly spins out. He is definitely a member of the family. He loves to visit my parents, and I don't often go there without him. He's like my kid, and I really don't want to think of my life without him. He's my buddy.
Comment from Kate
Wow sounds to me like you have a friend for life there. Some cats simply know who they want to be with, it's amazing. I've seen it happen so often, some cats stay in corners when someone comes to look at them whilst others almost leap into the arms of potential owners. I've always believed that things are meant to be sometimes.
All of my cats have just felt right from the very moment I saw them and they have all been a huge member of my family. I wouldn't have been without them in my life.
Personally I would take the cat over a car any day, so much better for enriching your life. I hope you and Hemi have a long and happy life together. 
Hemi The Man Cat
I believe it is because he was a polydactyl cat, just like Hemingway's cats, but the lady at the Humane Society thought it was because he had a purr like a big hemi motor. I suppose either reason will do. Hemi had thumbs, but never got the hang of making any use out of them.
Hemi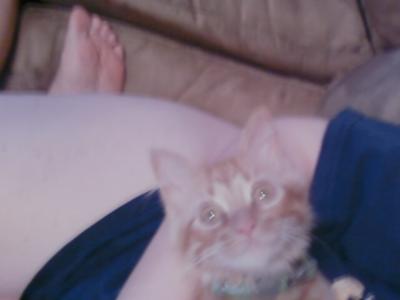 by Arianna C. (Colorado Springs, CO)
The reason I named my cat HEMI (after the engine type) is because when he was a kitten you couldn't watch T.V or really do much that involved listening when he was about because he purred so loud! Plus I found that as he grew he was a bit rambunctious! Which Hemi engines are normally associated with rambunctious men and heavy duty, revving trucks and stuff! So my cat fit that description perfectly! Too bad I had to give him up :( I have no idea where he is now... I got him in Arkansas, and he moved with me to Round Rock, Thanks for almost 3 years.

Comment from Kate
I feel so sad that you had to give him up and that you have lost contact with him. I don't know what happened but it must have been difficult to give up your friend. At least you had three years with Hemi, I bet you had lots of great times together during that time.

From his picture he looks a little like one of my cats i had years ago called Tigger. A little of the Maine Coon in him and with great big happy smile on his face and look at those shiny eyes, fabulous.

Great cat name too and one I had not heard of before, I've never even heard of the train of the same name, so you must be a bit of a train fan i guess. I bet there isn't another cat anywhere with the same name.

Lets hope he is happy wherever he is now and that his huge Purr is still drowning out the sound of the TV.

Thank you for sharing your story with us here at our happy cat. We always love to hear how cats got their names and how they suited their personalities.
Henry
by Mone't 
(Kentucky)
I don't know why, but his name suits him wonderfully. He is the sweetest little thing. Even now as an adult, he is still smaller than my other male cats.
Holly
by jenny (new york)
i like this cat name because it fits my baby she was sooo adorable she made it in a calender as miss December how cute!!!lov all ya out there call me baby holly:)
Horus
by Shannon (Chicago)
Horus was the Egyptian god of vengeance. He is shown in hieroglyphs with a falcon head. I like Egyptian names for cats because they tend not to be overused (like, say, "Smoky" or "Whiskers") and the Egyptians as a group certainly respected their felines. My Horus was a very large black cat. He was quiet and intelligent and enjoyed just sitting next to me while I read or watched TV.
Houdini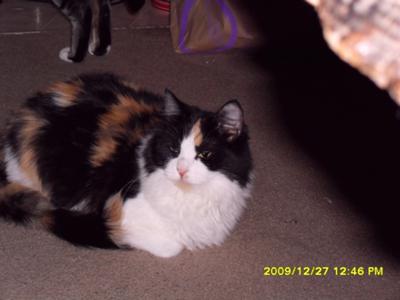 by Mysti (Redmond, OR, USA)
First off, Houdini is a female calico who is just a year old. When we got her from the animal shelter, I was originally going to pick up another kitten who I had put a hold on and the shelter had given away anyway. We found Houdini, and since they couldn't tell if she was a boy or a girl (I thought she was a boy, too. She looks like a male cat), they named her Patrick, which was not going to suit me. After getting to know her, we decided she was our kitten. While signing paperwork, she jumped out of my fiance's arms and quite literally disappeared. I could have been picking up fat cats to see if she was under them in my desperation to find my kitty. Two days later, the spay/neuter tech called me to let me know they found her peeking her head out of the "big cat room" and she would be ready for retrieval in about four days. She did such an amazing disappearing act, I had no other choice but to name her "Houdini".
Humbug
by Shannon (Chicago)
Humbug was born (with two siblings) on my favorite dress the day I started my sophomore year of high school. The other two kittens (one solid gray, the other black and white) were much more attractive than Humbug, but he had a bad-boyfriend personality that amused me. He ignored me except when he wanted affection or food, always seemed slightly bored and ran around outside. He also seemed supremely assured that he always looked marvelous. These qualities were probably not immediately evident at his birth, so perhaps my naming him "Humbug" caused these less-than-desirable traits to occur. Despite his personality defects (or because of them) I loved him. He was the only one I kept from the litter (although that may have been because the other kittens were easier to give away.) Humbug's running around caused his early demise, and because of that none of my other cats is allowed outside. 
This is one of my favourite cat names of all time. Kate
Hunter
He is a fuzzy black kitty who blends in well with his backgrounds. At night, sometimes we only see his eyes glowing at us. He is very playful and cuddly (which makes his name a bit ironic and goofy). He's in no way a vicious "hunter," but we figure the names gives him some confidence to think he is :)
---
---
I'd love to hear what you think of this page or my site. Let me know if you like what you have read or if it has helped you with a problem.
It's easy to do just leave a comment in the box below and click the like / share or +1 to let others know about my site. Thank You It really is most appreciated.