Cat Names Beginning With L
Cat names beginning with L sent in by other cat owners.
I hope you enjoy reading about how others have named their cat.
Laurell and Hardy
by Erika lovelock (Essex, UK)
Laurell is a slim female tortoise shell and Hardy or (Hardy boy) is a large black with faint tabby markings. They are brother and sister and their names suit them perfectly! My brother named them as he did our childhood cat Oliver, a Ginger Tom after the Disney film Oliver and co.

Comment from Kate
I like the fact that you made the name laurell feminine by adding an extra l. I wouldn't have thought of that.
Levi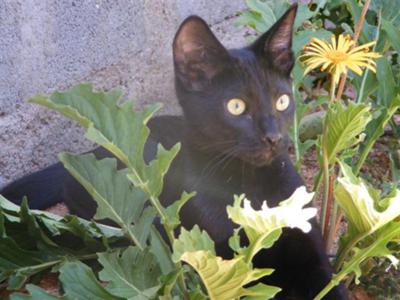 by Joanita (South Africa)
I thought he was a she , and named him Livinja.His a matte black cat with green eyes. My friend used to say he was like an Egyptian Lord. Small head & fat body.With an attitude problem.. But after I took him to the vet , He told me it was a Male cat and Livinja sound girlish. The Vet and I change it to Levi , and it was a very good name. Levi's been missing for 2 weeks now , and I took in another kitten today , named Sylvester.
Lewie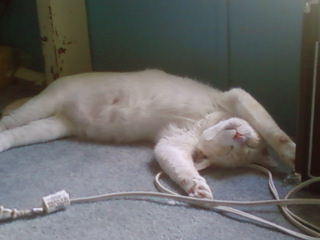 by Kayla (south carolina)
He is a silly cat and lewie suited him.
Lightning McQueen
We had adopted a new orange tabby to fill the void after our first orange tabby had met an untimely death after being struck by a car a month before.

Because we didn't know if he was a boy or a girl, we had temporarily named him Puss In Boots, because he could imitate the "sad eyes" that Puss In Boots would do in the Shrek films.

However, the cat's true name came to be one morning. I was getting ready to go to my old job. I opened the door to my bedroom, and the little kitten ran very fast into my bedroom.

And it was then I thought up the most creative name for my kitten. Prior to seeing The Ant Bully in the IMAX theater (which was ironically the day we adopted the kitten), the last movie I had seen was Disney/Pixar's Cars. And in that movie, the protagonist is a red car named Lightning McQueen.

So the name for the cat pretty much stuck. Sometimes, people might ask me if the cat lives up to his name because of the fact that we named him Lightning McQueen. He does most of the time, because even when he was fast as a kitten, he's still got quite the running speed as a cat.
Lilly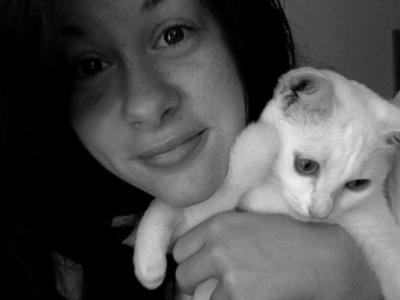 by Alana (qld australia)
Like many others who call their cat lilly, she got this name cause she is pure white, we all mostly call her kitty tho. she is deaf so is none the wiser :)
Limo
by Jean, (London, UK)
He was long, thin and loved to stretch out as long as he could...came from the shelter where he had been in a small cage for quite a long time. Also I wanted a classy name for him. Short for Limosine, Limo seemed the purrfect name.

Comment
Clever thinking and original too, great cats name and you're right purrrrfect.
Little K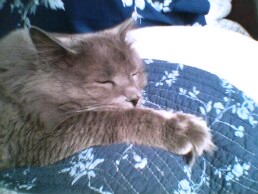 by Kerry (Seabrook, NH)
My name starts with a K so I am Big K and our cat is named Little K.
Liveretta
by Pam, (Boise, ID)
She is absolutely crazy about chicken livers. I simmer them for her and then keep the resulting broth to pour over her kibble.
Io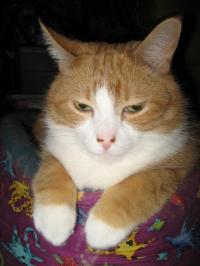 I named him Io after the volcanic and sulfurous inner-most moon of Jupiter since he is wild and fiery himself! His nick-name is "the goose" because when he's cross it sounds like he's honking.
Lo Our Cats Name
by Tristan B. (Mi)
I was with my friend and we found out that we were keeping this cat and giving the rest to good homes. This cat was male,white with little calaco spots(But having had many cats before we knew that he would grow up to have mostly the calaco by the time he stops growing). Well we decided to find ct names and after 2 hours of looking narrowing down and deciding,we had nothing,nothing fit his personality/color. 5 days later we were hanging out and he suggested that we find something that combined letters in random orders(word generator)that sounded good to us. It came up to Io and it sounded good,so we chose it.
Loki
by Heidi Damrell (Richmond KY USA)
Loki was mischievous when he was a kitten. And he is grown and still a pain. He likes to attack people and play rough. I always joke about how we should have named him Fluffy or something. But he lives up to his name. And I wish he wouldn't. :)
Lola
by Cat (Evesham)
I named my first kitten Lola because my children love the Charlie and Lola books so it seemed like the logical thing to do.
Lonzo

by sam (england)
He looks like a bear

comment
A cute black bear but why Lonzo, is that a name of a bear?

Black cats always have lovely shiny fur that looks so smooth and luxurious. 

Great picture, I bet you love him lots.
Lucky
Lucky is a tuxedo cat. When I first got him he drove me crazy by keeping me up all night to play. One night I thought I would strangle him, but he was so cute, I let him live. The next morning I thought "You're lucky to be alive". So I named him Lucky. He's been with me 10 years and is master of the house.
Lucy 
by Alice (NSW)
My dad found and a bunch of other kittens in a card board box in a wildlife he and his friends all took one he said the name just suited her she has now in another life rest in peace!
Luffy
by Lana (Germany)
because (and it's no joke) my nephew first word as he saw the cat was Luffy! lol XD so i called him that!
Lula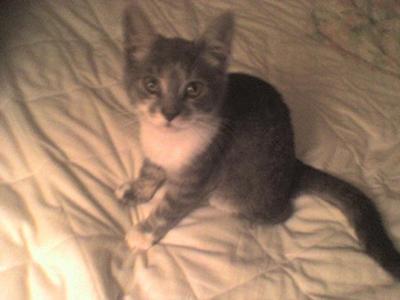 by Alysia (Peterborough, Ontario, Canada)
Her name is Tallulah, the roomate i had when I got her suggested it. But we call her Lula for short.
Luna
by Katie, (Charleston, United States)
It just seemed appropriate since she was saved from a sure "kitten dumping" on a cool summers night under the largest full moon I can remember ever seeing. It was so bright I could see every detail of this precious kitten outside. 
Lynx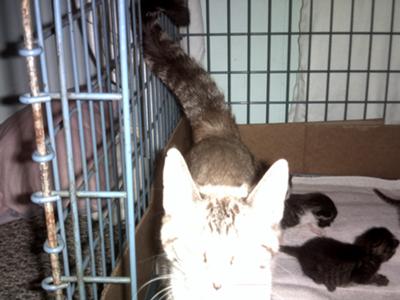 by renee shipley (peoria IL)
she look like a eroupean lynxs cat but isnt
---
I'd love to hear what you think of this page or my site. Let me know if you like what you have read or if it has helped you with a problem.
It's easy to do just leave a comment in the box below and click the like / share or +1 to let others know about my site. Thank You It really is most appreciated.